Please select your dates to see prices:
---
Hotel Cuna del Angel in Dominical, Costa Rica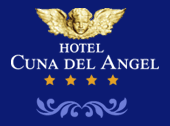 Tucked away in the vibrant rainforest on Costa Rica's south Pacific coast, Hotel Cuna del Angel celebrates cultural crossroads, fusing colonial and native Costa Rican architecture with refined elegance. Acutely attuned to its lush surroundings, one of the most diverse ecologies on Earth, this exclusive, cozy boutique has been designed to harmoniously integrate into and limit its impact on the environment. Choose from 16 Angel Deluxe rooms sumptuously styled with colonial and Asian details. Private terraces or balconies offer stunning ocean and jungle views, and these rooms are situated right in front of the property's magnificent infinity-edge pool. Or opt for one of the seven Jungle Rooms, lavishly decorated in a Caribbean style with private balconies looking out on the tropical forest for prime bird and wildlife watching. All accommodations offer modern amenities and the comforts of home, including air conditioning and ceiling fans, DVD players and cable TV, Wi-Fi connectivity and mini bars, and private bathrooms.
From these luxurious lodgings, launch your exhilarating Costa Rican adventure. Delicious gourmet cuisine and an extensive wine list are served in La Palapa restaurant, a central, circular building based on the traditional Boruca ceremonial dwelling with a conic roof that channels energy toward the sky. Unwind at the Cuna del Angel Spa, where luxuriant products and state-of-the-art technology balance your mind, body and spirit in a soothing, natural ambiance. Then get out and explore the beautiful Costa Bellena area, named for the majestic whales that migrate through here. Book a whale- or dolphin-watching tour. Fish for tuna, mahi mahi and marlin. Dive and snorkel in the Caño Island Biological Reserve, where you'll spy fish, turtles, manta rays and even friendly sharks in the crystal-clear sea. Tour the verdant canopy in Hacienda Baru by thrilling zipline. Explore the caves along the shore in Ballena Marine National Park by kayak. Then snuggle back into "Angel's Cradle" for blissful rest and relaxation.
Location of Hotel Cuna del Angel
Hotel Cuna del Angel
9 Km South Of Dominical Beach Entrance to Puertocito
Dominical, Costa Rica
Nearest Airport: SJO
Amenities for Hotel Cuna del Angel
General Information
23 Guest Rooms
Ecologically Sustainable Practices
On-Site Amenities
Beauty Salon
Pool
Hiking Trails
Gift Shop
WiFi
Infinity Pool
In-Room Amenities
Air Conditioning
Ceiling Fans
DVD Players
Hair Dryers
In-Room Safes
Mini Bar
Satellite Television
En-Suite Bathrooms
Private Terraces
Activities
Fishing
Hiking
Kayaking
Scuba Diving
Snorkeling
White Water River Rafting
Whale Watching
River Rafting
Surfing
Zip-Lining
Horseback Riding
Nearby
National Parks
Beaches
Interests
Active & Adventure
Eco Friendly Luxury Vacations
Holiday Hotel Deals
Hotels
Inns
Reviews for Hotel Cuna del Angel
---
My daughter, two granddaughters (ages 7 and 10) and I stayed here and had a wonderful times. Although this hotel was not on the beach, our rooms were on the beautiful, tropical grassy courtyard (pool in the middle) which made it easy to be close to the girls while they swam. (Note: this hotel is on a hill, you can see the ocean in the distance) We stayed here the last night of our vacation in Puntarenas and just needed to relax since we were on the go the entire week we were in Costa Rica. Everyone was friendly and helpful. The rooms were similar to those in a fine European hotel. Restaurant food was delicious, although a little pricey. The girls really enjoyed the flaming desserts. (Note: earlier in the day, we took the wild truck ride up to the Nauyaca Waterfalls nearby--fun, but hold on tight!! We swam in the refreshing natural pools and enjoyed the beautiful natural setting).
joaniestl - St. Louis, MO
---
We spent 10 amazing days in this beautiful hotel with great service, wonderful food at the restaurant and surrounded by lush green tropical vegetation, peace and quiet. Lovely holiday. Highly recommended.
---
In a generally expensive area, this is a very good deal. Restaurant is excellent and much of menu is listed as gluten free, which is unusual in CR. Very clean with wonderful staff, good A/C and comfortable beds - what's not to like?
---
Had we known that this hotel was right beside the main road (with trucks continually travelling through), was 9km away from the nearest town and 3km from the nearest beach we would have told our travel agent not to book it. A taxi cost between $10 and $15 each way but the local bus was only 1,200 colones per person each way, the problem being that the last bus left 5.30pm from Uvita. We wanted a lower room but found ourselves in a room which was accessed via 50 steep steps. However, the big issue was the restaurant. The hotel had been told that one of us had a severe allergy to egg yolk and even went through this aspect when we checked in. When we went down to dinner on the first night the first thing brought to the table was a dip accompanied by bread which had been made with egg. They offered a tortilla instead but this took 15 minutes to arrive. The main course was a seafood dish which was dominated by octopus to the detriment of the other seafood on the plate. The 10% service charge was mandatory and added to the bill. We would not have added this if we had the choice. We had the same problems with egg products at breakfast. Again we were offered an alternative in the shape of a tortilla which was so dry it crumbled when picked up. Despite reminding both the restaurant staff and reception of the allergy no effort was made to cater for it. This was in total contrast to every other hotel we stayed at during 3 weeks in Costa Rica. We ate out after the first night. This was cheaper even allowing for the taxi fare. The rooms are spacious and well appointed but neither the wash basin nor bath plugs worked. The pool area is very nice though it could do with having more sun loungers and umbrellas.
maryjandrewd - Cambridge, United Kingdom
---
We were there only for a short stay but the staff and the restaurant were excellent. We are building a home in the area and this will be our home away from home during construction. Quiet and beautiful setting. The whole area is a fun place to visit Tom
tom55552018 - Phoenix, Arizona
---