Please select your dates to see prices:
---
The Gibson Hotel in Dublin, Ireland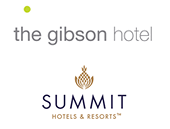 In a testament to the beauty and magnificence of modernity, where the city of Dublin meets the sea, the gibson hotel exudes chic, urban style with a serene, Zen-like atmosphere. Brilliant glass, shimmering steel, and polished marble give way to hidden bamboo gardens, inviting you to experience Ireland at its finest. Each room is quiet and supremely comfortable, with floor-to-ceiling glass walls offering views of the city and mountains in the distance, while plush accommodations ensure a relaxing stay. Bright and warm, each room is crafted from soothing coffee and cream colors, with all the modern amenities, and a flowing, graceful ambiance. Step out from your own private haven at The Gibson Hotel, a Summit Hotels & Resorts property, part of the Preferred Hotel Group, and into the vibrant city of Dublin, for a truly unforgettable time.
Take a peaceful morning stroll along the River Liffey, bisecting the city into North and South, and see the Four Courts Dublin, the seat of the highest courts in the land, before crossing the historic Ha'Penny Bridge. Visit Dublin Castle, built on the ancient ruins of a Viking fortress, see the tomb of Jonathan Swift at St. Patrick's Cathedral, and marvel at the Gothic style of the 2nd century Christ Church Cathedral. View the legendary Book of Kells at Trinity College Library, the oldest University in Ireland, then wander through the halls of the National Gallery of Ireland to view stunning art from around the world. Delight in a leisurely afternoon at the Guinness Brewery and learn the history and process of crafting Guinness, before a tasting at the rooftop Gravity Bar with glass walls and sweeping city views. Enjoy a day at The Dublin Zoo, the third oldest zoo in the world, followed by a walk and picnic in the verdant and peaceful Phoenix Park. After a day in the city return to the hotel for a relaxed fine-dining experience at Coda Restaurant. With the stars coming out over the city enjoy a nightcap at the vibrant Hemidemisemiquaver Bar before retiring to the comforts of your room for a quiet night's sleep immersed in the luxury of The Gibson Hotel.
Location of The Gibson Hotel
The Gibson Hotel
Point Village
1
Dublin, Ireland
Nearest Airport: DUB
Amenities for The Gibson Hotel
General Information
252 Guest Rooms
Dining
Outdoor Dining
Private Dining
Restaurant
Bar
On-Site Amenities
WiFi
24-Hour Fitness Center
In-Room Amenities
Air Conditioning
Hair Dryers
Iron/Ironing Boards
Flat-Screen Televisions
Coffee & Tea Facilities
Business
Meeting Rooms
Conference Facilities
Nearby
Historic Sites
Shopping
Art Galleries
Museums
Restaurants
Parks
Public Transportation
Reviews for The Gibson Hotel
---
I wanted a quiet hotel from which I could easily access central Dublin. The Gibson ALMOST fulfilled this to a T - the only problem was the building site my room overlooked, which woke me up early on Saturday. Apart from that, this hotel was great and I would return. The tram directly outside is super convenient - five stops and you are in the middle of everything - and you can get a daily unlimited adult pass for around 7 euros. One touch I appreciated was that reception staff advanced me cash when I arrived, as apparently most Dublin taxis don't take card.
Sophie S - Melbourne, Australia
---
Buckle up kids, here comes a long one. I'm here about an hour and in my self admitted privileged life this is already the best stay I've ever had in a hotel. Room is great, shower is the best I've had in my life. Seriously. Like getting caught in Vietnamese monsoon. Then there's the staff, mentioned in passing when asked why I was here that it was my girlfriends birthday, went out to meet her after work and came back to find two pieces of cake, a hand written personal note from Piotr, the man who checked me in, wishing my girlfriend a happy birthday with a small music box that played the "Happy Birthday" song. The hotel is expertly kept, well appointed and possibly the most impressive aspect, bar the value, is the staff, absolutely loving my stay, probably should have waited to write my review, but I have experienced every aspect of the hotel so far and I'm impressed.
---
I recently stayed in the gibson hotel, on the 24th March, I was attending the Paloma Faith concert with my daughter, and the hotel is in a perfect spot if attending a concert in the 3Arena, it is literally across the road from it. The hotel itself is lovely, the check in staff were efficient, but my dissatisfaction arose with the room I was allocated. I spefically booked a quiet room on my booking form a few weeks previous, explaining I was a light sleeper, and again on check in at reception I mentioned it, as hotels know where the noisy rooms are, near lifts, over bar/function rooms etc., anyway I was assured yes I was in a quiet room, on floor 3, the room itself was lovely, the bed was comfy and the general decor of the room is gorgeous, and the bathroom is lovely, a huge shower and lovely products etc., no fault what so ever with the room, we had booked dinner in the hotel, as it's the hotel that hosts the first dates Ireland tv show, and both my daughter and myself watch this program so we were looking forward to that, it was pricey though, basically we got a pre-show special rate of I think €30 each which was for a small starter and a burger and chip, there was nothing with the main meal, no side salad, nothing, which I thought was a bit mean, but the food was lovely in fairness and everything was delicious. I hadn't booked breakfast as we intended to head into the city for it. Anyway where my problem arose was the following morning, the clocks had gone forward, so it felt very early, at around 9 a.m., (8 a.m. in old time) a god-awful racket started right outside my door, I actually thought 3 or 4 people had suddenly entered the room the noise was so loud, I sat up in the bed trying to figure out what the hell was going on, to realise it was loud laughing and chatting, so I assumed it was (inconsiderate loud) guests heading to breakfast, but NO this noise continued on and on, and actually got louder, there were one or two women with voices with inbuilt microphones, screeching and laughing (in a foreign language) at the top of their lungs, after about 10 minutes of this non-stop chatter, I actually got up out of my bed as I figured these guests weren't moving away from my room for some reason and were directly outside my door, I opened the door and there was about 15 hotel cleaning staff having a bloody meeting right outside my door! I just looked at them and they quietened down a bit and I went back to bed, I couldn't believe they were so loud right outside a guest's door, I went back to sleep, to be awakened again about 45 minutes later by loud banging on the door, I got up again and answered the door to find housekeeping wanting to clean my room, this was about 10 a.m. or so, I couldn't believe it, I told her the room wasn't ready for cleaning and said to her that this was the SECOND time housekeeping had woken me & she explained that the first time they were waiting for their cleaning rota and whoever was to bring it hadn't turned up! I was just fuming to be honest, I thought I am away in a hotel hoping to get a small bit of a rest, and I am woken like that, I would have been better off driving home and sleeping in my own house uninterupted. I showered and we checked out of the hotel early, I told the receptionist on check out what had happened and how annoyed I was, and I got a paltry "oh sorry about that", not bloody good enough, I left alot of money in that hotel, between the basic room rate, which did not include breakfast which was €183 plus the €70 odd quid I left for dinner, so that was over €250 for one night for one adult and one teen, and I left with a sour taste in my mouth to be honest because of housekeeping. Anyway my advice is if you request a QUIET room, don't expect it here.
Mary W - Limerick, Ireland
---
We had occasion to visit the Gibson for bar food whilst waiting to attend a concert in the 3 arena. 2 adults and 2 teenage girls. Whilst the food as a whole was ok, pne had thai chicken curry which was extremely watery. The service was not up to expected standard.A diet coke, ordered at the same time as food had to be asked for 4 times before it came. Milk had to be asked for 3 times for tea. When paying for the food the cashier was extremely discourteous. I would think twice before recommending this venue to friends in the future
---
There is massive construction right out the windows. Looking out at a view of 20 workmen and five cranes. The window had been cracked by the construction. The hotel did offer to change our room, but all of the king size beds were on the construction side. The shower was very nice as well as the rest of the bathroom. Breakfast was good as well as the bar food.
karolll71 - Rye Beach, New Hampshire
---