Please select your dates to see prices:
---
Hawks Cay Resort in Duck Key, Florida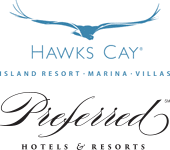 There is an idyllic place that awaits in the magnificent Florida Keys. With the topical allure of a far-flung paradise - yet a location that is easy to reach by car, boat or plane - Hawks Cay Resort on the island of Duck Key is a fantastic vacation destination. Accommodations are set in a series of villages, each with its own style of rooms and amenities to perfectly suit your needs. Elegant 2- and 3-bedroom villa homes in Sanctuary Village feature private pools and spacious floor plans, resort rooms and suites offer refined style and upscale amenities just steps from the beach and pools, and Harbor Village is the ideal spot for cruising the boardwalk and taking advantage of dock and boating activities. Additional villas are set along the coast in Sunset Village, close to the spa and fitness center, and the relaxed rooms of Marina Village boast screened-in lanais and private balconies. Regardless of your chosen spot, Hawks Cay Resort provides everything you need, from marble bathrooms and flat-panel televisions, to ocean breezes and glorious sunsets.
Ready to dive in head first? Hawks Cay Resort has experiences worthy of lifelong memories, fit just to your liking. Offshore, reef and back-country flats fishing excursions are available, including the trusty service of expert local guides on the resort's fleet of well-equipped vessels. Those looking for an even more hands-on approach can go scuba diving with a professional team, or take advantage of Hawks Cay Resort's exclusive Dolphin Connection, offering an opportunity to swim with bottle-nose dolphins in an ocean-fed saltwater lagoon. When it comes to water sports, the resort is thoroughly equipped for everything from kayaking, snorkeling, wake boarding and kite boarding, to parasailing, waterskiing and sunset boat cruises. An array of on-site restaurants are ready to feed your hunger from days in the sun, with island flavors and fresh cuisine in a range of pleasing settings. The casual Beach Grill offers American fare, beachy cocktails and music, while Alma is a refined dining experience worthy of a perfect romantic dinner. There is truly something for everyone, from taste to time well spent, at the fantastic Hawks Cay Resort.
Location of Hawks Cay Resort
Hawks Cay Resort
61 Hawks Cay Blvd.
33050
Duck Key, Florida
Nearest Airport: MIA
Amenities for Hawks Cay Resort
General Information
341 Rooms and Villas
On-Site Amenities
Spa on Property
Gift Shop
Fitness Center
Bicycle Rental
Gazebo
Tennis Courts
Lounge
Laundry Facilities
5 Outdoor Pools
Activities
Bicycling
Fishing
Kayaking
Tennis
Scuba Diving
Snorkeling
Parasailing
Sunset Cruises
Jet Skiing
Boating
Business
Conference Facilities
Family
Kids Pool
Kids Club
Teen Activities
Interests
Beach
Family
Spa & Wellness
Reviews for Hawks Cay Resort
---
Hawks Cay thought of everything a family might want to do during a stay there. And we did it all! There was only one moment when we felt like they were nickel and diming us...when they actually charged for s'mores out by the pool. Really? Like family's haven't already shelled out premium dollars just to stay at Hawks Cay, you needed to charge another $2.50 per s'more? I digress. The dolphin experience, amazing. Breakfast at the main restaurant, satisfying with servers who were some of the friendliest people on earth. Pools and hot tubs were fun. The condos were beautiful. Overall, we would surely return. I highly recommend it for families with kids young and older. It's a very friendly place to be.
mpenelope2015 - Park City, Utah
---
Myself and my wife visited here in May 2017 as part of a 3 week road trip we did around Florida!! Beautiful place, great parking facilities, the pool areas are great and the boating channel that you have a view of from the pool and hotel going into the ocean on a sunny day is beautiful!! We were here during some sort of bank holiday, (Memorial Day I believe) and there were a lot of Hispanic people there which made it quite busy and a little rowdy at times but we never had any problems. The Florida keys are gorgeous and if anyone reading this hasn't been yet or are looking at going, please do so, it's an amazing place and one of my favourite parts of the world that I've visited so far!! Will definitely go back one day!
MattGemmaM - Derbyshire, United Kingdom
---
We had a very relaxing stay at Hawks Cay. It was so nice to see that they are recovering from the hurricane. The sunset pool was gorgeous. Paris was great. He helped us move umbrellas. The hostess at Angler & Ale was very friendly. We enjoyed our stay.
mojitodeb - Brooklyn Park, Minnesota
---
Overall our trip to the Keys was great. The weather was perfect and there were crystal blue waters all around. The setting for Hawks Cay is great but I have to agree with a previous reviewer that they were probably not quite ready to open. I know that the resort suffered a lot of damage from Hurricane Irma. The one restaurant that was open (Angler and Ale) was good but the only option in the immediate area. Luckily we were in a villa which had a kitchen so we were able to have some meals there. There is a Publix grocery store in Marathon. We had several issues with the villa itself- the thermostat for the air conditioner was not working when we arrived but that was able to be replaced. The dishwasher did not work properly and leaked all over the floor. Our villa was in the sunset village and we were able to experience beautiful sunsets, but the last 2 days of our trip there was heavy construction equipment right behind us. When we did contact guest services with our issues they were very courteous and addressed our issues in a timely manner. The one pool that was open was very clean and not at all crowded. Our son did the dolphin connection experience and that was a huge hit- highly recommended. We hope to be able to try Hawks Cay again in the future when the resort is back to full function. I know that this has nothing to do with the Hawks Cay resort but I wish that there was more beach access in the Keys.
bethh2 - Chicago, Illinois
---
We had a great time in the Keys! So beautiful how could you not. However this resort was hit hard by Irma and subsequently closed for 6 months. It is open but really should not be. Hotel offered to cancel fir us but we had flights booked & it was Easter week so no other accommodations were available. Only 1 of the 5 pools & 1 restaurant (Angler & Ale) are open. No activities are available. Marina & main hotel are closed. You have to travel to Marathon for everything. Staff were nice. Pool bar is open but only until 6 pm. Very pricey for such limited amenities. We were in a tie house. First one they put us in smelled like water still. All of the kitchen cabinets were water damaged, place had a musty smell. I went to desk & they moved us to a Marina townhouse that was much more updated & nice but only 1 full bath. I would return once everything is up & running.
---