Please select your dates to see prices:
---
Cameron House on Loch Lomond in Dunbartonshire, Scotland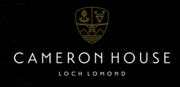 Located on the banks of renowned Loch Lomond in a region not far from Glasgow is the baronial splendor of Cameron House on Loch Lomond. This deluxe hotel is brimming with modern luxuries and warm Scottish hospitality. Once an impressive mansion, Cameron House on Loch Lomond now offers a collection of guest rooms elegantly designed to suit your every comfort. Conventional and cutting-edge styles offer a complementary set of amenities with four-poster beds, monsoon showers, iPod docking stations, and opulent linens. The Cameron Club houses leisure facilities including a refreshing pool and steamy sauna, state-of-the-art fitness equipment, and a beauty bar for the well-deserved. Or pamper yourself in the world-class Carrick Spa with an array of soothing treatments and a staff of skilled aestheticians and therapists.
Enjoy a relaxing evening in the hotel's comforting surroundings, where you are privy to an array of superb restaurants. Feast on fine steaks at The Cameron Grill, enjoy casual fare at The Boathouse, or make it an evening at the elegant Martin Wishart at Loch Lomond. Savor the finest local dishes and then relax in the contemporary and chic hotel bars. Celebrate the distinctive distillers that have made Scotland famous at Great Scots Bar. The Whisky Bar offers the best of both worlds with fine malts and traditional afternoon tea. Explore the surrounding landscape with a challenging round of golf on the hotel's championship golf course. Set in the lowlands and highlands of the natural environment, the course hosts stunning views of the Loch and Ben Lomond.
Location of Cameron House on Loch Lomond
Cameron House on Loch Lomond
Loch Lomond
G83 8QZ
Dunbartonshire, Scotland
Nearest Airport: GLA
Amenities for Cameron House on Loch Lomond
Dining
Private Dining
24-Hour Room Service
Spa Cuisine
Afternoon Tea
On-Site Amenities
Spa on Property
Fitness Center
Game Room
24-Hour Concierge
In-Room Amenities
Bathrobes
Hair Dryers
In-Room Safes
Iron/Ironing Boards
Flat-Screen Televisions
Luxury Linens
Luxury Bath Amenities
Activities
Fishing
Sailing
Tennis
Mountain Biking
Clay Bird Shooting
Fitness Classes
Archery
Boating
Sightseeing
Family
Children's Programs
Kids Club
Waterslide
Interests
Active & Adventure
Cool Pools
Family
Golf
Reviews for Cameron House on Loch Lomond
---
My wife and I stayed at Cameron House Hotel in September 2017 for 3 days during a bit of tour around Scotland. Firstly, the location was perfect, it's very easy to experience Loch Lomond from your doorstep but also if you wish to travel further afield, it's a wonderful place to come back to in the evening. We drover to Glencoe, Fort William & Loch Ness from this location and although it was a lot of driving, it was very doable and thoroughly enjoyable. The food was in both nearby locations was lovely, although my meal at the boat house fell a little below my expectations, but that could have been down to my personal choice. I generally hear very good things about it, so I wouldn't particularly mark them down for it because it was still very nice. The food we has at the Carrick was exceptional. The service was wonderful, the room was excellent and the morning views over Loch Lomond were spectacular. All in all a beautiful place to be and one of those places that stick in you memory for a very long time.
---
I have been coming to Cameron House for the last 10 years. Many over night stays and lots of trips for dinner/lunch/afternoon tea. I am never disappointed. Most recently it was for my birthday, The room was fab as always. We had dinner in the boat house - the girls were lovely & coming back from the ladies I found a nice glass of fizz waiting for me with a happy birthday note. Also, the new terrace is fab! I was sos orry to hear about the fire, I very much hope you will be back up and running soon - We can't wait to come back!
MissEmmax - Kilmarnock, United Kingdom
---
Cameron House is a beautiful hotel and as soon as one walks in, you can tell that they try to maintain their high standards. Firstly our room was small but very cozy. Very clean as well. We did have a problem with the toilet but as soon as the hotel was notified they fixed it straight away. The atmosphere of the hotel was also great, very cosy and beautiful inside and out. Also the pool area was amazing, I spend a lot of time in the steam room and jacuzzi. Food was also very nice. I have to point out that the breakfast was superb in every way especially the quality and variety they offer. We also had dinner at the Boat House Restaurant, delicious food but the portions were a bit small. I had my main but I wasn't full so I had to order another dish. The only downside of the hotel was the Great Scots Bar. Beautiful but service was lacking in every way. Went there twice during my stay. First time for a small snack and it took 40 minutes to get an order through and even more time for the snack to arrive. The second time was worse due to the fact that it was empty and we went after dinner for some drinks. As empty as it was we couldn't seem to find anyone to serve us even though we were sitting at the bar. All in all the service was horrendous and the staff seemed confused, like fish out of water. I do not mean to offend anyone but staff could have been more attentive. All in all I would definitely revisit, great hotel but I would think again about revisiting the Great Scots bar.
KaterinaAndr - Edinburgh, United Kingdom
---
We stayed at Cameron House in early December as a pre-Christmas treat. Our room was in the modern part of the hotel and was beautiful with a modern bathroom and comfy bed. Staff were excellent and allowed us a complimentary late check out on request. The Carrick Spa is well worth a visit - so relaxing and the rooftop pool is amazing. Good value for the three hour experience - around ÂŁ30 per person. The Claret Jug and Boathouse restaurants were great and the complimentary shuttle bus was a welcome extra. The Great Scots Bar is fab - especially the cosy outside area with blankets. Great for a pre or post dinner cocktail. Cocktails expensive but wine and beer reasonable and as you would expect from a five star hotel. Very sad to hear of the tragic events in December, best wishes to the families, guests and staff affected x
_katielouisefleming - Aberdeen, United Kingdom
---
Stayed at half term last October with my husband and daughter. Stayed several times and we just love this hotel, I can't fault it! Fab venue, fab facilities and fab staff and service. We love the choice of restaurants, especially the boat house and bar at the hotel. My daughter is addicted to the pool with the slide and the spa is amazing. We were so sorry to hear about the events that happened before Christmas and hope that the hotel gets back on its feet, we will definitely support it going forward.
---