Please select your dates to see prices:
---
The Stanley Hotel in Estes Park, Colorado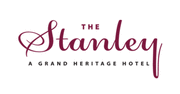 With a storied past, famous guests, and a beautiful landscape by which it is all surrounded, The Stanley Hotel is truly a piece of American history. Perhaps most well known for its part in Stephen King's notorious novel, "The Shining," The Stanley hotel is widely recognized as one of the country's most haunted hotels. In the small town of Estes Park, Colorado - the gateway to Rocky Mountain National Park - this mysterious and magical retreat first opened its doors just after the turn of the 20th century. Today, it stands as a cultural novelty, complete with luxury accommodations, fine dining, and access to glorious wilderness and mountain adventure. Guest rooms are housed in either the main building, The Lodge at The Stanley, or Overlook Condos, and every space includes flat-panel television, pillow-top mattress, and complimentary wireless Internet access. Whether your room features scenic views, whirlpool tub, or even a haunted past, you are assured to be comfortable and well entertained at every moment.
Fully embrace your destination and take one of the hotel's professionally guided property tours, including the night tour, a glimpse into Concert Hall and Stanley Steamers, and a five-hour ghost hunt. With your appetite fully stimulated from such activity, The Stanley's three restaurants provide perfect respite. Fine dining at Cascades Restaurant includes classic American cuisine with a flair for steaks and a focus on locally sourced ingredients, and an award-winning selection of wines. Serving breakfast, lunch, and dinner, this magnificent dining venue is not to miss. Additionally, The Whiskey Bar & Lounge at Cascades serves lunch and dinner daily, plus a thoroughly impressive array of whiskeys and single malt scotches. Then for fresh pastries, sandwiches, and gelato, take a casual afternoon break at Steamer's Cafe. Set out to explore Estes Park, starting with Cascades Garden's beautiful butterfly encounter, where guests are invited to help release recently hatched butterflies. Local artists are featured in Stanley Sculpture Garden, and The Parlour Spa offers a way for you to unwind and indulge in some pampering. The majestic Colorado landscape is just the beginning, and at The Stanley you will have an unforgettable time inside as well in the great outdoors.
Location of The Stanley Hotel
The Stanley Hotel
333 Wonderview Avenue
80517
Estes Park, Colorado
Nearest Airport: DEN
Amenities for The Stanley Hotel
General Information
138 Rooms and Suites
Pet Amenities
Pet Friendly
Dining
Outdoor Dining
3 Restaurants
Cafe
Bar & Lounge
Dining Room
Picnics
Seasonal Restaurant
On-Site Amenities
Beauty Salon
Spa on Property
Library
Gift Shop
Bicycle Rental
Live Entertainment
Garden
Art Collection
Movie Theater
Patio
In-Room Amenities
Direct Dial Telephones
Hair Dryers
iPod Docks
Iron/Ironing Boards
Flat-Screen Televisions
Luxury Linens
Complimentary WiFi
Activities
Cultural Classes
Educational Programs
Fishing
Hiking
Mountain Biking
Ecological Excursions
Nature Walks
Fly Fishing
River Rafting
Wildlife Viewing
Cultural Tours
Rock Climbing
Cross Country Skiing
Snowshoeing
Sledding
Snowboarding
Sightseeing
Horseback Riding
Golf
Nature Hikes
Business
Meeting Rooms
Business Services
Catering Services
Nearby
Historic Sites
Shopping
Art Galleries
Restaurants
Golf
Parks
National Park
Interests
Active & Adventure
Family
Reviews for The Stanley Hotel
---
Beautiful, haunting hotel!! Rooms were very nice! History buffs, as well as Stephen King fans will love everything about this hotel!! Very well maintained, staff is exceptional. The front desk staff was especially friendly, welcoming and just exceptional for customer service. I would suggest maybe vacuuming rooms more. There was a coin and pretzel on the floor in one of our rooms, but that is nitpicking. We would have liked to take the "haunted" tour, but was all sold out. Now we know to book it in advance. Will definitely be coming back to stay.
---
My mom & I have wanted to stay here for a few years. It's absolutely beautiful! We were hoping for some activity but the spirits were to tired I guess. However, when we left our room to go on the spirit tour we had left our window wide open & when we returned it was closed. We decided maybe the spirit in 401 got cold or decided it was too cool in the room.
Barbfriend - Pueblo, Colorado
---
We stayed at the Stanley for a three-day concert weekend to see the bluegrass band Leftover Salmon. The staff at the front desk were exceptionally kind and helpful, and made sure we were more than comfortable despite a slight delay in checking-in. The concert hall was perfect, accommodating families with children and partiers alike. And the food in the Cascades restaurant was outstanding. I only hope they host this event next year so I have a good excuse to come back again soon!
---
We booked a Saturday night for my birthday in a spirited room. We checked in and was told we were in Room 401. Upon research, I learned this was one of the two most haunted rooms on the 4th floor. Score! I totally know what it feels like now to be a movie star with their home/privacy being invaded. Not only did the official hotel spirit tours stop at the door every hour for 10 minutes, so did all of the other random hotel people doing a self-guided tours at all hours of the night. It was loud all of the time. People were looking through the peep hole, knocking on the door, the wall, and taking photos of the door and the plaque outside the door talking about the guy who supposedly haunts the room. I guess we signed up for that so I let it go as part of the experience, but just beware you will get zero privacy if you're staying in this room. Oh and this room connects to the elevator shaft, so......... The scariest thing about this room was the amount of money we paid for a room that 1.) had a ceiling fan that could not be used because it was so loose it was about ready to catapult off the ceiling 2.) missing lamp on a side table which just made it super dark since ceiling light lamp was unstable and not useable 3.) terribly worn carpet exposing a huge carpet tack strip and all the nails in between the main room and bathroom (yes nails were stepped on twice) 4.) no caulking around the tub exposing huge cracks 5.) constantly dripping water in tub and sink (my husband was afraid to use the shower/tub... was it going to fall through floor?); jetted tub installed but no functionality 6.) toilet tank cover didn't fit 7.) A BROKEN UP COOKIE(?) IN THE CLOSET which had been there for weeks according to other reviews I found that posted the same yucky problem (which the management had responded they would take care of immediately... I was there three weeks later). No ghosts, dang! I can appreciate charm and worn things, but this just came across as trying to keep turning a room without taking care of it. This was not luxury as The Stanley is known for. Really, it was disrespectful of the grandeur that it once was. There was maintenance needed all over the property with paint and landscaping... even being in off season. I did tell the front desk about the safety and food issues and was refunded $100.
---
My wife and I planned a weekend at the Stanley Hotel for a weekend getaway at a hotel known for being haunted ! We read the reviews which really weren't very nice so our expectations were reserved. Quite the contrary we were very satisfied with our room, food and staff. Your in a hotel over 100 years old, expect a few problems, the owner is working to correct, remodel and update all he can. When we checked in , we went to the room , it was cold and the heating would take some time to warm it up, I went back to the front desk and was met with apologies and given an up graded room. The staff could not be more accommodating! Yes some of the floors creaked, but the beds were comfortable, the rooms clean, decor was very nice and the room was spacious. We went to the Whiskey Bar for a few cocktails and met some great people from Iowa and chatted over some excellent drinks. Dinner was at the Lodge( another building next to the main Stanley Hotel), at the restaurant called the "Table", where we were treated to a fantastic lineup of food that was prepared by our Chef Johnny Curiel, and wine that complemented each serving. Great food and wine with great people to talk with just can't be beat. Saturday breakfast was at Cascade and the food was again delicious, service was great and then on our way to town to shop, then the National Forest for some hiking. We did do the Ghost Tour at 8:30 which took you around the main building, out buildings, pet cemetery, and old prior ice house!(I'll leave the explanations for your tour guides). Overall we had a wonderful time and would strongly suggest a stay at the Stanley for a sample of history, fine food and a great weekend getaway. Walt and Erika, Chicago
waltj2018 - Arlington Heights, Illinois
---