Please select your dates to see prices:
---
The Stanley Hotel in Estes Park, Colorado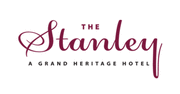 With a storied past, famous guests, and a beautiful landscape by which it is all surrounded, The Stanley Hotel is truly a piece of American history. Perhaps most well known for its part in Stephen King's notorious novel, "The Shining," The Stanley hotel is widely recognized as one of the country's most haunted hotels. In the small town of Estes Park, Colorado - the gateway to Rocky Mountain National Park - this mysterious and magical retreat first opened its doors just after the turn of the 20th century. Today, it stands as a cultural novelty, complete with luxury accommodations, fine dining, and access to glorious wilderness and mountain adventure. Guest rooms are housed in either the main building, The Lodge at The Stanley, or Overlook Condos, and every space includes flat-panel television, pillow-top mattress, and complimentary wireless Internet access. Whether your room features scenic views, whirlpool tub, or even a haunted past, you are assured to be comfortable and well entertained at every moment.
Fully embrace your destination and take one of the hotel's professionally guided property tours, including the night tour, a glimpse into Concert Hall and Stanley Steamers, and a five-hour ghost hunt. With your appetite fully stimulated from such activity, The Stanley's three restaurants provide perfect respite. Fine dining at Cascades Restaurant includes classic American cuisine with a flair for steaks and a focus on locally sourced ingredients, and an award-winning selection of wines. Serving breakfast, lunch, and dinner, this magnificent dining venue is not to miss. Additionally, The Whiskey Bar & Lounge at Cascades serves lunch and dinner daily, plus a thoroughly impressive array of whiskeys and single malt scotches. Then for fresh pastries, sandwiches, and gelato, take a casual afternoon break at Steamer's Cafe. Set out to explore Estes Park, starting with Cascades Garden's beautiful butterfly encounter, where guests are invited to help release recently hatched butterflies. Local artists are featured in Stanley Sculpture Garden, and The Parlour Spa offers a way for you to unwind and indulge in some pampering. The majestic Colorado landscape is just the beginning, and at The Stanley you will have an unforgettable time inside as well in the great outdoors.
Location of The Stanley Hotel
The Stanley Hotel
333 Wonderview Avenue
80517
Estes Park, Colorado
Nearest Airport: DEN
Amenities for The Stanley Hotel
General Information
138 Rooms and Suites
Pet Amenities
Pet Friendly
Dining
Outdoor Dining
3 Restaurants
Cafe
Bar & Lounge
Dining Room
Picnics
Seasonal Restaurant
On-Site Amenities
Beauty Salon
Spa on Property
Library
Gift Shop
Bicycle Rental
Live Entertainment
Garden
Art Collection
Movie Theater
Patio
In-Room Amenities
Direct Dial Telephones
Hair Dryers
iPod Docks
Iron/Ironing Boards
Flat-Screen Televisions
Luxury Linens
Complimentary WiFi
Activities
Cultural Classes
Educational Programs
Fishing
Hiking
Mountain Biking
Ecological Excursions
Nature Walks
Fly Fishing
River Rafting
Wildlife Viewing
Cultural Tours
Rock Climbing
Cross Country Skiing
Snowshoeing
Sledding
Snowboarding
Sightseeing
Horseback Riding
Golf
Nature Hikes
Business
Meeting Rooms
Business Services
Catering Services
Nearby
Historic Sites
Shopping
Art Galleries
Restaurants
Golf
Parks
National Park
Interests
Active & Adventure
Family
Reviews for The Stanley Hotel
---
The beds and linens are fantastic! We stayed in the aspire building and it was quiet and relaxing. Weloved the balcony. Elk fed on the front lawn directly in front of us. Breakfast in the restaurant was better than any I've ever had- but come hungry, it is s large amount of food!! One order of a side of bacon was 6-7 pieces. Pancakes covered the entire plate and were GENEROUSLY garnished with fresh berries...delicious. Definitely take at least one of the hotel tours- it is definitely worth your time! The staff was knowledgeable about local restaurants and must see sites. The only drawback at all was that there was no mirror outside of the bathroom and no refrigerator in your room. There were 3 women in our room so the mirror thing was a bit of an issue. I only noticed the lack of refrigerator because we got so much food in the restaurant that we couldn't eat it all! Going back in June and can not wait!
Melodie H - Olive Branch, Mississippi
---
First of all, if you plan on coming to Estes park and want to see the Stanley, you have to do the tour. Its $20 per person for a 90 min tour and its worth every penny. There is a fascinating history with some interesting surprises with the Stanley family. The hotel itself has some interesting history and many claim that its haunted. We had 5 children in the group, and they were captivated with Lily (Lillian) our tour guide. She has an excellent speaking voice and shared an incredible amount of information in the 90 min. The kids were talking about the tour for days!! The tour starts out with a little film with Scary Mary, who is cheesy, but its entertaining! The tour ends in the tunnel, which was a surprise and there was some interesting facts down there. We loved it. The history of the hotel is what makes it so unique and interesting, so that is why you have to do the tour!! One of the favorite tours I have ever done.
Juliet G - Jackson, New Jersey
---
My daughter and I spent two nights here for a mother/daughter get away. We had wanted to stay at the Stanley for quite some time and this was our opportunity. The staff were wonderful and very professional and helpful. When we arrived we were originally in a room on the second floor facing the back. We asked for a mountain view if possible and were given a room on the fourth floor facing the mountains. It was gorgeous. The building is stately and has much history. The room was comfortable and the bathroom was spacious. Being on the top of an historic hotel, it was nice to have a ceiling fan to leave on to keep the room a comfortable temperature. We purchased the bed and breakfast package and the food was amazing. The restaurant on site has a wide variety of entrees to choose from and the whiskey bar offers everything one might want in the way of adult beverages. The wait staff were friendly and attentive as well. We would recommend one or more of the tours. We took the spirited tour and it was very informative. We also saw the Illusionist show and he was fantastic. My daughter and I are open to the spirit world and we did have interactions, got some photos and voice recordings. Please note, there were no deaths or murders at this hotel. That is Hollywood make believe. The feeling in the hotel is one of history and welcome. The Stanley is in walking distance of the town of Estes Park which offers many places to shop and eat. There is also a local brewery. The front porch is a great place for an evening cocktail while watching the sky at sunset. We are planning on making this our annual spot for our time together.
LCMey - Eden Prairie, Minnesota
---
Stayed in the Lodge building next door to the Main Hotel. King sized bed took most of the space of the room. Not much room to move around. The hotel itself is beautiful, full of old ornate wood molding and decorated in a lovely relaxed style. The main building and the parking lot are under construction at the moment. It's a historic hotel so there is no Airconditioning anywhere. Stayed one night in mid-April and our room was over 80 so the windows were wide open to cool it down. Didn't think it would be an issue that early in the spring and at that elevation but it got pretty warm in the entire hotel. Only slept with a sheet on. No need for a comforter. Free breakfast included the next morning but just pastries and some fruit. We ended up going into Estes Park for real food. Guess our expectations were set too high. We stayed one night and that's enough. Been there, done that. Won't ever go back. Side note - the whole layout is not what Id call handicapped friendly. Parking lots are far from the building and you haul your suitcases up steps and into side doors.
kuips2 - Chicago, Illinois
---
The hotel staff is very friendly and personable! Bekah's spirit tour was exciting and something everyone should take! Even if you are a skeptic it is very interesting! The food at the Cascade is to die for, and the history of the hotel is amazing! On top of that Estes Park is beautiful and there is a lot to enjoy!
---