Please select your dates to see prices:
---
The Stanley Hotel in Estes Park, Colorado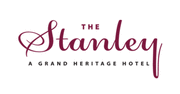 With a storied past, famous guests, and a beautiful landscape by which it is all surrounded, The Stanley Hotel is truly a piece of American history. Perhaps most well known for its part in Stephen King's notorious novel, "The Shining," The Stanley hotel is widely recognized as one of the country's most haunted hotels. In the small town of Estes Park, Colorado - the gateway to Rocky Mountain National Park - this mysterious and magical retreat first opened its doors just after the turn of the 20th century. Today, it stands as a cultural novelty, complete with luxury accommodations, fine dining, and access to glorious wilderness and mountain adventure. Guest rooms are housed in either the main building, The Lodge at The Stanley, or Overlook Condos, and every space includes flat-panel television, pillow-top mattress, and complimentary wireless Internet access. Whether your room features scenic views, whirlpool tub, or even a haunted past, you are assured to be comfortable and well entertained at every moment.
Fully embrace your destination and take one of the hotel's professionally guided property tours, including the night tour, a glimpse into Concert Hall and Stanley Steamers, and a five-hour ghost hunt. With your appetite fully stimulated from such activity, The Stanley's three restaurants provide perfect respite. Fine dining at Cascades Restaurant includes classic American cuisine with a flair for steaks and a focus on locally sourced ingredients, and an award-winning selection of wines. Serving breakfast, lunch, and dinner, this magnificent dining venue is not to miss. Additionally, The Whiskey Bar & Lounge at Cascades serves lunch and dinner daily, plus a thoroughly impressive array of whiskeys and single malt scotches. Then for fresh pastries, sandwiches, and gelato, take a casual afternoon break at Steamer's Cafe. Set out to explore Estes Park, starting with Cascades Garden's beautiful butterfly encounter, where guests are invited to help release recently hatched butterflies. Local artists are featured in Stanley Sculpture Garden, and The Parlour Spa offers a way for you to unwind and indulge in some pampering. The majestic Colorado landscape is just the beginning, and at The Stanley you will have an unforgettable time inside as well in the great outdoors.
Location of The Stanley Hotel
The Stanley Hotel
333 Wonderview Avenue
80517
Estes Park, Colorado
Nearest Airport: DEN
Amenities for The Stanley Hotel
General Information
138 Rooms and Suites
Pet Amenities
Pet Friendly
Dining
Outdoor Dining
3 Restaurants
Cafe
Bar & Lounge
Dining Room
Picnics
Seasonal Restaurant
On-Site Amenities
Beauty Salon
Spa on Property
Library
Gift Shop
Bicycle Rental
Live Entertainment
Garden
Art Collection
Movie Theater
Patio
In-Room Amenities
Direct Dial Telephones
Hair Dryers
iPod Docks
Iron/Ironing Boards
Flat-Screen Televisions
Luxury Linens
Complimentary WiFi
Activities
Cultural Classes
Educational Programs
Fishing
Hiking
Mountain Biking
Ecological Excursions
Nature Walks
Fly Fishing
River Rafting
Wildlife Viewing
Cultural Tours
Rock Climbing
Cross Country Skiing
Snowshoeing
Sledding
Snowboarding
Sightseeing
Horseback Riding
Golf
Nature Hikes
Business
Meeting Rooms
Business Services
Catering Services
Nearby
Historic Sites
Shopping
Art Galleries
Restaurants
Golf
Parks
National Park
Interests
Active & Adventure
Family
Reviews for The Stanley Hotel
---
I am Dennis W. Hawkins, My wife, Deborah, and I went to the Stanley Hotel in Estes Park, Colorado to celebrate our 44th Wedding Anniversary. This was our fourth stay at the Stanley Hotel. And as with the 3 other stays at the Stanley Hotel we enjoyed our stay immensely. We stayed in the Deluxe King Room for the first time. The Deluxe King was larger than the rooms we stayed in our previous visits. The Deluxe King had more room, a writing table, a wardrobe, chest of drawers, a specious bath room, with a Jacuzzi tub. The tub was nice and deep, but not very long. The jacuzzi worked fine and was very relaxing to be in. Debbie does not like baths so she used the shower, I was in the jacuzzi tub twice. As with all the room in the main building, there is no air conditioner, but at this time of year it wasn't needed. We had a nice view from our room of the mountains and the windows opened and there was a ceiling fan. The maid service was great. The Cascades Restaurant is in the Stanley Hotel, they do not have a large menu, but the food is very good and all of the staff in the restaurant we made contact with were very nice and helpful. Their mixed drinks are outstanding. The Stanley also has A Whiskey Bar. The whiskey bar menu is extensive. There are other restaurants near the Stanley Hotel, a Safeway, Macdonald's, Starbucks and drinking establishments. The Rocky Mountain Forrest is also close to the Stanley Hotel. The Stanley Hotel also has Fitness Center in the Aspire Building. In closing Debbie and I loved our fourth stay at the Stanley Hotel and will visit again. Another Thumbs up and ✮✮✮✮✮.
---
Beautiful setting, first class hotel, very cool bar and excellent restaurant make the Stanley a prime choice for visiting Rocky Mountain National Park. We stayed in one of the condos, which were very nicely appointed and located behind the hotel. Renovations still underway, should be stellar when complete!
D5896QUjamesc - Detroit, Michigan
---
We visited The Stanley during past trips to Estes. This time, we decided to stay there for my husband's 40th. At check-in, we were placed in a room that was in a construction area and faced the parking lot. We requested a move to a room further away from construction and with any view of the mountains. The 2 people on staff, (about to end their shifts) scrambled to figure out how they could possibly get the one room that they had available clean for us to transfer to. We waited while the supervisor called the hotel manager to ask if he could clean the room for us because he was already in overtime. Finally, it was straightened out. While waiting, we realized there was a concert all weekend (we checked in Saturday), and there were MANY drunk people walking the premises in costumes and pajamas. They were clearly obliterated, slurring speech, yelling in the lobby, spilling drinks and just walking over it...no one cleaning it up. STAFF HAS NO CONTROL. We were later serenaded in the Otis elevator to the sounds of the Beatles Yellow Submarine by a young man holding an empty highball glass (we cheered him and laughed). I only get so many characters here so to sum it up; our second room was a steady 86°even with the window open all day and night. Outdoor temp avg. 26°-46°. We get up early, we hike/mountain climb all day. We couldn't sleep. We moved to another room with a better temp. but it was by a warped mirror (for fun) that people visited all hours of the night. Still no sleep.
---
Once again, The Stanley is the ultimate place to have a great weekend. The room was clean, nice as expected and our service was spot on if we needed anything in our room. This is the 4th year we have been to the Leftover Salmon weekend in March and the restaurant, bar, front desk was on top of their jobs. Great job for all of the staff that puts up with us on Leftovers weekend. The views and the property as always some of the best in Colorado. You all rock.
lanny l - Pueblo, Colorado
---
Many many ghost in my bed !!! Not to mention "Left over Salmon"... You want 200 cHaracters ? Well there is Tony , Jack, Wendy, Johnny you ask ? Where's Johnny ? All work and no play makes jack a dull boy, All work and no play makes Jack a dull boy, All work and no play makes Jack a dull boy. All work and no play makes jack a dull boy, All work and no play makes Jack a dull BOY...
716stevena - Buffalo Creek, Colorado
---