Please select your dates to see prices:
---
Riad Myra in Fes, Morocco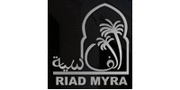 Fes, once the political capital of Morocco and now the country's cultural and spiritual center, was founded in the 9th century and is home to the oldest university in the world. Live like the Marinids who once ruled this city when you check into the luxurious Riad Myra. Filled with madrasas, fondouks, palaces, residences, mosques and fountains dating from the 13th and 14th centuries, Fes is an exotic and historically rich city that offers a feast for the senses. Impeccably restored in close conformity with Moroccan history, culture and the art of Moorish architecture, Riad Myra has been transformed to its former glory and splendor. Experience Moroccan hospitality in the most gracious and luxurious accommodations.
Inspired by Andalusia architects and craftsmen, Riad Myra was built at the beginning of the last century. This luxurious property is located in the vibrant heart of the city, with 13 rooms and suites that have been designed to reflect historic elegance, with discreet modern features and amenities. A central courtyard with ornate archways, intricate stucco work, colorful mosaics and towering cedar wood doors is surrounded by the guest rooms, all sumptuously decorated with colorful drapes and brocades and a combination of Moroccan and English antique furniture. A traditional Hammam offers soothing relaxation and invigorating spa treatments, while the hotel's restaurant serves delicious Moroccan feasts. Escape to a more exotic and ornate time and place at Riad Myra.
Location of Riad Myra
Riad Myra
Salaj Street 13 Batha
3000
Fes, Morocco
Nearest Airport: FEZ
Amenities for Riad Myra
General Information
13 Guest Rooms
Dining
Restaurant
Bar & Lounge
On-Site Amenities
Library
WiFi
High-Speed Internet Access
Hamam
Laundry Facilities
In-Room Amenities
Air Conditioning
Direct Dial Telephones
In-Room Safes
Mini Bar
Satellite Television
Televisions
Individually Designed Rooms
En-Suite Bathrooms
Nearby
Historic Sites
Shopping
Public Transportation
Interests
City
Culture & Arts
Reviews for Riad Myra
---
We spent 2 nights in this Riad PROS Well maintained and clean facility. The staff were uniformed and appeared to more than a family business. There were about 4 to 5 tables for Guests and the Riad could perhaps host 6-7 families. there was even a front desk girl handing out keys akin to a hotel. Dinner and breakfast was promptly served, delicious and included wine. Very hospitable and friendly staff CONS A rather narrow dirty approach lane. Laundry was fairly expensive. As in all Riads the rooms overlook a central courtyard. Guests chatting, late hours and early morning can be annoying to the rooms adjacent
---
I'm not exactly a frequent traveler but I know great service when I get it. This place had great service. Everyone was so nice and attentive. The place itself is so pretty. Both the architecture and interior design for the entire hotel are very beautiful. The food is TO DIE FOR!! And breakfast is free so that's another great plus. They also offered us free transportation that lessened the cost for us by a huge margin. If I ever visit Morocco again, I'm definitely staying here.
---
Me and my family had always wanted to travel to Morocco and their was no better place than their cultural capital of Fes. We then had to find a hotel that truly embodies the architectural style of the city and its long deep culture. The Riad Myra was the picturesque location we were searching for. I truly felt immersed in the city's culture every morning when I woke up in their beautiful rooms with stained glass doors and Moroccan pieces of furniture. The staff were always there when needed and didn't hesitate to lend a helping hand when asking questions about the local area. The food was delicious and covered the Moroccan pallet to satisfy our needs within the confinement of the hotel, and the breakfast is free which is always a plus. Me and my family stayed in the "Zoukkia" room and I couldn't have asked for a better place to stay when experiencing a vacation of a lifetime. The prices are also quite affordable for my family of four (Two adults and Two kids).
---
We recently travelled to Fes, Morocco and stayed at the most delightful boutique hotel, Riad Myra. When we walked through the main door it was like stepping into the past. We were awe struck with the warmth of the lighting, the bold rich colors, mosaic floors, decorative fountain, and stained glass windows! It was a sight to behold! Our rooms were very comfortable, beautifully decorated and impeccably clean. The staff was polite and very helpful. The food and food service was amazing! One of our most memorable dishes that we ate was the cous cous! My daughter and I had a hammam and massage. A truly relaxing experience and would highly suggest you experience it!
karaboyasp - Miami, Florida
---
Apologies in advance for the lengthy post, but I wanted to make sure to tell our story in full so other travelers can take it into consideration when making their decisions from among the dozens of high quality places to stay available in this amazing city. I'm a pretty seasoned traveler -- I have been a reviewer on this site since 2003 -- and this is the first hotel I have ever checked into and then immediately back out of. We arrived on a rainy afternoon to find the Riad Myra apparently abandoned, except for a rather indifferent young woman in a parka who despite her ostensible role as the front desk agent on duty seemed hard-pressed to locate our reservation (we had splashed out on a "Suite Prestige," the highest class of room available), even after I showed her the confirmation on my phone and she herself called it up on her computer. We took seats in the absolutely stunning central atrium -- a soaring daylit space with beautiful tile work and a charming fountain -- where after a time someone brought us some very welcome mint tea from the kitchen. After 15 or so minutes of sitting there and speculating on why the woman was having so much trouble with the reservation and why the place seemed so empty, the front door banged open and we got what turned out to be the answer to both questions: a massive tour group of perhaps 16-20 people who were apparently occupying the entire rest of the hotel. As the various members of the group made their way to their rooms, we were invited to follow the woman up first one, then two, then three flights of stairs to the topmost level of the hotel where we were shown into what can only be described as an attic room, with low ceilings, one window perhaps one meter by one meter out onto the central space and another opening up onto a dark corridor. This room -- very far indeed from the "suite prestige" we had reserved and very possibly the worst room in the entire riad -- was presented to us by the woman with no explanation or apology, as though it was the type of room that we had in fact booked. It was only when we went back downstairs to ask if we had perhaps been put in the wrong room that our host fessed up that in fact all the suites had been taken by the members of the massive tour group and that we were basically out of luck. And to add insult to injury, it took my wife broaching the subject for her to even offer compensation to make up for the error, compensation which amounted to an offer of a comped dinner (we had long-held reservations at restaurants for each of our two nights in Fes) or a bottle of wine. And it was only when my wife pushed the matter a bit further that the woman said that, yes, perhaps something could be done to compensate us financially since we now had all finally managed to come to agreement that we weren't in fact going to be staying in the type of room we were supposed to be. To be honest, if she had said at the outset that there had been a mix-up and the rooms had been overbooked, I would have been extremely disappointed -- we had after all booked the thing four or five months in advance and, based on the reviews I had read, were really looking forward to the stay -- but I'm not sure I would have left. What really bothered me was the sense of dishonesty, the idea that had we not gone out of our way to inquire about what was going on, we would have ended up staying in (and paying for) a room on the entire other end of the spectrum from what we had booked. It's clear from the overwhelmingly positive reviews the riad gets here that this was an anomaly, but it was our experience, and I would urge anyone thinking about staying here to be very explicit about verifying that the type of room you book is the type of room you receive.
---