Please select your dates to see prices:
---
Relais Bella Rosina in Fiano, Italy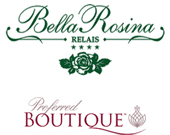 At first glance you would never guess that the Relais Bella Rosina, a member of the pristine Preferred Boutique portfolio and part of the well-established Preferred Hotel Group, was once a 18th-century farmhouse. But upon closer examination, the timeless details and exquisite craftsmanship reveal its storied past. Located within the folds of Piedmont, Italy, this four-star retreat, is the epitome of refinement on 25 verdant acres. With just 21 rooms housed on two floors, guests are surrounded by classic Italian appointments. Floors are cloaked in terra cotta and aged wood with flouncy four-poster beds, ceilings supported by wood beams and an array of amenities that marry the past with the present. A palette of warm neutral colors add to the serenity of each glorious space.
Restaurant Gemma di Rosa is a study in culinary excellence. Overlooking the lush landscape, the restaurant's interiors have all the trappings of an elegant farmhouse. Vaulted ceilings are cloaked in brick, terra cotta floors are cool to the touch and an abundance of natural light filters through enchanting windows. During warmer months meals can be taken on the terrace overlooking the swimming pool. A morning feast is displayed in the breakfast rooms with an array of sweet and savory offerings. Menus feature an array of farm fresh ingredients, harvested on-site and infused in the daily creations. Beauty Farm, the cleverly named spa, is where weary guests come for head-to-toe therapies that are administered soothing environment. A seasonal pool is designed for lounging and can also used for low-impact workouts. The surrounding area features several championship golf courses. Of course, Piedmont is better known for its wine producing capabilities as well as its incredible natural beauty where lakes and mountain landscapes take on a surreal quality.
Location of Relais Bella Rosina
Relais Bella Rosina
Via Agnelli, 2 Parco Naturale La Mandria
10070
Fiano, Italy
Nearest Airport: TRN
Amenities for Relais Bella Rosina
Dining
Restaurant
Room Service
On-Site Amenities
Shuttle Service
Spa on Property
Spa Services
Fully Staffed
Laundry Service
Heated Pool
Bicycle Rental
High-Speed Internet Access
Complimentary Parking
Outdoor Pool
Outdoor Whirlpool
Private Whirlpools
Elevator
In-Room Amenities
Air Conditioning
Bathrobes
Direct Dial Telephones
Hair Dryers
In-Room Safes
Bottled Water
Activities
Bicycling
Fishing
Hiking
Parasailing
River Rafting
Rock Climbing
Nearby
Historic Sites
Art Galleries
Museums
Golf
Parks
Vineyards
Nature Reserve
Reviews for Relais Bella Rosina
---
Even when the front desk staff was really nice and helped to fulfill customer needs, there was a lack of customer focus of the management. We received one day before arrival that the restaurant was closed for the evening. Breakfast was terrible.
markziegler - Switzerland
---
Enjoyed our stay here but on occasions felt service. A bit sporadic. Breakfast was ok but i found it locked at 7.30 am when it should have been open. Pool is great and very relaxing and quiet. Beauty services and massage closed. No taxi close and a car is a must. Lots of local wildlife. Overall we felt it was ok but probably needed to be much lower in price to be great.
---
Beautiful hotel set inside a nature reserve. Is quite remote so I would advise hiring a car as there is no public transport other than taxi which charge a call out fee of 30euro before you've even gone anywhere! Staff were very helpful and welcoming Food was spectacular Nice pool area with plenty of sun beds Beautiful room that was immaculately clean Would definitely recommend and stay here again
Roxy531 - Bridgetown, Barbados
---
Fantastic place, friendly and helpful staff. Extremely peaceful and relaxed environment, beautiful scenario. The room we stayed had the perfect size, with a nice balcony. The shower and the bathroom were very good as well. Breakfest, a bit small but with everything you need, delicious fruits, good coffee and cappuccino, excellent bakery. We would definitely stay there again.
---
This hotel is just a trap! No service No qualified people, just temporary employees fighting with the lack of equipment ! Room dark Swimming pool at 20 degrees no heating Spa not in service Dinner level : very low - frozen products Please avoid to travel to this place !
fschwartz1305 - Geneva, Switzerland
---