Please select your dates to see prices:
---
Hotel De La Ville in Florence, Italy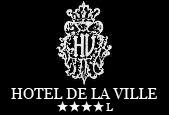 Surrounded by stunning Renaissance architecture and haute fashion boutiques, Hotel De La Ville has long been a haven for aristocratic Florentine families, politicians and entertainment figures. Its ambience reflects the cultural legacies of Florence, while its spirit is unadulterated la dolce vita. Whether you are lingering over homemade pastries in the gracious breakfast room, plotting a day trip to San Gimignano with the concierge or simply resting in your elegant bedroom or suite, your stay is an exercise in the fine art of Italian living.
The hotel is located in Piazza Antinori in the historic center of the city, home to the distinguished 17th-century Church of Santi Michele e Gaetano. As you stroll the surrounding area, you will discover age-old artisan workshops that have remained unchanged over the centuries, the wonders of the Duomo and trattorias serving authentic traditional flavors. For special interests, you might ask the hotel to arrange a customized tour, such as an excursion dedicated to food and wine in the Chianti hills.
Location of Hotel De La Ville
Hotel De La Ville
Piazza Antinori 1 Via Tornabuoni
50126
Florence, Italy
Amenities for Hotel De La Ville
General Information
71 Guest Rooms
On-Site Amenities
On-Site Car Rental
Concierge
In-Room Amenities
Air Conditioning
Hair Dryers
Mini Bar
Satellite Television
Reviews for Hotel De La Ville
---
The Hotel is comfortable and is wonderfully located for the main tourist sites, bars and restaurants. The staff were professional, polite and courteous. My only complaint – and it is a serious one – was the unavailability of Air Con. The hotel advertised Air Con in its rooms. On arrival our room was very hot and stuffy and when we asked reception about the Air Con we were told that it is 'switched off during winter months'. This was in April! The receptionist suggested that we open the window. The following morning my wife, my son and myself had a large number of severe mosquito bites. On return to the UK my wife required medical treatment for hers, strangely we did not see any mosquitos outside the hotel. I am very annoyed that the hotel advertised Air Con knowing that it would not be available and knowing that there was the likelihood of mosquito attacks. We will not use this hotel again. From reading detailed reviews about this hotel it is now obvious that this was a known problem.
---
I truly enjoyed staying her with my wife last year during our tour to Italy. The hotel reflects Florence vibes with Florentine style decor throughout, so staying in that room didn't let us forget that we were in the beautiful Italy. The room was nicely equipped and the best part - it was so close to major attractions of the city. I enjoyed morning in the city center, especially near the Cathedral. I would stay here again.
Jeff M - Perth, Australia
---
Wonderful staff - so helpful, especially at the front desk, and we were there 7 nights so we got to know them. Breakfast options are great - from fresh fruit and fruit juices to fried eggs, with always friendly help. The bed was so comfy and the room pretty. We would return in an instant.
Bennie1967 - Dallas, Texas
---
I love Italy , I love Florence and now I love De la Ville. I am so glad I eventually tried De la Ville . After so many times I have visited Florence I booked this great hotel. I usually stay at Lungarno hotels or Salviatino but this time i needed a different experience . This is a real classic hotel . By the time you walk in everything is really elegant and delicated, even the smell . The staf is really kind and well educated . I was so happy when one kind lady informed us that we were upgraded to one of the hotel's best suite . This was our lucky day . The room was with no view but so comfortable . The best thing was that we had two wardrobes and two bathrooms. I couldn't imagine how convenient and useful this is while you earn so much time. Everything in the room worked very good . As for the breakfast I was really satisfied of the quality of the products , I had the best bresaola with oil and lemon juice. Everything was fresh and really tasty. The best of the hotel was the location. Almost every hotel in Florence is in easy walking distance but this one I can tell it is right in the center of Florence .Everywhere you want to go is no more than 400 m. I am so glad I discovered this real gem. Of course I was lucky to have a suite , I can't tell about the classic rooms , I will have to see . Please try this hotel .
---
Location excellent - in the middle of everything - walking distance to all the attractions and sights. Staff very pleasant and informative. Breakfast was excellent - plenty there for all. Suggestion - if there are any tours staying at the hotel - try to get there earlier as opposed to later. Seating can be an issue but never had a problem getting a table - just a little crowded in the breakfast area. Use the hotel staff to arrange dinners - they have the clout to get you seating to the fine restaurants in the city. If in Florence again I will definitely return to this hotel.
John G - New York City, New York
---