Please select your dates to see prices:
---
Hotel Helvetia & Bristol in Florence, Italy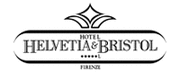 Set in the center of Florence, the fantastic Hotel Helvetia & Bristol is an essential component of the city's magnificent architectural history. This restored building retains a period feel in rooms awash in lush silks, figured-tile flooring and 17th-century Florentine paintings. Visit the Hostaria Bibendum restaurant, where Chef Roberto Cordisco deliciously interprets Tuscan cuisine, while the sweeping windows of the fifth floor suite make guests feel as if the Duomo is right in their own back yard.
When it comes to exploring the city, there is no better place to begin than at this popular gathering place for artists, celebrities and aristocracy. Pay a visit to the renowned Uffizi Gallery, take in Michelangelo's wondrous statue of David, shop on the Via Dei Tornabuoni, and wander picturesque streets that have changed little since the 15th century. Sunsets are a particular delight, especially when paired with a view of the Ponte Vecchio and the Arno River.
Location of Hotel Helvetia & Bristol
Hotel Helvetia & Bristol
Via dei Pescioni
50123
Florence, Italy
Nearest Airport: FLR
Amenities for Hotel Helvetia & Bristol
General Information
72 Guest Rooms
On-Site Amenities
High-Speed Internet Access
In-Room Amenities
Air Conditioning
CD Players
Marble Bathrooms
Individually Designed Rooms
Activities
Cooking Classes
Business
Meeting Rooms
Business Services
Nearby
Historic Sites
Shopping
Train Station
Museums
Restaurants
Public Transportation
Interests
Culture & Arts
Food & Wine
Reviews for Hotel Helvetia & Bristol
---
I was in Florence on business and spent one night at this exquisite hotel. I was told that it recently underwent a major refurbishment and the results are fabulous. The hotel met and exceeded a very high bar on all accounts- personalized service, quality of the rooms, dining and location. You can't get a better location- just off the Via Tornabuoni and steps away from the best shopping and dining in Florence. The room was large and comfortable and the attentive service from check-in to dining was really some of the best that I have experienced in all of my travels. It has a personal and intimate feel in the common areas- lobby and dining area. While I didn't have dinner at the hotel, the lunch (dining al fresco) and beautiful brunch were excellent. I especially loved the room where breakfast was served. I hope to return to this stunning hotel on my next business trip to Florence.
Barbara R - Westport, Connecticut
---
What a beautiful hotel. Great room, comfortable beds, excellent concierge and front desk staff, super breakfast buffet and above all else wonderful location. This is a very small and quiet hotel but the people who work here are full of life and kindness. We kept getting lost each time we looked for places to eat dinner and the concierge one night literally walked us around the corner and pointed us in the right direction. We felt a little silly but we made it there on time! Sometimes hotel bedroom photos are taken to make them look bigger or better than they are. This is NOT the case here. What you see is truly what you get and it was beautiful. I had one of the best sleeps I've had in ages in our room here. We will be back - I promise.
1TravelM0m - Arlington, Virginia, United States
---
This is the third time that I have stayed at this hotel. It is a small boutique hotel. All the rooms that I have stayed in have a very different configuration. The decorations are wonderful and make you feel like you are somewhere special. The location is very good for walking to all the sights. This time we even walked from the train station. Just be aware the that the streets and sidewalks do not lend themselves to dragging a large roller bag behind you. The breakfast that is offered at the hotel is very nice and gets your day of to a good start. I am back in Florence in July and will be staying here again.
LFA11111 - Crown Point, Indiana
---
The hotel could not be more accommodating! We arrived exhausted and beaten down (flight delays, missing connecting flights, etc). Our room had its own terrace and a huge marble bathtub! Robes and slippers were waiting for us. The front desk sent up two small bags with toothbrushes, nighties and other essentials! They could not have been nicer - even offering to wash our clothes if our luggage didn't arrive soon (it did arrive the next day). We were able to go sightseeing (with the help of the hotel's smart phone) and enjoy ourselves. Oh, and breakfast was great! Can't say enough about this hotel; its location, the large rooms, the heated towel rack, king-sized bed - but its the staff that is really outstanding! Great trip!
alisehford - Mendham, New Jersey
---
Have visited Florence several times and mostly stayed at hotels along the banks of the Arno, near the Ponte Vecchio. On this trip, I stayed at Helvetia & Bristol, and I must say, it was a great decision! The hotel is possibly in the best location for shopping and seeing the sights. I was on a trip with a first time visitor, and it was easy to show her the city without having to walk too far to anything. When you shop, it is also so convenient to keep coming back to the hotel to drop off your bags for them to bring to your room, and they are so accommodating in doing so. The rooms are classical and nice, and spacious enough, albeit a little old, but far from anything I would complain about. Beds and pillows are very very comfortable and super clean with crisp linens everyday. Same with the towels in the bathroom - fluffy and clean as you would expect in a hotel like this. My only complaint was that in the mornings, the room would smell of cigarette smoke from guests smoking in the hallway. The lobby is lovely, with a very inviting lounge and fireplace. Pass by for some marshmallows on the way up to your room! Nice touch. We had previously come from Rome and sent some luggage ahead by courier while we were in Iceland, and it seemed it was taking more than acceptable amount of time to get to Florence. The concierge was very patient with my constant follow-ups and did an excellent job of making sure the shipping company delivered our luggage immediately. Also, very reasonable rates, for the great quality, location, and service. Highly recommended.
CarissaOC - Makati, Philippines
---