Please select your dates to see prices:
---
Hotel Helvetia & Bristol in Florence, Italy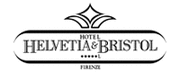 Set in the center of Florence, the fantastic Hotel Helvetia & Bristol is an essential component of the city's magnificent architectural history. This restored building retains a period feel in rooms awash in lush silks, figured-tile flooring and 17th-century Florentine paintings. Visit the Hostaria Bibendum restaurant, where Chef Roberto Cordisco deliciously interprets Tuscan cuisine, while the sweeping windows of the fifth floor suite make guests feel as if the Duomo is right in their own back yard.
When it comes to exploring the city, there is no better place to begin than at this popular gathering place for artists, celebrities and aristocracy. Pay a visit to the renowned Uffizi Gallery, take in Michelangelo's wondrous statue of David, shop on the Via Dei Tornabuoni, and wander picturesque streets that have changed little since the 15th century. Sunsets are a particular delight, especially when paired with a view of the Ponte Vecchio and the Arno River.
Location of Hotel Helvetia & Bristol
Hotel Helvetia & Bristol
Via dei Pescioni
50123
Florence, Italy
Nearest Airport: FLR
Amenities for Hotel Helvetia & Bristol
General Information
72 Guest Rooms
On-Site Amenities
High-Speed Internet Access
In-Room Amenities
Air Conditioning
CD Players
Marble Bathrooms
Individually Designed Rooms
Activities
Cooking Classes
Business
Meeting Rooms
Business Services
Nearby
Historic Sites
Shopping
Train Station
Museums
Restaurants
Public Transportation
Interests
Culture & Arts
Food & Wine
Reviews for Hotel Helvetia & Bristol
---
This hotel has it all - great location in central Florence, beautiful rooms, lobby and breakfast room and an OUTSTANDINGLY helpful staff-in particular-Carlo and Dahlia. I would highly recommend it. Its location is about a 8-10 min. walk from Florence's main train station.
Kathy R - Pasadena, California
---
I don't normally use the word Elegant to describe hotels or their services but I am using it with this Florence property...The key to the elegance of the Helvetia & Bristol is the intelligent use proactive inquires about guest needs followed by well tuned transfer of the issue, preference or concern to their side of the customer service table. It goes like this: Let me make sure I understand your concern. Don' worry about it. We'll take care of it. Well send you a follow note about our progress This simple but powerful ritual, when delivered as advertised, creates deep bonding between the hotel staff and its guests. Travel is challenging for all of us. When we find a resource that closes ranks with us to mitigate or solve these predictable problems and dilemmas, they become part an essential travel partner. The Helvetia & Bristol has earned the right to be mine...
Splash46 - Calabasas, California
---
I don't even know where to begin - this hotel sets the standard for the definition of hospitality. So many small details attended to that you would never even think to miss. Our room was large and beautifully appointed. The bathroom was beautiful and very clean. The staff was exceptional - even when addressing our concern that the air conditioning wasn't working properly. Breakfast was great and the breakfast room beautiful. The location was absolutely perfect. A 10 minute walk to the train station or the Ponte Vecchio.
cathieschafer - Kennesaw, Georgia
---
I was in Florence on business and spent one night at this exquisite hotel. I was told that it recently underwent a major refurbishment and the results are fabulous. The hotel met and exceeded a very high bar on all accounts- personalized service, quality of the rooms, dining and location. You can't get a better location- just off the Via Tornabuoni and steps away from the best shopping and dining in Florence. The room was large and comfortable and the attentive service from check-in to dining was really some of the best that I have experienced in all of my travels. It has a personal and intimate feel in the common areas- lobby and dining area. While I didn't have dinner at the hotel, the lunch (dining al fresco) and beautiful brunch were excellent. I especially loved the room where breakfast was served. I hope to return to this stunning hotel on my next business trip to Florence.
Barbara R - Westport, Connecticut
---
What a beautiful hotel. Great room, comfortable beds, excellent concierge and front desk staff, super breakfast buffet and above all else wonderful location. This is a very small and quiet hotel but the people who work here are full of life and kindness. We kept getting lost each time we looked for places to eat dinner and the concierge one night literally walked us around the corner and pointed us in the right direction. We felt a little silly but we made it there on time! Sometimes hotel bedroom photos are taken to make them look bigger or better than they are. This is NOT the case here. What you see is truly what you get and it was beautiful. I had one of the best sleeps I've had in ages in our room here. We will be back - I promise.
1TravelM0m - Arlington, Virginia, United States
---