Please select your dates to see prices:
---
Villa La Vedetta in Florence, Italy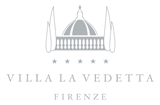 Florence, Italy beckons with her art, culture and stunning architecture from her home deep in the romantic hills of Tuscany. Today find open-air markets bustling in ancient Mediterranean squares where local artisans sell their fine leather wares, people-watch from cafes while sipping espresso, and wonder the narrow and often dark streets that open impossibly to the beauty of the Duomo, or across the Ponte Vecchio. Florence is a city you will seek to be lost in, as every corner reveals another treasure. Experience the wonder that is Florence from the Hotel Villa La Vedetta Florence, a neo renaissance palace, and Relais & Chateaux member, that combines the historic grace of Florence with the modern chic of Italy. This 5 star hotel is perched elegantly just across the Arno, offering rooms with the most magnificent view.
The building is not the first thing you notice at the Hotel Villa La Vedetta, although its style and beauty are undeniable. It is the exclusive panoramic view of the city below, with the Piazzale Michelangelo and Ponte Vecchio front and center. Inside enter a blissful and intimate world, where vaulted ceilings, chic design, and rich silks make each of the 18 rooms and suites match the view. Surrounded by an exquisite garden, the Villa La Vedetta is an oasis replete with a magnificent pool, Jacuzzi, and sun deck. Dine at the Michelin star awarded Onice Restaurant, where local flavors are blended to a sophisticated menu. At the Hotel Villa La Vedetta experience the flavors of a city of indescribable beauty and charm, in enviable style.
Location of Villa La Vedetta
Villa La Vedetta
Viale Michelangelo 78
Florence, Italy
Nearest Airport: FLR
Amenities for Villa La Vedetta
General Information
18 Guest Rooms
On-Site Amenities
Pool
High-Speed Internet Access
In-Room Amenities
Air Conditioning
CD Players
Satellite Television
Interests
City
Culture & Arts
Food & Wine
Reviews for Villa La Vedetta
---
wonderful experience, amazing hospitality. As there model real people real hospitality indeed, thank you for the wonderful time. The staff were really friendly. The villa has one of the best views of the city, i will recommend to go up to the roof and see the view from there.
---
Charming and quaint, Villa la Vedetta sits on a hilltop above Florence. A romantic view of the city and sunset can be seen from the room. Every morning we ate breakfast on the terrace of the hotel (accessible to all hotel guests) and enjoyed the breathtaking view. This hotel is a little older but still charming in its own way. The views make up for the imperfections in furniture and lack of amenities. If you will be out exploring the city all day and you would like to wake up to a breathtaking view of Florence every morning, this is a great hotel. Note: if you are staying the weekend, it is very likely that there will be weddings at this locations, but the hotel has a strict policy about the music being shut off at a certain time (I believe it was 10:30 or 11pm). Events quiet down very quickly and it was usually when we would get back to the hotel from dinner in the city.
---
If you could rate a hotel 4.5 stars then I would give Villa La Vedetta that rating as there are a few small tweaks I think the hotel needs to make but i give it 5 stars as its generally a wonderful place to stay if you visit Florence. The hotel is a 20 minute walk down to Ponte Vecchio bridge (a nice walk down by the river) but is stiuated around 5 minutes from the main statue at the top of the hill but is a beautiful old building which oozes class and stature. The rooms could do with being slightly updated but the main rooms and breakfast areas are beautiful and the breakfast itself is lovely. I can imagine the hotel being very lovely to stay within warmer months as they have a lovely outdoor pool but the staff are very helpful and engaging and do as much for you as they can. I proposed to my wife on the roof terrace some 10 years ago at Villa La Vedetta and we were really pleased to come back. If you are looking for a small, boutique hotel in Florence which is old school but full of class then take a look at Villa La Vedetta
---
I booked 3 nights at this amazing hotel beautifully positioned on the hillside overlooking the stunning city of Florence. Very romantic setting. The staff were so obliging helping me to surprise my partner by reserving the roof top terrace at sunset and dressing the space so beautifully. Can't thank them enough! You should really try it. Ideal to access all the wonders of Florence too!!!
Reddevmc - Manchester, United Kingdom
---
Good sized room, but the bathroom was dated. Breakfast wasn't particularly healthy (although they did have fruit, why no unsugared chocolate-free muesli ? ) . The breakfast room has an amazing view but is a bit of a soulless tent on the side of the hotel. In the summer they put you on the amazing terrace overlooking Florence. They have a shuttle bus but if you're fit you can walk to the Uffizi in 25 minutes and back uphill in 30. Friendly staff but not a five star hotel. Decent value for money though and they have free parking . WiFi speed was good. We would return.
charles p - London, United Kingdom
---