Please select your dates to see prices:
---
The Atlantic Hotel & Spa in Fort Lauderdale, Florida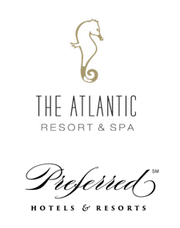 Florida's legendary Gold Coast is home to The Atlantic Hotel & Spa – part of the Lifestyle collection of Preferred Hotels & Resorts – a critically acclaimed and much-awarded destination for leisure luxury at its finest. With its Fort Lauderdale address, this oceanfront retreat overlooks the sandy beach and provides ultra elegant accommodations and amenities - from an on-site spa to delicious dining options. Guest rooms offer private balconies with scenic water views, bright and airy design, and plush furnishings to envelope you in comfort and style. Spacious marble bathrooms, complimentary wireless Internet access, flat-panel HDTVs, and well-equipped kitchenettes make you feel right at home, and the nightly VIP turndown service and 24-hour concierge elevate your experience to an extra special level. Keep connected at the hotel's business center, maintain your workout routine in the gym, or indulge in some pampering at Spa Atlantic, a 10,000-square foot sanctuary devoted to European-inspired wellness and beauty treatments. Welcome to the relaxed, coastal elegance of The Atlantic Resort & Spa.
Start your day outside, sunning by the oceanfront pool, and perhaps enjoy a light al fresco lunch before heading out to explore the area. The hotel is within easy walking distance of shops, restaurants, museums, and galleries, so take your pick at what to do first as you revel in the laid back atmosphere. The beaches are prime for splashing in the beautiful blue waters, sleeping under the shade of an umbrella, or taking part in a variety of waters sports, or you can head out on a boating excursion for a cruise along the coast. Check out the Riverwalk Arts & Entertainment District, where there are always fun and exciting events ranging from performing arts to historical exhibitions. The perfect way to celebrate a splendid day's activities is right at the hotel, where East End Brasserie provides an ideal venue for dinner and drinks. This French-American bistro is oceanfront on the ground level of the resort, and serves classically simple yet refreshingly modern fare with unsurpassed views as a complement. Make the most of your time in South Florida by reserving a front row seat at the beach, at The Atlantic Resort & Spa.
Location of The Atlantic Hotel & Spa
The Atlantic Hotel & Spa
601 N Fort Lauderdale Beach Blvd
33304
Fort Lauderdale, Florida
Nearest Airport: FLL
Amenities for The Atlantic Hotel & Spa
General Information
124 Rooms and Suites
Dining
Poolside Dining
Outdoor Dining
Private Dining
2 Restaurants
2 Bars
24-Hour Room Service
Cafe
Spa Cuisine
Healthy Cuisine
Pool Wait Service
On-Site Amenities
Beauty Salon
Spa on Property
Laundry Service
Heated Pool
Sauna
Valet Parking
Boutique
Limousine Service
Personal Trainers
Rooftop Terrace
Outdoor Whirlpool
Pool Cabanas
Elevator
Outdoor Heated Pool
In-Room Spa Services
Rooftop Pool
Rooftop Sun Deck
Steam Room
24-Hour Concierge
24-Hour Fitness Center
Complimentary WiFi
In-Room Amenities
Private Patios or Balconies
Turndown Service
Cable Television
CD Players
In-Room Safes
Mini Bar
Marble Bathrooms
Flat-Screen Televisions
Luxury Linens
Coffee & Tea Facilities
Luxury Bath Amenities
Mini Refrigerators
Kitchenettes
Microwaves
Work Desks
Bathrobes & Slippers
Complimentary WiFi
Activities
Bicycling
Deep Sea Fishing
Excursions
Kayaking
Sailing
Snorkeling
Parasailing
Nature Walks
Yoga
Boat Excursions
Fitness Classes
Wildlife Viewing
Bird Watching
Wellness Programs
Boating
Sightseeing
Paddleboarding
Golf
Business
Meeting Rooms
24-Hour Business Center
Conference Facilities
Business Services
Catering Services
Nearby
Historic Sites
Shopping
Art Galleries
Museums
Restaurants
Casinos
Golf
Nightlife
Beaches
Parks
Shopping Mall
Marina
Theatres
Public Transportation
Amusement Parks
National Park
Nature Reserve
Market
Convention Center
Colleges/Universities
Interests
Beach
Spa & Wellness
Spring Getaways
Reviews for The Atlantic Hotel & Spa
---
This review is about the extra fees you should expect to be charged when staying at the Atlantic. We booked on Expedia for two nights and didn't notice the comment about an extra resort fee of $35 per night. To be fair to the hotel and Expedia, the fee is detailed in the email confirmation we received and is due for the following: pool access, Spa access, Spa tub access, Beach loungers, Fitness center access, Business center/computer access, Internet access, In-room bottled water. Though we did drink the water in our room, we never used any of the listed facilities. My negative impression comes from the following: 1/ Since when do hotels call this a "resort fee"? This hotel has nothing to do with resorts. We lived in Hawaii for 20 years and know what a resort looks like. The Atlantic is a city hotel with a pool and a spa we never visited, across the road from a beach. Period. 2/ During the check-in, we were asked to sign and put initials next to a series of items on a sheet of paper listing the non-smoking policy, the fact the hotel takes a deposit on our credit card for incidentals etc. At no time were we reminded or told of an extra $35 "resort fee". 3/ During check-out, we explained we didn't use any of the facilities during our two nights stay and politely asked to take the "resort fee" out of our bill. The check-out clerk didn't want to hear any of it. Good customer service would listen and offer some kind of compromise. Finally, remember that there are really no parking options around the hotel and so you are forced to accept another $35 valet parking fee per night. So remember this, when you book the Atlantic, assume another $70 per night. Oh...and the breakfast in the restaurant downstairs? Nothing to write home about. Sorry, but we'd never book the Atlantic again. And it was so easy to make a gesture and avoid having disappointed customers compelled to log in to TripAdvisor and write a negative review.
martin z - San Francisco, California
---
this place was jut ok not worth the money. iI's a 200 a night or less hotel with a good place to eat and a nice view.. I got charged a resort fee for a cold pool and a half full Jacuzzi. I didn't get that at all.
---
Our family was visiting Fort Lauderdale for the first time ever on a college tour of Nova Southeastern University. We decided to splurge while we were there and book a hotel room on the beach. Since we knew we were going to be paying a much higher price than we are accustomed to, we had a few requirements. 1. Ocean front 2. Balcony 3. Steps to the beach. I reviewed the available hotel rooms on the website but wanted to guarantee I was booking an oceanfront room so I chose to call the resort directly by calling 954-567-8020. I advised exactly what I was looking for and a room was reserved over the phone. I was assured it would be an oceanfront room. Upon arrival, during check in, I asked to confirm the room was oceanfront and was told no, the room was city view. I was told no oceanfront rooms were available. I requested we put the check-in on hold until I could speak with my family and determine if we would go elsewhere. When I went back inside the woman I was checking in with was busy so a gentleman helped me instead. He stated due to the issue with booking he would move us to a high floor with a partial view for no extra charge and insisted we would not be disappointed, so we accepted. We were on the 14th floor with a southeast view of the ocean and a southwest view of the intercostal waterway and city. The view, although not ocean front, was spectacular! We immediately set up on the balcony to take in the beauty. The room had a small kitchen with a dorm size refrigerator and single serve coffee maker and sink. The living room had a couch, lounge chair, coffee table and TV. The chair had some nasty stains in it so we didn't use it. We took a short 15-20 minute walk to find some inexpensive but good food for dinner and then headed back to the resort. My daughter wanted to go swimming at the pool so we headed down to find no one using the facilities. The pool had stuff floating in it and there was an empty beer can floating in the hot tub. The pool area was very messy. We realized later that the pool had been closed since 7pm (It was now about 9:30pm) but upon check-in we thought we were advised it was open 24 hours. The clerk who checked us in spoke very fast so it's possible we misunderstood. Back to our room we went. We called the front desk to request a blanket so our daughter could make up the pull out couch into a bed and it was promptly brought to our room. We got up early to catch the sunrise on the beach which was beautiful even though it was partly cloudy that morning. Upon returning to the hotel, an employee was cleaning the carpet outside and we didn't realize our sandals were tracking in a lot of sand. As soon as we realized we slipped them off and carried them and upon looking back the employee was staring at us scowling. We would have apologized but he was a little scary. In the morning we headed down to the restaurant for our complimentary breakfast that came with our reservation. The eggs were apparently cooked on a high heat because the outside was brown and crusty. Eggs should be cooked slowly on a lower heat. I would expect a high level hotel to know that. Everything else was ok except jelly nor peanut butter was offered or provided with our toast only butter. We were glad the breakfast came free with the room cause it wouldn't have been worth paying extra for. Check out was easy and we only waited about 10 minutes for the valet to bring our car around to the front. The man who had been cleaning the carpets earlier, once again stared at us so I said good morning and he finally said hi and stopped glaring. Overall the hotel was ok and they get a four because they made a good attempt at satisfying their customers but honestly it could have been a five star review if we had been given an oceanfront room as promised, cleaner facilities a room with clean furniture and better than average breakfast. Once you add in resort fees, valet parking and taxes we ended up paying $100 more for the night. Probably wouldn't stay here again as the Hilton and Conrad right next door appeared just as nice. Most likely would try a new experience rather than chance not getting exactly what we thought we were paying for. For note, two other guests checking in at the same time as us were having issues with their reservations/room requests so maybe this is a common issue with this hotel?
likes2travel07 - Portland, ME
---
We contacted the hotel directly and purchased a Spa Day Pass for $30 upon arrival. We had access to the beach, outdoor pool and hot tub and the indoor hot tub dry sauna steam sauna showers etc. The showers had shampoo, conditioner, shower gel, and towels. The spa also had tooth brushes, razors, mouthwash and snacks. It was very nice to use the hotel facilities before we went to the airport for a late flight. The views were breathtaking!
---
It's mid-April, mid-week, and there's a bit of a family emergency that my girlfriend and I have to attend to in the Fort Lauderdale area. Since we live in what is apparently the frozen tundra of New Jersey and we knew that we would have to deal with a stressful situation while in Florida, we decided we should buffer the rest of our stay with sand, sun, and a comfortable place to stay. When looking for a place, I had four criteria: (1) beach-side, (2) with balcony, (3) pool, (4) comfortable (aka non-dingy). The Atlantic delivered...in spades. Beautiful beach side views, comfortable private balconies, a pool which waaaaay exceeds the pictures, and oh so very comfortable. The room was clean, comfortable, (dare-I-say) luxurious, and didn't have that weird hotel smell. The service was A-plus. Employees don't have a pretentious or forced friendliness, but seem to want to make you comfortable as a part of their nature. Plus they get to know you and are always happy to see you. This goes from everyone from the bartenders, front desk, room service, concierge, etc. Look, I can write pages of compliments to the Atlantic, but you probably won't read that much. Take the five stars and know that the Atlantic is worth every penny. I'm looking forward to being back :)
---