Please select your dates to see prices:
---
Mont Rochelle in Franschhoek, South Africa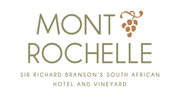 Vacationing to Mont Rochelle is an ideal luxury getaway located in the heart of South Africa's food and wine capital. With breathtaking views of the vineyards and natural surroundings, guests will enjoy exploring all that the resort has to offer, including wine cellar visits, wine tasting, hiking through the vineyard, relaxing at the spa, and experience fine dining. Guests can book one of the wine-themed rooms or suites, or for larger groups, can book The Manor House, which is four bedroom villa on the Mont Rochelle Property.
During a visit, breakfast can be enjoyed at the onsite Miko Restaurant where guests can take advantage of dining while enjoying the beautiful landscape of Mont Rochelle. After, guests can enjoy a variety of activities, such as hiking, taking excursion into Franschhoek, local shopping, even horseback riding while wine-tasting! If preferring to relax, Mont Rochelle has a beautiful and relaxing pool, or take advantage of the spa services as well. In the evening, guests can partake in a complimentary wine tasting of Mont-Rochelle's wines and dine at either the Miko or The Country Kitchen Restaurants. At the end of the day, guest return to their room or suite to unwind after spending a gorgeous day in South Africa's wine and food capital.
Location of Mont Rochelle
Mont Rochelle
Dassenberg Road
7690
Franschhoek, South Africa
Nearest Airport: CPT
Amenities for Mont Rochelle
Dining
Wine Cellar
Restaurants
On-Site Amenities
Pool
Spa Services
Hiking Trails
Walking Trails
Fitness Center
WiFi
Bicycle Rental
Hamam
Winery
Tennis Court
Wedding Planning Services
In-Room Amenities
Air Conditioning
Hair Dryers
In-Room Safes
Mini Bar
Televisions
Coffee & Tea Facilities
Luxury Bath Amenities
Espresso Machine
WiFi
Activities
Bicycling
Hiking
Tennis
Wine Tasting
Horseback Riding
Golf
Nearby
Wineries
Restaurants
Golf
Antique Shopping
Vineyards
National Park
Nature Reserve
Horseback Riding
Interests
Food & Wine
Spa & Wellness
Reviews for Mont Rochelle
---
We spent two nights here and had a great time. The hotel is on the hillside five minutes drive from the charming little town center. The winery of the same name is five minutes from the hotel by their transport. You are greeted like an old friend or house guest by the lovely staff. We were offered a glass of wine or bubbles while we checked in and then were shown to a lovely room with a balcony overlooking the valley. There is free Wi-Fi and the beds and bathrooms are luxurious. There is a great bar area as well as a fine dining restaurant. The gardens include a heated pool, giant chess set and other games as well as a fitness cente(which I confess I did not visit). Nothing was too much trouble and we really enjoyed our stay. First class facility in the most picturesque setting has to get five blobs.
---
Spent two day at this lovely winery. Our rooms opened up to amazing views of the winery. The patio had a lovely seating area where we spent an memorable afternoon over some great red wine of the Mont Rochelle produce. The hotel has a certain class and character which does justice to Sir Branson and the iconic Virgin brand. The breakfast spread is great. Both the restaurant and the bar area have a relaxed ambience with breathtaking views of the Franschhoek area. One small complaint though is our wine tasting experience at the Mont Rochelle winery was bad. The people staffing it was least interested in explaining or serving us. I do recommend the hotel to review the same. Would definitely come back again.
Harsh H - Kolkata (Calcutta), India
---
The hotel itself is beautiful, views stunning and location is great. Our room was (expensive!) but very nicely done. The touches like a complementary mini bar are very nice. Bit too much emphasis on it being a "Sir Richard Branson Hotel", found that all rather tasteless. Front of house staff were very friendly and could not do enough to help you. On the other hand, the staff in the bar and the restaurant (not all of them) were not up to scratch, definitely not 5* calibre. Lovely - but not 5*.
Penny H - London, United Kingdom
---
We stayed at Mont Rochelle in March this year and it is a beautiful resort for sure. We had booked a Cap Classique Suite and we weren't disappointed. The quality of the room, Africology Toiletries and the complimentary wine and snacks in the room made it a great experience. If there was one thing that we thought was not up to scratch, it was the Country Kitchen experience. We went for our complimentary wine tasting and arrived at the same time the wine tram tipped out at the resort. Lots of people got off. Many of them had already had enough wine too. The wines we tasted weren't great and the merlot was corked. We pointed this out to our waiter who only knew what he was scripted to say. We would have paid for a better experience and away from the wine tram clientele. They have a lovely wine cellar in the hotel and it could have been done so much better. The staff were fantastic. Alicia booked some great trips for us, Abe, our driver, Solomon in the bar, Philippe on the pool, Gys in the restaurant. Too many to mention but all made our experience memorable. Even though the hotel,was busy, we got a late checkout. This makes such a difference to your experience. And on arrival, we came in on the early BA flight, we were offered breakfast with no extra charge. This was a really nice touch. We visited some great wineries and the wine shop, shop, La Côte is the coolest place ever. A memorable trip.
Lynn H - London, United Kingdom
---
After having spent several days on safari and then in Cape Town, my wife and our two friends spent our last two days in South Africa at Mont Rochelle. This Sir Richard Branson property is located in one of the most beautiful valleys of the South African wine country with stunning views at every turn. From the moment we checked in to Mont Rochelle to the moment we left, the service was very personal, friendly, and first-rate. Our room was lovely and the meals were delicious. A visit to the Mont Rochelle winery was pure fun as well. While this is not an inexpensive stay, you can count on being thoroughly spoiled in a grand way there.
Ralph D - Greensboro, North Carolina
---