Please select your dates to see prices:
---
Lefay Resort & SPA Lago di Garda in Gargnano, Lombardy, Italy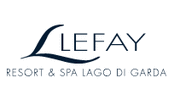 Situated amidst gentle, rolling hills and natural terraces populated with olive trees and lemon groves, Lefay Resort & SPA Lago di Garda strives to show the luxury in simplicity, and the beauty of the unspoiled. Located in Gargnano, one of the oldest and most scenic villages on Lake Garda, the resort is surrounded by nature and situated on the renowned Riviera dei Limoni. The premier resort of the Lefay Resorts Collection and an esteemed member of Small Luxury Hotels of the World and Healing Hotels of the World collection, the Lefay standard focuses wholly on creating an unforgettable experience centered on your wellness, your satisfaction, and your stay. Enjoy luxury at every level with the lavish guest accommodations from junior suites to royal suites. Bright and spacious, the Prestige Junior Suite offers romantic lake views, satellite television, and an expansive marble bathroom. The extensive Family Suite boasts a two bedroom space ideal for traveling groups that require time together—and apart.
Your journey to wellness continues through the doors of the delectable on-site eateries. With a focus on a fresh, local ingredients, and Mediterranean-inspired menus that are as heart-healthy as they are tantalizingly delicious, the resort boasts two restaurants that are certain to please. A triumvirate of tranquility awaits at the resort's three-part spa, including The World of Water and Fire, Nature and Fitness, and In Silence and Among the Stars. Each component of the spa allows guests to discover their own path to rejuvenation and revival, whether through luxurious spa treatments, time outdoors, or through intense activity. Vacation in confidence, knowing your pleasure is not at the expense of the environment. Lefay's social responsibility movement takes eco-sustainability seriously, so you may enjoy this simple Italian paradise for years to come.
Location of Lefay Resort & SPA Lago di Garda
Lefay Resort & SPA Lago di Garda
Via Feltrinelli 118 Gargnano
Gargnano, Lombardy, Italy
Nearest Airport: VRN, VBS
Amenities for Lefay Resort & SPA Lago di Garda
General Information
90 Rooms and Suites
Non-Smoking Property
Ecologically Sustainable Practices
Pets Not Permitted
Dining
Poolside Dining
Outdoor Dining
2 Restaurants
Pool Bar
3 Bars
Cafe
Room Service
Piano Bar
Spa Cuisine
Healthy Cuisine
On-Site Amenities
Beauty Salon
Concierge
Shuttle Service
Spa on Property
Complimentary Newspaper
Indoor/Outdoor Pool
Housekeeping Service
Gift Shop
Walking Trails
Fitness Center
WiFi
Sauna
Bicycle Rental
Wellness Center
Terrace
Valet Parking
Hamam
Gardens
Cigar Lounge
Personal Trainers
Outdoor Whirlpool
In-Room Spa Services
Lap Pool
Sun Deck
Outdoor Spa Treatments
2 Outdoor Pools
Nutrition Programs
Jogging Path
Infinity Pool
In-Room Amenities
Bathrobes
DVD Players
In-Room Safes
Mini Bar
Satellite Television
Marble Bathrooms
Flat-Screen Televisions
Luxury Linens
Luxury Bath Amenities
Bottled Water
Private Terraces
Complimentary High-Speed Internet Access
Complimentary WiFi
Activities
Excursions
Hiking
Tennis
Pilates
Mountain Biking
Nature Walks
Tai Chi
Yoga
Fitness Classes
Meditation
Wellness Programs
Sightseeing
Golf
Nature Hikes
Business
Business Center/Services
Meeting Room
Conference Facilities
Family
Babysitting
Kids Club
Play Area
Nearby
Historic Sites
Shopping
Restaurants
Golf
Parks
Public Transportation
Vineyards
Amusement Parks
National Park
Interests
Eco Friendly Luxury Vacations
Spa & Wellness
Reviews for Lefay Resort & SPA Lago di Garda
---
I travelled to Lefay alone, as after a particularly stressful time at work, I was very much in need of a break. I cannot think of enough good things to say about the resort! The location is breath taking, set above Lake Garda, with wonderful views in all directions. The facilities were all first class, the Spa areas extremely quiet and relaxing, and La Grande Limonaia a bright and airy space with excellent views from all sides. I was eating from the 'healthy' menu, but even so, the food was utterly delicious. The spa package I had selected included full board, so I can't really comment on the cost. They have a dedicated hike/nature trail which I was taken on a guided tour of by Sergio, who was not only knowledgeable, but also a pleasure to spend time with. As it turned out he was also my massage therapist, which was a good thing as the treatments were also terrific. However the best thing of all about the resort was the staff. Exceptionally trained, everyone from the maintenance team (I had a slight issue with my room, which when they couldn't fix on the first attempt, they moved me immediately) to the front of house manager totally embodied the hotel's ethos, and were a pleasure to interact with. Nothing was too much trouble, they all spoke brilliant English (amongst other languages) and everything they did, they did with care and consideration. After only four days, I felt like I'd been on holiday for three weeks, and even now, back at work, I still feel amazing! If you are looking somewhere were you can totally unwind in peace, surrounded by nature, then this is the place for you! I only wish the beds were slightly softer, but that's a personal thing and otherwise, the hotel experience was exceptional.
simonG8633LE - London, United Kingdom
---
This was an unexpected treat and a highlight on our trip between Germany and Italy. A wonderful view and resort. The staff is friendly and speak many languages. The food is plentiful and top quality. The view simply stunning.
sapboy - Boyertown, Pennsylvania
---
I have never been this effusive concerning a hotel review previously, but having just spent 7 nights at Lefay with my wife, the one word that I continue to describe the place is simply"stunning"! Yes the views are amazing the hotel being 7kms on the side of a mountain above Gargnano, but the hotel itself compliments this. The greeting on arrival by the reception staff is excellent, and they proved to be very helpful throughout our stay. The rooms are superb, especially as we did if you have ground floor room; sliding doors open on to an open veranda that is open to the hotel grounds. The room is superbly appointed with Gowns and Flip Flops all matched by size. all the usual amenities are available, including free WIFI. Excellent stand in wardrobe. Special mention should be made to the unsung hero's of any hotel and that is the Housekeeping Team, who quietly and efficiently maintained our room. The gym and the pools are excellent, especially the indoor pool that has a sliding door that allows you swim in the outside pool but is still kept warm. The hotel has too restaurants Limonaia is much better than the Trattoria in our view, with two set menus and a la carte. As we did, suggest one takes half board as the menu is expensive. The food and service is exceptional, not only for dinner but also breakfast. Special mention to Flavia. Jans, Antonio,Roberto,Vincenzo. and Alex, and importantly the Chefs, brilliant! The only negative is greedy pricing 14 euros for a small and medium draught beer ridiculous. Great place, thoroughly recommend it.
Thornpilot - Bristol, United Kingdom
---
Lefay is a first class hotel with a tier one spa. The views are breathtaking with open and light spaces in all areas around the hotel to admire the view. The food was superb with healthy options for me and more filling options for my husband. Two options of restaurant for dinner rustic and a little more gourmet but not fine too dining. The service was superb and I would thoroughly recommend this hotel .I could not fault it in anyway.
TulipCP - Barnsley, United Kingdom
---
An amazing spa, a confortable room, a delicious restaurant... and all of that with an incredible view above the lake!! The price is expensive but you get what you pay for, there is no doubt about that!!
julien_biz - Canton of Geneva, Switzerland
---