Please select your dates to see prices:
---
Hotel Bristol Palace in Genova, Italy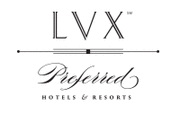 Steps from the famed bronze fountain of Piazza De Ferrari, Hotel Bristol Palace is a gorgeous luxury retreat and part of the LVX collection by Preferred Hotels & Resorts. Situated among upscale shops of Via XX Settembre, this Italian palace in the heart of Genoa offers an upscale stay like no other. Since 1905, this Art Nouveau hotel is a living legend as it has hosted several high society parties throughout its time. All 133 rooms are completely soundproofed and feature comfortable and timeless decor and amenities, ensuring a pleasant stay.
Start the day by heading to the center of the palace for a photo-op by the spiral staircase leading to a beautiful stained-glass dome, then step out to explore the city. Enjoy a concert at the Carlo Felice Theater and stroll over to the waterfront unique waterfront by architect Renzo Piano, or tour the city's Palazzo Ducale. While out, take a chance to enjoy a meal at one of the many nearby restaurants and delight in the best of Italian cuisine. At the end of the day, return to the hotel to relax and have a drink at the Old Fashioned Bar, putting the cherry on top of an enriching day.
Location of Hotel Bristol Palace
Hotel Bristol Palace
Via XX Settembre
16121
Genova, Italy
Nearest Airport: GOA
Amenities for Hotel Bristol Palace
Nearby
Historic Sites
Theatres
Interests
City
Culture & Arts
Hotels
Spring Getaways
Winter Getaways
Reviews for Hotel Bristol Palace
---
Stayed 3 nights at the Bristol Palace - a short city break. Beautiful building and rooms - the staircase - stunning. Very impressed with the staff - all very welcoming. Buffet breakfast- spoilt for choice. Our room and bathroom was excellent- some traffic noise with being front facing - but did not spoil our stay. First time in Genoa - really enjoyed - boat trip to Portofino along the coast was very pleasant. Overall excellent value for money - would recommend the Bristol Palace and stay again.
---
We booked this hotel through a third party and paid a very reasonable price for our 3 nights in this 4 star hotel . While the dining rooms and some of the other public rooms are beautiful and decorated carefully in a style in keeping with the period of the building, the bedrooom we had was a basic double and a very small and uninspiring room. This was probably the consequence of the low cost we paid. Although it was adequately equipped there was not much room to move around at all. The bathroom, on the other hand, was very generous and almost as large as the room itself! The hotel did have many grand, large rooms and suites and if you expect comfort you need to ensure you book one of these. In my view the room we were in should be used as a large single and then it would not be so much of a disappointment. In fact, they do probably normally use it this way as when we arrived there was only one towel and we were only left one chocolate at turn down! The breakfast buffet was very nice and efficiently managed. The check in and reception area is a bit underwhelming and most of the staff not particularly friendly or welcoming- functional at best. As someone who travels to hotels in Europe 4 or 5 times a year staying in 4 and 5 star hotels it is clear that most realise that the reception staff are the "face" of the hotel and go out of their way to make you feel welcome, providing maps, drinks, tips etc; none of which was provided at the Bristol Palace. In summary, this an OK hotel, but be aware that some of the rooms are not 4 star and the staff are a bit half hearted. Oh..and the stairway IS stunning!
JaneChrisKierst - Market Harborough, United Kingdom
---
Good room with a nice bathroom. Very good restaurant for dinner and breakfast buffet is with a lot of different food of good quality. The staff was very polite and efficient. We enjoyed our stay and will recommend this hotel to others for a long weekend in Genova.
---
We stayed 2 nights in Bristol hotel. The architecture its really nice specialy if you travel as a couple. The parking service its very cool, you will stop at the hotel and the stuff will take your car and they will park in a special place near by. We reccomand also the breakfast, the restaurant it is very cool. When will be back in Genoa will chouse again Bristol. Thank you!
radu_voinea - Slatina, Romania
---
My wife and I rarely stay at grand European hotels but we are so glad we stayed here in Genoa. We came down from being almost snowed in from Campo Ligure for a little luxury for a Birthday and were not disappointed by the room, the service. Breakfast is excellent and included in our tariff. We also ate at their Giotto restaurant which is true to its excellent reviews and the Old Bar also has very fine snacks. Looking for comfort in Genoa this is the Place
---