Please select your dates to see prices:
---
The Leela Goa in Goa, India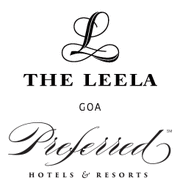 Blend the unique traditions of south Indian temples with a Portuguese flare, and The Leela Goa stands distinguished, with five stars to boot. This hotel is a hot spot in the vibrant and tropical city of Goa. Famous for sandy beaches and a laid back atmosphere, experience an intriguing fusion of colonial Portugal and modern India. Embracing people from all walks of life, Goa is an international mecca for relaxation, rejuvenation, and pleasure. Steeped in centuries of history, visit the Basilica of Bom Jesus, a world heritage monument that houses the sacred mortal remains of St Francis Xavier. These same lands are of spiritual importance to Hindus as well, and a variety of sacred landmarks and customs are worth exploring.
An exclusive stay at The Leela Goa offers miles of private sandy beaches. A waiting staff is at your beck and call by the pool, and a 12-hole golf course is perfect for afternoon activity. A 24-hour casino keeps the games going all day and night long, and if you have an insatiable thirst for night life, the hotel discotheque and local clubs are like nothing you have seen before. Wind down in lavish guest rooms, bordering lush gardens and sparkling lagoons, mastering the art of living in spacious and airy guest rooms.
Location of The Leela Goa
The Leela Goa
Mabor, Cavelossim Village
403731
Goa, India
Nearest Airport: GOI
Amenities for The Leela Goa
General Information
220 Guest Rooms
Dining
Outdoor Dining
Pool Bar
24-Hour Room Service
4 Restaurants
On-Site Amenities
Beauty Salon
Concierge
Spa on Property
Complimentary Newspaper
Laundry Service
Casino
WiFi
Currency Exchange Service
Nightclub
Boutique
Tennis Courts
Beach Access
Car Rental
Lounge
12-Hole Golf Course
In-Room Amenities
Air Conditioning
Bathrobes
CD Players
Direct Dial Telephones
DVD Players
In-Room Safes
Mini Bar
Satellite Television
Coffee & Tea Facilities
Activities
Croquet
Tennis
Yoga
Beach Volleyball
Archery
Meditation
Badminton
Sightseeing
Business
Business Center/Services
Meeting Rooms
Conference Facilities
Family
Children's Programs
Babysitting
Kids Pool
Rollaway Beds
Reviews for The Leela Goa
---
A family celebration took 12 of us for 10 days in April 2018 to the Leela, in this tranquil part of Goa. A year in the planning, so we wanted things to be right for our 3 children, their partners and 4 grand children. The room allocation was just right, facing the lagoon and sunny. The junior suites are particularly suitable for families as they are generous in size and have a second bathroom with shower, very useful. Our room had a balcony overlooking the lagoon, great bird selection to watch in the morning, and somewhere to enjoy a cup of afternoon tea. Lets talk about the really important part, the staff. They are exceptional in their desire to make things right for their guests. Everyone greets you, from gardeners to waiters, so your day starts with a smile and a Namaste. Suman our breakfast waiter always had time for a quick chat about the wonderful sweets of Bengal, perhaps our next destination to sample the Rass Malai and Gulab Jamun. Sandhya in Front Office sorted out one or 2 rooming requests quickly and without fuss. The pool and beach attendants tried really hard to find you shade or a vacant bed, of which there was no shortage. Our grand children thought the pool was the best part, till they discovered the beach and gentle surf. Lovely little pools to explore with the tide out. For ice coffee by the pool talk to NityAnand, as his were the best. Our housekeeping staff were meticulous and we did not have a single additional request the entire stay, they even cleaned the room before we got back form breakfast. Plus they ensured we had plenty of ripe small bananas each day, once they found out we liked them. These are just a few of the people who deserve recognition, and our respect. There are bits that need a fix I think. The baby pool could have done with some shade , and the central planter obscures part of the pool from a parents view. The pool food menu is unimaginative. How about some hot samosas and pakoras selection. Or small bites for children available at short notice, not just chips. Cake with afternoon tea would have gone down well. India has so much street food to offer, perhaps let your guests sample some? Breakfast is excellent and the chefs try so hard to cater for every request considering the wide mix of guests. The buggy traffic on the pedestrian walk ways is high, and at times you feel the buggy has right of way. Perhaps the hotel needs to introduce an audible sound around the blind corners, or just ask able bodied guests to walk? At times we felt the hotel management generosity lacking, some resorts bring along a small sorbet by the pool, or fruit, or clean your sunglasses or have a local food tasting afternoon. Did not see any of this. They lack the creative charm of spoiling their guests with small unexpected gestures. The beach is clean and you can walk for hours on it. Big bonus is the warm sea. Hotel pool was also warm, unlike some which get little sun and are cool when you first enter. The pool was immaculate. If you want a very special holiday, give the Leela a try. We were sad to leave this oasis and it afforded us a holiday our entire family will cherish for a long time.
MNKCamberley_UK - Camberley.UK
---
Stayed with husband and 3 children aged 16, 15 and 14. The hotel grounds, pool and beach just amazing. The staff were just outstanding and made this a holiday we won't forget. Breakfast buffet was superb, a massive choice from masala dosa to Chinese to English to cereals fruit and youghurt but my favourite were the pastries which were irresistible. We didn't eat in the hotel for lunch or dinner as a family of 5 and cheaper to eat in the beach shacks which were just outside the hotel and great value and good food. I preferred the days when there weren't conferences but understand why the Leela want to fill rooms in low season. My daughter aged 15 had her first massage at the hotel and the staff were very caring and treated her so well. I had a massage at the same time and it was just bliss, great therapist,Zoe. Overall it was our little bit of paradise after a hectic week touring. Great customer service by the management team and staff - so rare and makes it such a magical place. Well done Leela, you exceeded all my expectations.
karenI1784VF - Jaipur, India
---
We have stayed since 1992 but not what it used to be the standards have dropped and the people (guests) not what they used to be arigant Russians and uncouth Indians many of the original staff excellent service but just not the same since pascal left
---
Stayed here for a good long weekend. Good food, Spacious rooms. Nice bathrooms. The walk on the beach was serene where you are not disturbed by the swarming crowds of tourists. Visited in monsoons, so could not go around the city much because of pouring rains, but the resort offered for a comfortable engaging stay.
Manpreet31 - Ahmedabad, India
---
Visited Leela Goa with our 5 month old baby and loved the hospitality, the pool, great breakfast, spa and the aqua room. It appeared to be a busy time for the hotel, so calls to remind us about check out procedures started the night before we were due to check out. I think we got a letter under our door too but I guess they were keen to get us out on time. On the day of our checkout, we had yet another call asking if they could send a boy to check the mini-bar?! Having just put my baby down for a nap and not pleased that the sound of the phone ringing woke her up, I responded we were in the room. I let front desk know that I wasn't happy with the phone interruptions and that the DND sign should apply to calls too. We checked out promptly at 12pm as expected. Also at breakfast we requested a high chair and despite repeating our request to the lady at the desk, she ignored us and we had to ask someone else. Bit strange to ignore guests? Overall a good stay and the hospitality is generally warm.
Mearl C - London, England, United Kingdom
---