Please select your dates to see prices:
---
Old Bahama Bay in Grand Bahama Island, Bahamas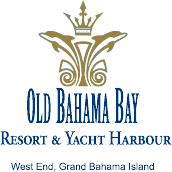 As the sun rises over the golden beach, the sand glittering as waves gently roll ashore, the true beauty of Grand Bahama Island and Old Bahama Bay comes to light, and your luxurious home away from home awaits. Just steps from water's edge, your spacious suite is bright and warm, inviting you to kick off your shoes and sink into relaxation. With a perfect blend of modern luxury and tranquil beach ambiance, enjoy plush beds and couches, gorgeous marble bathrooms with whirlpool tubs and separate glass-walled showers, and your own kitchenette. Sunlight streams beautifully through large French doors, while your balcony is the perfect place to sip your favorite cocktail and gaze out over the sea. With all the modern entertainment options, in-suite spa treatments, and the tranquil surf just outside your door, discover an unforgettable time at Old Bahama Bay.
After a relaxing breakfast under tranquil skies and swaying palms, stretch out under the sun at the 4,000-square-foot infinity pool, or on the perfect spot of warm, soft sand. Dive into the waves to cool off and splash away the morning, or enjoy a fabulous scenic kayak ride along the coast. Enjoy a leisurely day spent sailing on a catamaran around the island, or venture out into the deep sea for some world-class sport fishing. Dive under the waves with a snorkeling excursion to nearby shipwrecks and reefs, or enjoy swimming with the dolphins on the Wild Spotted Dolphins tour. For a truly remarkable, and adrenaline-inducing experience, you can even dive with tiger sharks after the short boat ride out to Tiger Beach. In the afternoon relax with a refreshing round of golf at the Lucayan Country Club, then return to your suite for a well-deserved massage and spa treatment. As the Caribbean sky turns beautiful shades of red and purple that night, find a spot at Teaser's Tiki Bar, right on the sand, and enjoy tropical cocktails or casual Caribbean-influenced cuisine at the newly reopened Dockside Bar & Grille as you relax away your first wonderful night at Old Bahama Bay.
Location of Old Bahama Bay
Old Bahama Bay
Bayshore Road, West End
Grand Bahama Island, Bahamas
Nearest Airport: FPO
Amenities for Old Bahama Bay
General Information
41 Suites
Dining
2 Restaurants
Bar
Beach Wait Service
On-Site Amenities
Shuttle Service
Spa Services
Heated Pool
Gift Shop
Casino
Fitness Center
WiFi
Bicycle Rental
Live Entertainment
Music & Movie Library
Beach Access
Car Rental
Private Whirlpools
Outdoor Heated Pool
Beach Amenities
In-Room Spa Services
Marina
Infinity Pool
Complimentary WiFi
In-Room Amenities
DVD Players
Satellite Television
Televisions
Marble Bathrooms
Hammocks
Kitchenettes
Activities
Bicycling
Deep Sea Fishing
Excursions
Fishing
Kayaking
Sailing
Mountain Biking
Scuba Diving
Snorkeling
Reef Fishing
Wildlife Viewing
Table Tennis
Volleyball
Boating
Paddleboarding
Water Sports Programs
Business
Meeting Rooms
Business Services
Family
Children's Programs
Babysitting
Playground
Children's Menus
Beach & Pool Toys
Nearby
Historic Sites
Shopping
Restaurants
Casinos
Golf
Beaches
Marina
Public Transportation
Market
Reviews for Old Bahama Bay
---
came by boat stayed in the rooms a few nights, great experience ,nice big bathrooms comfortable beds big clean rooms the bar was being renovated due to the hurricane that passed through . beach is clean.
---
Had an absolutey very pssitive experience at Old Bahama Bay. Staff was very warm and helpfull. Had a room harborside, was very nice, clean, roomy, and fresh. Would stay there again as a destination. Harbor area is very safe and well maintained.
bigdaddy3800 - Wilmette, Illinois
---
Let me start by saying, this is an absolutely beautiful property. We would definitely stay here again. However, there were a number of things that were difficult and frustrating, which we would be smarter about next time. 1). Bring cash. Lots of it. If you have any plans to venture offsite or take any kind of excursion, you'll need it. The hotel does not keep cash onsite, nor do they have an ATM. I had to take a cash advance on my credit card and then wait 8 hours for someone to drive 45 minutes to Freeport to get cash and come back. VERY frustrating 2) The rooms have refrigerators and cooktops, so we brought some food from home hoping to avoid having to go to the restaurant for every meal. There were not pots/pans or anything to use, other than 2 bowls, 2 plates, 2 spoons, and 2 forks. Not even a knife with which to cut a tomato 3) The restaurant is really good, but has a limited menu. We got tired of eating the same things over and over OTHER than those inconveniences, we would consider staying again. It was very peaceful, quiet, and a beautiful place to enjoy the ocean.
---
On some vacations it actually takes a couple of days to finally relax.....this one is a vacation paradise. Absolutely breathtaking sunrises, sunsets. A very welcome change from the stress associated with daily life. This was my second stay there and there are no words to describe the beauty, and the management and staff couldn't have been more accommodating and friendly. Four great friends for a week. We did stop for groceries at Solomon's on the way there. Picked up a few necessities and had several delicious meals at the restaurant and the beach grill. You can't beat their fresh fish! The only suggestions would be to bring Skin so Soft for noseeums and pack only bathing suits and pjs, bring some good books, and be with people you love.
Mary Anne S - Ponte Vedra
---
I stayed 5 days at this location. This place was isolated. Great if you want to get away and hide. You will not find a more beautiful location. We saw so much wildlife and met some amazing people! The rooms were larger than expected and very clean. Stop by the grocery store in town before coming in as the restaurant is pricy and has a limited menu. The taxi is about $70 each way to town. The city bus driver will come and pick you up, but you have to ask the front desk to call him. The city bus was a fun experience and really gave me a chance to meet the wonderful locals in the community...and it cost a lot less. Resort fee is an additional $20 a day. At check-out you will also pay an additional $35 cleaning fee. If you want housekeeping during your stay, you will have to pay $35 per visit. Bring dish soap so that you can do your own dishes and not pay for housekeeping. Laundry is available in some units but not all. The resort advertises laundry facilities, but they were a hurricane casualty and have not been replaced. There is a laundromat in West End and you can always request a shuttle ride. Sunday is church day. Many services are not available on the island on Sundays. The resort is in the process of re-building the poolside grill. They have a small shack that they are working out of in the meantime. No hot tub and the pool is not heated. Kids don't seem to mind, but I really did not see a single adult in the pool. Wifi is spotty. Occasionally it worked, but not always. When it worked it was so slow that it was not even worth using.
s0nrisa01 - Portland, Oregon
---