Please select your dates to see prices:
---
Amway Grand Plaza in Grand Rapids, Michigan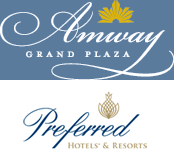 Welcome to the Amway Grand Plaza, an oasis of timeless beauty and contemporary style in the heart of Grand Rapids, Michigan's bustling city of lights. As an AAA Four-Diamond luxury hotel, Amway Grand Plaza promises five-star amenities and superior service in an intimate, tranquil setting. With nearly 700 luxury rooms and suites, ranging from spacious Classic guest rooms to palatial Plaza, Grand, and Tower luxury suites, Amway Grand is the ideal destination for any vacation. Plush pillow top mattresses and indulgent down pillows welcome you to your room, while amenities such as 24-hour in-room dining, complimentary internet, and panoramic views of the city make it difficult to leave. Amway's full-service hotel offers sumptuous extras such as an on-site spa, and six decadent eateries including Ruth's Chris Steak House, Grand Rapids' take on the classic American steakhouse.
Amway Grand Plaza's prime location in the heart of Grand Rapids means always having something to do when you decide to get out and explore. Complimentary issues of Solace Magazine, a comprehensive guide to all things West Michigan, are available at the Bell Stand, so whether you hope to take a walking tour through downtown, or spend the day visiting art galleries and specialty boutiques you know exactly where to go. The hotel's friendly and accommodating concierge team is also available to make recommendations and reservations. If you want to take home more than just memories of your amazing stay, visit The Plaza Essentials Gift Shop for the perfect present, or enjoy a taste of Grand Rapids with a bottle of The Hotel Kitchen, Amway's own brand of savory dressings, salsas, and chutneys.
Location of Amway Grand Plaza
Amway Grand Plaza
187 Monroe Avenue NW
49503
Grand Rapids, Michigan
Nearest Airport: GRR
Amenities for Amway Grand Plaza
General Information
682 Guest Rooms
Dining
24-Hour Room Service
Room Service
Coffee Shop
5 Restaurants
Bar & Lounge
On-Site Amenities
Concierge
Shoe Shine Service
Fitness Center
Sauna
Indoor Heated Pool
Boutiques
Valet Parking
Gardens
Complimentary WiFi
In-Room Amenities
Turndown Service
Iron/Ironing Boards
Luxury Linens
Luxury Bath Amenities
Business
24-Hour Business Center
Nearby
Historic Sites
Zoo
Art Galleries
Museums
Reviews for Amway Grand Plaza
---
The rooms, although pretty nice, are obviously old. No refrigerator or microwave. Air conditioning in room was a bit hit and miss. Thermostat did not seem to be very accurate. Had it set at 62, but it must have been more like 68 or so in the room.
HockeyDadMichigan - Michigan
---
We stayed for our anniversary and everything was perfect, it was by far the quietest room we have ever stayed in. The bedding was clean and crisp, the views were beautiful! The staff were so friendly. We loved it.
notsogoodmotel - lowell mi
---
An average hotel for the high price. Staff were not welcoming and reservation department is a nightmare. I told the reception about my issues with the reservation (I needed to get tax exempt -business trip) but they acted like it was my problem and like their reservation department was not their business...The room was standard. I could hear other guesses when they were in their bathrooms...
nmods - Florida Keys, Florida
---
room was dirty had fingernail clippings on the floor hair on the couch sheets were wrinkled the air vent in the bathroom appeared to have not been cleaned since the hotel was built the jacuzzi tub did not work and then the tub would not drain either so was unable to even shower in the am had to move rooms three times that night was our first mothers day together and was a huge disappointment and still have a $451 charge on my card from the hotel and was told in the morning when i called for a bellhop for luggage assistance that i had to go down and get my own cart
str8scubadive - Mecosta, Michigan
---
We were in the "new" tower with a corner room with river view. The room was small, but since we were only there for one night, it worked. I wouldn't have wanted to try and order room service in such a small room, but since the restaurant was awesome, it was a non issue. Comfy beds and clean room. We had 3 people and only 2 towels, but didn't bother to ask for more because we knew we would be leaving before one of us showered. All in all, it was a great stay and VERY convenient to the FifthThird runs going on. We will be back next year.
---