Please select your dates to see prices:
---
L'Andana in Grosseto, Tuscany, Italy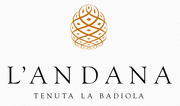 In the bucolic heart of South Tuscany, where the scent off the aromatic olive groves meets the briny fragrance of the Mediterranean Sea, sits L'Andana hotel, a picturesque estate lovingly restored and presented by the celebrated Alain Ducasse Group in conjunction with the architectural masterminds of the Terra Morretti Group. L'Andana sits atop the rolling hills of the countryside as a living tribute to the region's past. Set in a building that was once a summer estate of Grand Duke Leopold II and his court, the 33-room estate graciously embraces the past in design and detail, while offering contemporary facilities and amenities. Awash in romantic reds and tantalizing tans and golds, the rooms and suites of L'Andana welcome visitors with a hint of summer no matter what the season. Alternating textures of smooth leather, soft velvet, and strong wood create subtle nuances of emotion that combine to produce a romantic getaway in each intimate living space. All rooms offer views of the countryside, luxurious Florentine silk fabrics, and delightful stone fireplaces built in the traditional Tuscan style. Modern touches along the grounds, like the hauntingly romantic wrought-iron and glass Winter Garden permeate the traditional landscape, creating an intense visual experience that is both sensual and elegant.
An informal, home-style kitchen leads into an intimate dining room with its own cozy fireplace, and views of the park, while the aromas of bountiful breakfasts, lavish lunches, and delectable dinners spread through the grounds. During summer months, a mouthwatering weekly barbecue awaits guests in the estate's garden, and during cooler months, La Villa, the on-site restaurant welcomes guests to sample regional fare. Trattoria Toscana, a nearby eatery is also available to L'Andana hotel guests. When it comes to dessert, order in, or literally indulge in it at ESPA, the hotel's on-site spa. At ESPA, each spa program is centered around a cake, mousse, tea, or herbal infusion, creating a truly delicious and rejuvenating wellness experience. When the time comes for some outdoor activity, guests of L'Andana enjoy unlimited access to the hotel's practice golf course, or experienced golfers may venture out to nearby full-course greens such as Golf Club Toscana, while beginners enjoy personal instruction back at the hotel, or simply take in the sites of Tuscany, you will not be disappointed. Surround yourself with beauty, culture, and romance at L'Andana, where every moment is delicious.
Location of L'Andana
L'Andana
Tenuta La Badiola
58043
Grosseto, Tuscany, Italy
Nearest Airport: PSA
Amenities for L'Andana
General Information
33 Guest Rooms
Dining
Restaurant
Wine Cellar
Room Service
On-Site Amenities
Concierge
Spa on Property
Laundry Service
Library
Fitness Room
High-Speed Internet Access
Terrace
Hamam
Tennis Courts
3 Pools
Gardens
Outdoor Heated Pool
Culinary School
In-Room Amenities
CD Players
DVD Players
Flat-Screen Televisions
Individually Designed Rooms
En-Suite Bathrooms
Activities
Bicycling
Cooking Classes
Hiking
Tennis
Wine Tours
Business
Business Services
Nearby
Golf
Beaches
Vineyards
Interests
Food & Wine
Golf
Honeymoons & Romance
Summer Getaways
Reviews for L'Andana
---
This is the most luxurious place you could ever stay. Everything is gorgeous and it manages to feel homely whilst maintaining 5-star quality. Everything is spectacular, peaceful and the surroundings are perfect for an impressive hike to take a break from the busy chatter of life. I was here on a business event and they catered to our every need and let us have free-range of the hotel. It hardly felt like I was at work! The staff are so welcoming, have incredible language skills and are very proud of their gorgeous hotel set in this dreamy part of the world.
---
Rooms were outstanding, service amazing, food best ever! Walked into their vineyard and picked delicious grapes. We borrowed bikes and explored the wine country. Loved walking around the grounds and the massages were fabulous.
---
L'Andana is a wonderful hotel which keeps pulling us back because of the charm and warmth of its' amazing staff and great facilities. We spent a wonderful 7 days here this summer and introduced a friend to the hotel and she, too, has fallen in love with the hotel. From the moment you arrive at the gates and pass through and up the long tree lined drive you feel like you've arrived home. Then you are met by great staff who take the luggage and are greeted by the lovely reception staff who treat you as part of their family - a very special skill. Nothing is too much trouble at L'Andana and the rooms are spacious and well appointed. We were shown to our normal room - a junior suite on the ground floor and it felt like we'd never been away! I have to say that the ladies who look after the rooms do a great job and on our last day I managed to have a conversation with one of them (using my limited Italian!) and she has been working there as long as we have been going (about 8-10 years). This year there were 2 weddings during our stay - the 2nd one was more disruptive than usual as guests arrived mid-way through the week and stayed in big groups - very disruptive at breakfast time in particular. The grounds of L'Andana are extensive so there are many places to go exploring and once outside of the hotel there are many hill top villages which are worth visiting and include Pitigliano and Massa Maritima both unique places. We ate in Castiglione as well and of course explored the Saturday market. We were pleased to see a long standing member of staff had returned after being away for a year and he created us as you would friends which epitomises the wonderful staff at the hotel. Also a special mention to Elena (ex wine shop!) who kindly offered to show our friend round the winery and then to the wine tasting (a must when you visit L'Andana) which we all thoroughly enjoyed. Next year we are returning for 2 weeks and will be bringing more friends to celebrate a milestone birthday for me - we've already started the planning are are all looking forward to our time at a very special place.
528jean - Andover, United Kingdom
---
It was my second visit to L'Andana and the hotel always surprises me! Service is impeccable, staff is extremely friend and attentive to all details and the structure is amazing. Trattoria Enrico Bartolini is a must do experience and also the wine tasting and winery tour. The bike tour is a great way to explore the region and Castiglione della Pescaia is really pleasant with the medieval borgo and the charming restaurants for an aperitif. The location of the hotel is perfect for those with Rome in the itinerary and also who's going to Cinque Terre. I would definitely recommend the hotel to families and couples, it's a real Tuscan retreat!
paschneider2017 - Sao Paulo, SP
---
We stayed there in September for 10 days, and it was fabulous. The scenery is stunning. The room was delightful, always kept immaculate. The bar/restaurant staff were extremely pleasant and helpful especially Virgilio. The receptionists were most knowledgably of the surrounding area and beyond, and were able to suggest excellent itinerary's. All in all a first class establishment, well run and very accommodating.
---