Please select your dates to see prices:
---
Travaasa Hana in Hana, Maui, Hawaii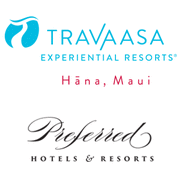 Travaasa Hana combines the words travel and pravaasa ("memorable journey" in Sanskrit) to describe the connection guests will feel with the land, with the locals and with themselves after a retreat to the wind-swept cliffs of Hamoa Beach. Travaasa's philosophy is one of creating deeper experiences: Riding a horse along the coast with a paniolo, or Hawaiian cowboy, as he recalls stories of growing up in Hana. Collecting vegetables from rich volcano soil and learning how to cook them. Sharing words of wisdom with a local teacher after a healing one-on-one Pilates session. Going home forever changed.
Greet the day with a guided meditation on black lava rocks at the edge of the sea. Match your vinyasas with the breeze during a yoga class on a patch of grass under coconut palms. Join a guide on a coastal walk among Polynesian plants, catching a glimpse of the 'Alau Island bird sanctuary. Paint or write, inspired by your surroundings. Share stories around the nightly fire pit.
Location of Travaasa Hana
Travaasa Hana
5031 Hana Highway
96713
Hana, Maui, Hawaii
Nearest Airport: OGG
Amenities for Travaasa Hana
General Information
70 Guest Rooms
Dining
Outdoor Dining
Pool Bar
Restaurant
Organic Cuisine
Healthy Cuisine
Juice Bar
Vegetarian Cuisine
On-Site Amenities
Pool
Shuttle Service
Spa on Property
Spa Services
Library
Live Entertainment
Wellness Center
Boutique
Outdoor Pool
Horse Stables
Gardens
Personal Trainers
Outdoor Whirlpool
Private Whirlpools
Putting Green
Challenge Course
Outdoor Pools
Infinity Pool
In-Room Amenities
Private Patios or Balconies
Turndown Service
Ceiling Fans
Wet Bar
No Televisions or Telephones
Luxury Linens
Luxury Bath Amenities
Mini Refrigerators
Bottled Water
Private Lanais
Activities
Bicycling
Cooking Classes
Cultural Classes
Educational Programs
Excursions
Fishing
Hiking
Kayaking
Wine Tasting
Pilates
Cooking Demonstrations
Snorkeling
Ecological Excursions
Stargazing
Nature Walks
Yoga
Boogie Boarding
Fitness Classes
Wildlife Viewing
Cultural Tours
Archery
Meditation
Wellness Programs
Sightseeing
Horseback Riding
Dance Lessons
Nearby
Historic Sites
Shopping
Restaurants
Beaches
Parks
National Park
Interests
Active & Adventure
Beach
Eco Friendly Luxury Vacations
Family
Honeymoons & Romance
Spa & Wellness
Reviews for Travaasa Hana
---
We drove the road to Hana and decided to stay in Hana for a couple of days. Travaasa Hana is one of few places to stay. It is extremely expensive but a great place. The rooms are large and even the rooms farthest from beach have a great view. There are 2 large pools, hot tub, a 3 hole par 3 golf course with clubs and balls as well as many planned activities all day. The staff was amazing and their is free valet parking and tips are not accepted. We enjoyed seeing the sights in the area and relaxing on the hotel grounds.
DaveG873 - Hot Springs Village, Arkansas
---
This is a hard review to write and I was not sure which way I would go. We have been traveling to HI and Maui for 40+ years. We love how each Island and each region on each Island is different. We have been wanting to go to Hana for so many years as we have been told what a special and unique place it is. Authentic and true Hawaii. If you want to really get away from it all......this is surely the place.I agree with all the sentiments that visiting here should not be just a day trip. Besides the laborious but spectacular drive, one really must spend at least a few days. It may be a once in a lifetime experience so soak it all in!! Travassa sits on the perfect location. Spacious and spread out, the property is particularly well maintained. The gracious staff greets you with Ohana. They know they live in paradise. We felt like we arrived at adult camp. We had booked rooms at, what is supposed to be, this 5* Luxury resort a number of times over the years but needed to cancel for one reason or another. We were so excited to finally be able to visit this famous tropical paradise.............unfortunately, my expectations for what to expect from a top notch property, had my hopes very high. The reason I had to rate Travassa 4 rather than 5 is that the accommodation (at least the one we were assigned), although very spacious, was quite dated and did not feel like the "Luxury" you would expect for the rates that they charge. We have stayed at many luxury resorts but this was a 3 1/2 star room at a 6 star price. When you pay near $700/night for the lowest category room, you would at least expect an updated room. I can only assume that the ++$1000-1500/night ocean front cottages were better appointed? We had read reviews that the hotel restaurants were high priced and mediocre at best so we had hoped to head out to the neighborhood to dine. It would have been nice to spend our toursism $$ locally but we were told at checkin that the hotel restaurants were the only ones open after 5pm. You are captive audience for dinner. We really enjoyed eating locally at the great variety of food trucks while we hiked and explored during the day but in the evening, there were no other options for a sit down meal. I get it, everything is expensive in remote places. It's the rainy side of the Island which is exceptionally tough on buildings and contents. And....... fluctuation in tourism makes it quite difficult for restaurants and other services to stay afloat. But.......if they are going to charge the prices that they do, the owners of this property should really step up their game. I think they know they have no competition in the area so why bother? I am so glad to have finally visited fabulous Hana. Unless I hear of a big change at this property, we probably not return.
---
Donā€™t even think about doing the Road to Hana and back in a day. Have a couple of nights at Travaasa Hana so you have a full day to explore the eastern end of the island and in particular the area around the Seven Sacred Pools and the Pipiwai trail to Waikiki falls.You wonā€™t regret it. The ocean view accommodation is better situated than the garden view rooms with views over lawns to the coastline where huge breakers crash against the rocky shore. The suites are large and rustically, but comfortably furnished. The lack of AC and lack of TV really wasnā€™t a problem - thereā€™s a constant cooling breeze off the ocean. However my wife was quite annoyed to only discover the lack of hairdryer as she stepped out of the shower. Hana itself is a tiny sleepy little town and feels like going back in time. There are a couple of general stores where you can get food and wine, a few food trucks (they shut at 7:30pm) and two restaurants. We ate a couple of meals from the food trucks which were good quality. This isnā€™t somewhere Iā€™d want to stay for more than a couple of nights, but as a two night stop it made the Road to Hana much more enjoyable.
Tim H - Greater London, United Kingdom
---
We love Travaasa! This was our second visit. There is nothing like it to unplug, unwind and just enjoy! Both visits we had a bungalow with an ocean view. LOVE going to sleep and waking up the the sounds of the waves. You have the BEST staff. Chester one of the helper/drivers gave us great recommendations of places to go, eat and some local history/flavor. Dennette at the concierge desk was so sweet and helpful in setting up some tours (Ono fruit farm, Maui Gold chocolate). She even colluded with my boyfriend to have Māpuana make a Lei for a surprise for me. Love all the addition of the food carts in town for more food selections. The infinity pool never gets old. Hit a yoga class and the space is incredible. Thanks for another great vacation! View from our room, sunrise from our room, yoga in the rain.... still incredible!
Sheryl G - Portland, United States
---
~THE ROAD to Hana! Many travelers to Maui set out by car to drive the infamous Road to Hana. The trip is long and replete with twists and turns , one lane bridges and natural wonders that make your head spin! After 5 plus hrs, you arrive at last in Hana, only to stop for a snack in the food trucks or stands near the village and return to their lodging, usually on Maui's West shore. But a lucky few treat themselves with a several (or more) night stay at one of the remarkable resorts in earth...Travaasa! here you will find welcome and solace in the true spirit of Aloha. A French Chef serves excellent food, much of it lending an Island vibe. Live entertainment by locals and others sets the mood of the islands. Well fed and rested, you may want o venture out to enjoy natural wonders at the National park, about 30 minutes North. Be sure to splurge on one of the cottages on the bluff above the waves. As Iz would say, "the sound of the Ocean rocks me all night long". A fitting gift for those who take the time to discover the wonders of a place that exudes the true spirit of Aloha.
martymcb - Yuba City, California
---