Please select your dates to see prices:
---
Travaasa Hana in Hana, Maui, Hawaii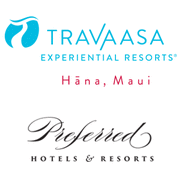 Travaasa Hana combines the words travel and pravaasa ("memorable journey" in Sanskrit) to describe the connection guests will feel with the land, with the locals and with themselves after a retreat to the wind-swept cliffs of Hamoa Beach. Travaasa's philosophy is one of creating deeper experiences: Riding a horse along the coast with a paniolo, or Hawaiian cowboy, as he recalls stories of growing up in Hana. Collecting vegetables from rich volcano soil and learning how to cook them. Sharing words of wisdom with a local teacher after a healing one-on-one Pilates session. Going home forever changed.
Greet the day with a guided meditation on black lava rocks at the edge of the sea. Match your vinyasas with the breeze during a yoga class on a patch of grass under coconut palms. Join a guide on a coastal walk among Polynesian plants, catching a glimpse of the 'Alau Island bird sanctuary. Paint or write, inspired by your surroundings. Share stories around the nightly fire pit.
Location of Travaasa Hana
Travaasa Hana
5031 Hana Highway
96713
Hana, Maui, Hawaii
Nearest Airport: OGG
Amenities for Travaasa Hana
General Information
70 Guest Rooms
Dining
Outdoor Dining
Pool Bar
Restaurant
Organic Cuisine
Healthy Cuisine
Juice Bar
Vegetarian Cuisine
On-Site Amenities
Pool
Shuttle Service
Spa on Property
Spa Services
Library
Live Entertainment
Wellness Center
Boutique
Outdoor Pool
Horse Stables
Gardens
Personal Trainers
Outdoor Whirlpool
Private Whirlpools
Putting Green
Challenge Course
Outdoor Pools
Infinity Pool
In-Room Amenities
Private Patios or Balconies
Turndown Service
Ceiling Fans
Wet Bar
No Televisions or Telephones
Luxury Linens
Luxury Bath Amenities
Mini Refrigerators
Bottled Water
Private Lanais
Activities
Bicycling
Cooking Classes
Cultural Classes
Educational Programs
Excursions
Fishing
Hiking
Kayaking
Wine Tasting
Pilates
Cooking Demonstrations
Snorkeling
Ecological Excursions
Stargazing
Nature Walks
Yoga
Boogie Boarding
Fitness Classes
Wildlife Viewing
Cultural Tours
Archery
Meditation
Wellness Programs
Sightseeing
Horseback Riding
Dance Lessons
Nearby
Historic Sites
Shopping
Restaurants
Beaches
Parks
National Park
Interests
Active & Adventure
Beach
Eco Friendly Luxury Vacations
Family
Honeymoons & Romance
Spa & Wellness
Reviews for Travaasa Hana
---
We always enjoy staying at Travaasa in Hana. It is so very peaceful and quiet. The staff is friendly and helpful. We feel as if we have the place to ourselves. The area around Hana is very pretty. If you want a low key quiet stay this is where you go on Maui
npritsbaum - Burlingame, California
---
We were so looking forward to our honeymoon stay here. Sadly, Travaasa Hana lags far, far behind other places charging over $1000/night and is basically a two-star hotel charging five-star prices. First the positives, then the many negatives of our stay. Pros: our room (when we finally got what we actually booked) was beautiful and oceanfront. The setting is gorgeous and the pool is nice. The food is good and the restaurant staff is nice. Cons: 1. the front desk staff. It was noted on our reservation that it was our honeymoon. No congrats or anything when we checked in. They also had us in a two queen room even though we had reserved a king. The lady corrected that once we said it was our honeymoon and had reserved a king, but, even though it was 30 minutes past check in time, we were told the room wouldn't be ready for another 30 minutes. Ok...we hung out by the pool. No offer to comp drinks or anything. 2. When the room was ready (which we just guessed - no one called to tell us), we got there and it was clearly the worst of the oceanfront bungalows - not at all what we saw in the pictures when we reserved, and right next to both the parking lot and a public path. We went back to the front desk (not a short walk) to complain and got a different, much better version of the same room type. Why wouldn't a hotel just give you the better room right up front - especially when they know it's your honeymoon? 3. Again, this room was not ready- this time we were told to kill 40 minutes. At any other place, you'd be told "go relax by the pool - drinks are on us." Not here, even though we asked them to comp drinks this time since we'd had to wait twice due to their mistake! Instead, we were told "I can't do that. Only the manager can approve that. So, if you don't want to go to the pool, I don't know. Go do something like maybe drive around for awhile." Um, are you serious - this is how you treat people in your most expensive room type? Also, we just "drove around for awhile" for the three hours it took to get there so no, we don't want to drive more! 4. After that exchange, we asked to speak to a manager about the situation, and we were told the manager was not on site (what kind of hotel doesn't have a manager on site around check-in time?) and he would call us. Never got a call. 5. Given all of the back and forth, we asked that the keys for the new room be brought to us at the pool when the room was ready, and that they get our bags to the room. Pretty standard request at most places. Here it took three more phone calls, two sets of people, and another 20 minutes to execute. 6. The food is not cheap but it is good so we decided to do room service one night. They say on the menu that it is "takeout". They're not kidding - our $136 meal arrived in actual takeout containers and a paper bag. While people not used to spending $1000+ per night might think this is cute and fun, I can assure you it is not cute. It is just plain lazy compared to similarly priced places. 7. Niggly point, but at this price point, everything should be stellar: the pool food and drink stand is only manned till 5pm. Should be manned until sunset. All in all, we are really disappointed in the Travaasa Hana experience. Yes, the setting is gorgeous. That's all this hotel offers. Rent a house in the area instead - you'll be much happier and will save a ton of money. Hopefully this place gets bought by a better company or learns how to train its hotel staff.
---
I cannot express how enjoyable my stay was. While the views, seclusion, and natural beauty were magnificent; for me, it was the staff at Travaasa that make the place amazing. I took two lessons - outrigger canoe and stand up paddle board; and an amazing hike recommended to me by a server at breakfast. I cannot wait to return. Treat yourself and make your way to the coast to watch the sunrise - - - truly special.
---
We knew we wanted to go to Hawaii for our 25th wedding anniversary. We didn't want a crazy tourist area, and we didn't want to have to do a lot of thinking. I Googled "Hawaii, remote, all-inclusive" and Travaasa Hana came up. we bought the 6 night all-inclusive Total Travaasa package. It was FANTASTIC. Before our trip, everyone was like- "you are staying IN Hana? The whole time?" and we started to worry just a little. But once we arrived- WOW! We opted to take the shuttle flight instead of driving the road to Hana after already 16 hours of travel. We are so glad. The 15 minute flight was absolutely stunning! We flew with a couple who had done the road 4 times and they said after this flight they would never do the road, again. More on that to come... Check in was quick and easy. We stayed in an oceanside bungalow and it was beautiful. The bungalow was clean and up to date. There was even a bottle of bubbly to mark our anniversary :-) The is no A/C and the first couple evenings were pretty hot, but the two ceiling fans, the portable fan, and the open windows kept us cool. The view was breathtaking. The whole resort is just gorgeous and meticulously maintained. Even though there were a lot of people there, it never felt even remotely crowded. So peaceful and just so beautiful. The pool was like heaven. The most people we ever had in the pool with us was 4! Activities galore, and such a good time. We had fun and learned a lot. We even had a good time just chilling in the activity center and playing connect four! Food, wow, the food. So much food. On the Total Travaasa package we could have breakfast, lunch, and dinner. Well, being vacation we slept in quite a bit, so it was more like brunch and dinner. But we never felt we missed out on a meal. The portions were fit for a king, and it was all sooooo good. The burgers at both restaurants are AMAZING! We also highly recommend the fish quesadillas. I cannot say enough about the wonderful staff. I wish I had written everyone's names down. Absolutely everyone from the manager to the maintenance staff were so friendly and positive. No one hesitated to help us when we asked for it. The bellmen were fantastic in providing trips from the main area back and forth to our bungalow and even delivering food from the restaurants. I don't think we had even the hint of a bad interaction with anyone at Travassa, let alone anyone in Hana. The spa was spectacular. Now, I am not a spa guys, so my bar is low. But it was extremely clean, the locker room was great, showers, steam room, and jacuzzi out overlooking the bay. The massages were to die for. If we make it back, we are using all of our resort credits at the spa every day :-) We did lei making and ocean canoeing. Both were a ton of fun and educational. The weather prevented us from doing any fishing; but its hard to get depressed about rain when you are in Hawaii!!! We spent some time at Hana Bay beach and it was great because they had an annual canoe regatta going on. A ton of fun to watch. We rented a car for 3 days, from the resort, and did a couple of day trips. We did the Hana Gold Cacao plantation tour and had a blast. Francine Frost is a really neat lady. We also drove to the Hana Fruit Farm tour. Note- there is no sign, just Mailbox 149 with a long drive. We missed the turn, but we had plenty of time and it worked out well because we ended up around Kamilo point. The road out here is crazy, just like the road to Hana. Winding, curvy, and narrow. The beach out here is gorgeous. We also did the Hana Lava Tube and the Black Sand Beach. The Lava tube was really cool for me because I am a bit of a nerd. Definitely some walking involved. And it is wet in there (it was raining that day). The black sand beach was simply awe inspiring. On our check out day, the cloud ceiling was very low and so shuttle flight were cancelled. It looks like we get to do the road FROM Hana instead of the road to Hana. We were able to catch a shuttle bus back with CB Taxi who had brought a party of people in. It took us about 3 hours to get to the airport but we had plenty of time. I highly recommend Travaasa Hana. For a couple of midwesterners from Indiana, this was heaven on Earth. Mahalo for the wonderful trip!!!!
---
I cannot thank this place enough for such amazing hospitality. My wife and I stayed with another couple to celebrate two of our birthdays, the hotel greeted us with a lovely letter, bubbly and a warm aloha. The facilities are spacious, beautiful and everything is so quiet. If you want to detox from your day to day life, connect with friends and nature this is where you want to go. If you're in need of anything, once you call front desk they will deliver it with the highest priority. Looking forward staying in the future!
joshiminator23 - San Juan, Puerto Rico
---