Please select your dates to see prices:
---
Hotel Palacio del Marques de San Felipe y Santiago de Bejucal in Havana, Cuba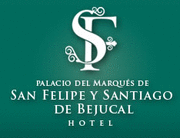 The façade may be baroque and the name Rococo, but throughout the Palacio del Marqués de San Felipe y Santiago de Bejucal is an ultra-modern, high standard hotel. With Old Havana as a timeless backdrop, the view from the 6th-floor roof terrace confirms San Felipes' perfect location. The Cuban aristocracy of the 18th-century, from when this building dates, realized this. Emblematic sights from the San Felipe include the Basilica de San Francisco and the pigeon-filled plaza of the same name with its distinctive fountain. All standard rooms are shaped and equipped with high-end furniture. Unconventional colors and combinations are used to full effect, enhanced by indirect lighting.
Behind almost every Old Havana façade there are surprises and wonders hiding. The baroque frontage of this boutique hotel is no different, as the interior combines stylish furnishings with modern utilities seamlessly, while maintaining the integrity of the original architecture. Breakfast, taken below the old stone, arched columns of this former palace until 11.00am, is a morning ritual. Guests rave about the variety of fresh produce, its creative presentation and the attentive service of staff.
Location of Hotel Palacio del Marques de San Felipe y Santiago de Bejucal
Hotel Palacio del Marques de San Felipe y Santiago de Bejucal
Oficios 152 esq a Amargura, Plaza San Francisco de Asis
Havana, Cuba
Nearest Airport: HAV
Amenities for Hotel Palacio del Marques de San Felipe y Santiago de Bejucal
Dining
Restaurant
Bar & Lounge
On-Site Amenities
WiFi
Multilingual Staff
Interests
City
Culture & Arts
Hotels
Reviews for Hotel Palacio del Marques de San Felipe y Santiago de Bejucal
---
We stayed 10 nights here at the end of November 2017. Start with the positives: location. You can't do better if you want to discover Havana. The staff were good and helpful. The breakfast was good by standards of the country. It is expensive (even compared to France) but you have the choice, if you take a hotel it will not be cheap in Cuba. Yes, there were problems with hot water, an AC that could only be turned off at the fuse box, and a musty smell (not uncommon in this part of the world). There was construction next door which seemed to start at 20:00 each evening but again, there is a lot of construction in Havana. We did have problems on arrival with a pre-paid stay through a US based travel company that the hotel wouldn't initially accept. But this was down to Trump and embargos not to the hotel. All was resolved the second day. Could we have found a better hotel? Possibly. Could we have found a worse hotel? Certainly!
Agodwin06550 - La Roquette-sur-Siagne, France
---
We stayed for 3 nights. The first night we could not sleep at all because a construction going on just across the st., they gave us another room. There is a mold smell in all rooms. One morning there was no hot water. The reservation show wifi for USD 1,50 per hour but the real price is USD 5,00 per hour.
---
This place is amazing. So beautiful and well appointed. It was awesome in every way. If you don't like feather pillows, harder ones are in the wardrobe. Bed is comfy. It has everything that opens and shuts. I stayed here with a tour group. Fabulous breakfasts, dinners good, room service I believe was great. My room was too hot, the aircon can't be turned down so they bought me up a portable air conditioner. So. The service is very really good too. Highly recommend.
ozros - Sydney, Australia
---
One of the most important things I believe when you visit Havana is to stay in the historic centre in either a hotel or casa privada. This time I stayed in hotel Palacio San Felipe y Santiago de Bejucal, a supposed 1 category hotel. And yes it is a nice hotel, the location cannot be better on the plaza. The rooms are nice, bit dark, spacious, good bathroom. And ofcourse there is Always some smaller things but this is Cuba, 50+ years being boycotted, that takes its toll. But overall the hotel is a perfect place to stay, good and friendly service, good breakfast.
---
Our first room was a decent size, but the air conditioning did not work properly during our first night and the room had a musty, moldy smell. Since it was hot, we requested a room change and the front desk staff was very accommodating and upgraded us to a suite which was wonderful. The suite was spacious with a jacuzzi off the bathroom area that overlooked the square in front of the hotel. The shower and toilet had their own separate spaces. The suite also had a sitting area with a dining table. Our breakfast was included with our tour and the restaurant had a good selection of hot and cold breakfast items. The restaurant is on the first floor in an atrium area and is a nice space to enjoy a meal. There is also a bar if you are interested in an alcoholic beverage. The hotel is located in a quaint square and is centrally located in Old Havana. There are many paladars and historical sights within walking distance to the hotel.
wahoowa91 - Virginia Beach, Virginia
---