Please select your dates to see prices:
---
The Kahala Hotel & Resort in Honolulu, Hawaii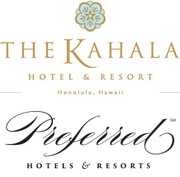 From the brilliant shores of Oahu, The Kahala Hotel & Resort invites you to experience its legendary luxury, world-class accommodations, and fabulous amenities. Just ten minutes from the exciting Waikiki area, with Diamond Head towering in view, The Kahala Hotel & Resort — part of the LVX collection of Preferred Hotels & Resorts — is a pristine oasis situated directly on the shore, offering white sand beachfront and the spectacular scenery that only Hawaii can provide. The elegant 338 guest rooms and suites are adorned in the signature "Kahala Chic" style, boasting superior comforts, modern connections, and unique artwork and décor. Plush linens, chenille robes, and dual vanity sinks ensure you feel like royalty, while the entertainment features include wireless internet access, functional in-room desks, iPod docks, and flat-panel LCD televisions. Allow the clean, light beauty of your space calm your senses, as The Kahala Hotel & Resort takes you away. This is a true tropical paradise.
Visit The Kahala Spa to pamper your body and mind with one-or more-of the many inspired treatments. The resort's CHI Health & Energy Fitness Center houses state-of-the-art equipment and facilities to keep up with whatever active routine you may have, while inventive classes like Hula Aerobics, Beach Boot Camp, and Paddleboard Yoga bring a local touch. Dive into the resort's pool or head straight out to the 800-foot stretch of white sand beach. A bevy of water sports is offered, including surfing, paddleboarding, canoeing, snorkeling, fly fishing, spear fishing, and more. Tours and lessons for nearly everything are readily available, or you can simply lay back and soak in the celebrated Hawaiian sunshine. For dining, The Kahala Hotel & Resort offers five on-site restaurants, embracing a variety of cultural influences, tastes and ingredients. Hoku's is the spot for contemporary island cuisine, and an innovative menu that consistently wins the votes of travel and culinary critics. Outdoor meals can be enjoyed under the shade of Plumeria Beach House or Seaside Grill, as fresh fish and seafood make for perfect lunches in the breezy oceanfront surroundings. Spend a romantic evening at The Veranda for live jazz entertainment and a flavor of Old Hawaii, or visit Tokyo-Tokyo for an ultra Asian-inspired meal of Japanese delicacies. The bounties of The Kahala Hotel & Resort are as plentiful as the island's riches, so make your next vacation the perfect complement.
Location of The Kahala Hotel & Resort
The Kahala Hotel & Resort
5000 Kahala Ave. Oahu
96816
Honolulu, Hawaii
Nearest Airport: HNL
Amenities for The Kahala Hotel & Resort
General Information
343 Rooms and Suites
Dining
Outdoor Dining
24-Hour Room Service
5 Restaurants
On-Site Amenities
Beauty Salon
On-Site Car Rental
Concierge
Pool
Shuttle Service
Spa on Property
Laundry Service
Beach Butler
Fitness Center
WiFi
Live Entertainment
Multilingual Staff
Boutique
Outdoor Pool
Gardens
Music & Movie Library
Outdoor Whirlpool
In-Room Amenities
Turndown Service
Air Conditioning
Bathrobes
Ceiling Fans
Direct Dial Telephones
Hair Dryers
In-Room Safes
Mini Bar
iPod Docks
Flat-Screen Televisions
Luxury Linens
Coffee & Tea Facilities
Luxury Bath Amenities
Radio & CD Players
Activities
Bicycling
Cultural Classes
Hiking
Kayaking
Sailing
Scuba Diving
Snorkeling
Boogie Boarding
Whale Watching
Fitness Classes
Surfing
Business
Business Center/Services
Meeting Rooms
Family
Cribs
Babysitting
Kids Pool
Kids Club
Interests
Beach
Family
Kids' Club
Summer Getaways
Reviews for The Kahala Hotel & Resort
---
The Kahala is tucked away from the overwhelming crowds at other hotels in Honolulu as well as in many of the major hotels on the other islands. The hotel boasts old style charm, the lobby is beautifully furnished, all the staff are professional and gracious, and the rooms have a feeling of warmth and comfort. It's lovely to sit on one's balcony and enjoy morning coffee while overlooking the ocean and beach as well as the dolphins playing in the pool (assuming you get a room with an ocean view), or in the evenings watching the sunset with a glass of wine. The beach is beautiful and uncrowded; often you get to enjoy a fabulous wedding of a beautiful Japanese couple with their family. The buffet breakfasts are sumptuous with awesome fresh fruit and tropical juices. The concierge staff are all gracious, professional, and accessible -- one of the lovely concierge's helped us with our plans daily and was often willing to refresh our leis -- Susan was wonderful!!!! The hotel registration staff was also pleasant and accommodating. I'm so happy we took the concierge's advice to hire a private sedan for airport transportation! A shuttle bus takes you into Waikiki for shopping and dining throughout the day (so very appreciated!!!!). I chose the Kahala as a special vacation destination to take my sister there for her first trip to Hawaii. She was overwhelmed with the entire experience, and I'm so happy I chose The Kahala to share Hawaii with her. This was my 3rd visit and I'll always go back when staying in Oahu!
---
We stayed at the Kahala for a medical conference. The resort is beautiful without being over the top. The staff was excellent, courteous and attentive. The rooms were large and comfortable. There is a lot of history at this resort but it does not overwhelm you with its luxury or size. It is expensive. There is a small pool and the beach is just a few yards away. The ocean water is nice and calm due to the reef offshore, perfect for paddle boarding or swimming. There are several restaurants but no easy grab and go option for breakfast or lunch. We enjoyed our stay but wished there were easier options for breakfast other than the main restaurant. I would stay here again.
H Daniel Z - Portland, Oregon, United States
---
We travelled here for our honeymoon for a couple of nights in Honolulu before our cruise around the South Pacific. The checkin staff were a little curt and even though they knew it was our honeymoon, we didn't get any sort of acknowledgement. Pretty poor really. The room we paid for cost a small fortune and didn't even include breakfast (we found this out when we got there). It didn't even occur to us that breakfast wouldn't be included for a £650 a night hotel. Our fault for not double checking though. In the hotel's defence, they did give us free breakfast for the two mornings we were there, so in the end I guess it was a nice thing to do. The room was stunning - again it was the room we paid for, but we were really disappointed not to get an upgrade, especially as the hotel was not sold out. The first morning we were there, my lovely hubby jumped downstairs to reserve a cabana on the beach. He was charged $100 by a member of staff from The Khahala. When we came back to our room and told me what happened I lost the plot! Number one, we didn't realise that they charge you money to sit on the flaming beach if you want an umbrella in Honolulu, but $100 for the cabana?! Eh no! Turns out that it was half that price to reserve one and the member of staff had pocketed the money. I'm sure you can imagine we were furious with the hotel and arguing with members of management on the first day of our honeymoon was not the start we were looking for. We got our money back but seriously saddened that this happened to us. From that moment on we had a pretty sour taste in our mouths about the hotel. While there we made the best of it, but I would not recommend staying there. Another thing: The dolphin pool is shockingly small. As a massive animal lover this should be shut down. You'll see how small it is when you get there. The pool for humans is the smallest hotel pool I've ever seen (hmm is that so you go and sit at the beach to get conned out of $100?). Not impressive. The hotel is tired in areas and needs a bit of a facelift. I would not return to this hotel.
---
We had the pleasure of staying at the Kahala Resort for two nights, with one of those nights being our wedding night. We actually got married at the beach right outside of the resort. We were having a hectic and stressful day, but the moment we checked in, Gina made everything amazing for us. She really took great care of us and we are so appreciative of her! Kahala is lucky to have her. Everything about our stay was magical. Really felt like paradise between the incredible beach, beautiful amenities inside and out and amazing staff. I can't wait to stay here again (hoping for a future anniversary trip!)
---
Kahala Hotel is unique for at least two reasons. It is in Honolulu, but away from Waikiki. Unless you are looking for a city Hawaii vacation, the Kahala is the only great hotel near enough to Honolulu to enjoy the great food and shopping Waikiki has to offer, but far enough away to avoid the hustle and bustle. There's good news and bad news in this. The bad news is a taxi or Uber ride into downtown Waikiki will set you back $35 each way. The hotel offers a shuttle into Waikiki, but inexplicably, this bus is in pretty bad shape. Tip - Stay in the front at all costs. The rear axle may fall off at any moment. The other unique thing about Kahala is its Dolphin Lagoon. The hotel has 6 of the friendliest, most entertaining dolphins anywhere. Book a Dolphin Lagoon room and you will be endlessly entertained by these beautiful animals. Here's another tip - make sure you're not booked into 1206 or 1207. If you are, you will be looking partly at Dolphins, but mostly at the back side of the hotel's tower. When I requested a room change, I was only offered an ocean front room for $100 more per night. There were other issues which prevent me from otherwise endorsing this Hotel. There is construction going on outside the Plumeria Restaurant, which is the indoor/outdoor restaurant where a beautiful and included breakfast buffet is served daily. Why this construction is not scheduled after the buffet hours is inexplicable. During our stay, each morning we were greeted with a view of construction workers and not the Pacific Ocean, along with the attendant noise. Equally hard to explain is that the hotel offers comfortable lounge chairs and umbrellas pool side, but a few steps away on the beach, the lounge chairs are free, but the same umbrella costs $30/per hour. The beach itself is beautiful and faces west towards the sunset. If you want a beautiful view (and I mean really beautiful), but not a sun tan, this view is unavailable without significant additional cost.
---