Please select your dates to see prices:
---
Hopkins Bay Resort in Hopkins, Belize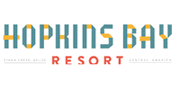 Bathed in the brilliant hues of the Tropics, Hopkins Bay Resort unites the exotic wonders of paradise with the warm, welcoming spirit of the Caribbean. Experience the beauty of Belize in expansive guest houses, including an intimate loft living space for a romantic getaway, or one, two, and three bedroom accommodations for larger groups. Equipped with all the comforts of home, including dishwasher, full kitchen, and air conditioning, you will have everything you need to enjoy your getaway. Combined with the luxuries of resort living, from private decks, and ocean views to vaulted ceilings and scene-stealing local artwork, Hopkins Bay Resort has attended to even the smallest details of your vacation experience. The picturesque subtropical terrain enjoys an average temperature of 79 degrees annually, with a constant cooling breeze drifting in over the Caribbean Sea.
As the closest mainland property to the longest barrier reef in the Western Hemisphere, Hopkins Bay Resort offers unprecedented access to some of the world's most beautiful beaches, breathtaking archaeological sites, and the lush canopy of the jungle. Explore ancient Mayan cities before dipping your toes in the tepid waters of the cerulean sea, or work up an appetite with an underwater SCUBA adventure before the hotel's famous beach barbecue. Take in the sights and sounds of this sleepy fisherman's village on a Garifuna immersion experience, where guests get to know local tradition, culture, and an array of eateries serving up local delicacies. Or simply sit back beneath the cool shade of sky-high palms and enjoy a cocktail waterside at one of the hotel's two sparkling pools. Sugar-sand beaches, lively entertainment, indescribable gastronomy, and grand accommodations await at Hopkins Bay Belize, treat yourself to an adventure!
Location of Hopkins Bay Resort
Hopkins Bay Resort
North End, Hopkins Village
Hopkins, Belize
Nearest Airport: BZE
Amenities for Hopkins Bay Resort
General Information
Ecologically Sustainable Practices
Dining
Pool Bar
Restaurant
Snack Bar
Dining Room
Seasonal Restaurant
On-Site Amenities
Concierge
Pool
Spa Services
Housekeeping Service
Laundry Service
Bicycle Rental
Garden
Art Collection
Beach Access
Beach Amenities
Barbeque Area
Infinity Pool
Complimentary WiFi
In-Room Amenities
Private Patios or Balconies
Air Conditioning
Bathrobes
Ceiling Fans
DVD Players
Hair Dryers
In-Room Safes
Mini Bar
Satellite Television
Iron/Ironing Boards
Flat-Screen Televisions
Vaulted Ceilings
Bottled Water
Complimentary WiFi
Activities
Bicycling
Cooking Classes
Cultural Classes
Educational Programs
Excursions
Fishing
Hiking
Kayaking
Cooking Demonstrations
Scuba Diving
Snorkeling
Sunset Cruises
Ecological Excursions
Nature Walks
Fly Fishing
Boat Excursions
Beach Volleyball
Reef Fishing
Rappelling
Wildlife Viewing
Cultural Tours
Bird Watching
Trail Riding
Boating
Sightseeing
Zip-Lining
Nature Hikes
Family
Beach & Pool Toys
Children's Programs
Nearby
Shopping
Zoo
Art Galleries
Museums
Restaurants
Beaches
Nature Reserve
Interests
Active & Adventure
Beach
Culture & Arts
Family
Reviews for Hopkins Bay Resort
---
Hopkins Bay Resort has been one of my favourite beach destinations in Southern Belize. The hotel staff is always friendly and helpful. I find the rooms great value for the price, an ideal location for my needs.
jhagenphotography - Kitchener
---
This resort is perfect in every way that matters. Room/View Our One Bedroom beach view room was stunningly beautiful. The woodwork, furnishings, layout, space, outdoor space, stairs to our room...everything. It was beautiful. The bed was so comfortable. The ceiling fans made the airflow perfect. The view of the sea from our room was so amazing and we enjoyed it from the large balcony every morning and night. It was also pretty cool that there was another balcony (less fancy) at the back of our unit so we could also see the sunset if we wanted to. There was a nice wardrobe with space for hanging clothes and plenty of drawers and some shelves as well as a safe. Plenty of room to unpack and not have to live out of your suitcase. The bathroom was large and modern and comfortable. The shower design and lack of door or curtain allowed quite a bit of water on to the floor, but that was no big deal. There was also a little fridge and, yay!, a drip coffee maker which was great although they really do need to get bigger coffee cups for us silly Americans who like big mugs of coffee. Those little guys weren't getting it done. :-) There is also a big water dispenser in the room which was nice. The television has a gillion channels too - many/mostly American stations. My husband was happy he didn't have to miss his Sports Center. The Resort Some resorts are too busy and loud. Some are too quiet and lonely. Hopkins Bay Resort is a perfect blend of both. There is activity going on - people at the beach, swimming in the pool, riding bikes around, employees doing stuff - but you never feel like it is busy or crowded in any way. It is just enough activity to make you feel like you are not out in the middle of nowhere by yourself. It was quiet but not isolated. It was fun watching people try the stand up paddle boards and the kayaks. There is also a great restaurant onsite - The Rhum Shack. The food is delicious and there is a full bar. On the first night we got there, we rushed over there to eat before the kitchen closed. When all of the sides are open, there is a nice breeze and an expansive, beautiful view of the water. The food was delicious and the service was great. We were never at the resort when the Drum Bar was open or when there was drumming, so I can't report on that, but I bet it's just as great as everything else at Hopkins Bay. The People Every employee that we encountered in our stay at Hopkins Bay was friendly, knowledgeable, helpful, kind and welcoming. They went out of their way to be welcoming and engaging. We had fun conversations with so many people, especially at the Rhum Shack. This was our first stop in Belize and we immediately knew we had picked the right place to stay and the right country to visit. One night at the bar, we tasted the unusual Surinam cherries they used in drinks. They were delicious and the staff was happy to tell us where we could find them growing at the resort. Turns out they grew right by the building we were staying in. Yum! The Logistics We flew into Belize City and rented a car to drive to Hopkins because we wanted to have a car for exploring while we were there. Our direct flight from Denver did not arrive until late afternoon and it was quite a drive to Hopkins. The roads were fine and paved and everything. I wish that we didn't have to do a lot of this drive in the dark because it is a little scary not knowing where you are. The way back in the daylight was not only much better, but really really beautiful. Also, make sure you take the longer route through Belmopan because the GPS-recommended cut through way is mostly unpaved and your rental car insurance will not cover you if anything happens in this area. It adds maybe 30 minutes but it is worth it to be on better roads. There are unpaved areas along the route we took, but the roads are wide well tended. Also, note that there are speed bumps all along the highway as you approach villages. There are also many single lane bridges. Mostly, however, the road is smooth and it is an easy drive, although a little long after a day of travel. Many of the roads around Hopkins are absolutely terrible - even the small road leading right into the resort from town. Bumpy and fully of potholes so big I'm not sure you could even call them potholes any more. I highly recommend an 4WD SUV as a rental. We had an SUV but not a 4WD. There are so many things to do around Hopkins and Hopkins is the perfect base from which to explore the area. If I had to do our trip all over again, I would have stayed there for our entire trip. Sadly, we went over to Ambergris Caye for the last days and it was not nearly as awesome as this part of Belize and our lodging, although mega fancy, was not nearly as wonderful as Hopkins Bay Resort. We had saved some water exploring things for that part of our trip and stuck with jungle things while in Hopkins, but we could just as easily have explored the water in the Hopkins area. If we ever go to Belize again, we'll definitely stay here. It was perfect - except for the tiny coffee cups - but I'll happily bring my own. :-)
---
Rooms were beautiful, large, and had great views. Beds were comfortable, AC worked very well. Staff was friendly and attentive, definitely went above and beyond. Bike rentals were convenient as well. The Pina Coladas are delicious.
---
Hopkins Bay Resort is quite the beautiful setting and the rooms are nice too. Our room was a one bedroom right on the ocean. We had a beautiful view of the Caribbean sunrise every morning. Our room came with a TV, AC, a water cooler and a refrigerator. The staff was very attentive and very willing to help and ensure we had a great time at the resort - which for the most part we did. The maintenance team were up every morning cleaning and raking the beach to provide the best experience possible! Just a couple of drawbacks about HBR though ... first, where our room was located really had a bad smell, a combination of sulfur and dead fish. I think we were near the maintenance area which might have contributed to the smell. The room was also in semi-bad shape - they definitely had some wear to it. Perhaps it was just the end of the season and it hadn't been freshened up in awhile. Also, being on the beach and having very nice hardwood floors, a rug would have been nice to better help keep grit out of the bed. Last, but probably most importantly, the rooms allow noise to travel quite easily. We were always hearing noises from the guests in the room below us. On another note, the restaurant, if the menu rotated, would really step up the experience here!
dphazelwood - Raleigh, North Carolina
---
What you see is what you get at this resort. The rooms are so roomy and comfortable. The bathrooms are big, showers are excellent along with the water pressure. The decks are big and roomy and a nice place to sit and relax after a day on the beach. We did not have an ocean view room, but our view was awesome and could see the ocean from our deck. I don't think there is a bad room on the grounds. The beach is a nice place to sit, or take a walk, or go for a swim. You are able to walk out a long distance in the water and still be shallow. The pool area is also a great place to relax by. You can't say enough about the staff, so friendly and pleasant all the time, very accommodating. Hopkins Village is a short walk or bike ride into town. We walked into town several evenings to eat and listen to the local music. Driftwood has live music on Tuesday nights and their homemade pizza's are awesome. The people in the Village are so friendly. We would definitely come back and stay at Hopkins Bay Resort.
Bibber - Sleepy Eye, Minnesota
---