Please select your dates to see prices:
---
Hotel ZaZa Houston in Houston, TX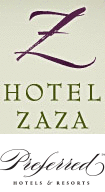 Defined by a sophisticated elegance seamlessly blended with the bold grandeur of Texas, the landmark Hotel ZaZa Houston is a lush urban oasis. In the heart of the city, situated among museums and fine shopping, this luxurious peaceful retreat welcomes you to relax. Whether you stay in a refined guest room or a concept suite, each guest abode reflects the unique and distinct design of the hotel, with rich earth tones and a soothing ambiance. Sliding glass doors lead out to private balconies with sweeping city views, while all the modern amenities keep you well entertained. At Hotel ZaZa Houston, style and comfort go hand-in-hand, and the wonderful city is just outside your door.
Enjoy Houston's crisp mornings by teeing off at nearby Royal Oaks Country Club or Bay Oaks Country Club, playing 18 holes before strolling through Ball Park for an afternoon picnic. Visit the Museum of Natural Science, the zoo, and the beautiful gardens at Hermann Park, or hike along the banks of the Buffalo Bayou. Take a relaxing afternoon for some fly fishing on nearby Lake Houston, or perhaps head into the city for some shopping at Uptown Park. Spend a day being fascinated at Johnson Space Center, where artifacts from the Mercury, Gemini, and Apollo missions are on permanent display, and marvel at the immensity of the Saturn V rocket. Return to the hotel for some much needed pampering at ZaSpa Houston before sitting down to a fabulous dinner. Enjoy fresh Mediterranean fare, or the perfectly grilled steak, at Monarch, then sip a cocktail and unwind. Drift off to sleep back in the comforts of your room, and dream about your next exciting day in Texas, as a distinguished guest of Hotel ZaZa Houston.
Location of Hotel ZaZa Houston
Hotel ZaZa Houston
5701 Main Street
77005
Houston, TX
Nearest Airport: IAH
Amenities for Hotel ZaZa Houston
General Information
308 Guest Rooms
Pet Amenities
Pet Friendly
Dining
Private Dining
Restaurant
Room Service
Spa Cuisine
Bar & Lounge
On-Site Amenities
Concierge
Shuttle Service
Spa on Property
Laundry Service
Fitness Center
WiFi
Valet Parking
Outdoor Pool
Pool Cabanas
In-Room Amenities
Direct Dial Telephones
Mini Bar
iPod Docks
Flat-Screen Televisions
Luxury Linens
Mini Refrigerators
Work Desks
Business
Meeting Rooms
24-Hour Business Center
Business Services
Nearby
Historic Sites
Shopping
Zoo
Art Galleries
Museums
Restaurants
Golf
Parks
Colleges/Universities
Interests
City
Culture & Arts
Reviews for Hotel ZaZa Houston
---
This hotel is great! Staff and accommodations were excellent and the hotel provides shuttles for their guests. The location is beautiful with museums surrounding the hotel. The only thing missing are nearby restaurants, but the shuttles made up for it.
LCD18_83 - Pleasanton, California
---
More staff training needed. Although my room was fully paid for a week prior to arrival, they declined to give me the room key until Iโ€™d paid an additional $100 per day for incidentals. I asked to have services turned off instead, such as the phone or room service. NO. Can I give a smaller deposit now, with more later as needed? NO. Only $100 plus surrendering my passport allowed me access to my fully paid-for room. I was set to leave a scathing review until Kimberly, a delightful supervisor, smoothed things over with a verbal apology, a handwritten note, and free breakfast the next day. I appreciate this...but the incident shouldnโ€™t have happened in the first place. Please train your staff better.
Phillyjanie - Philadelphia, Pennsylvania
---
My wife and I celebrated our 1 year of being married and I planned everything out for our special night. Let me start of by saying that Hotel Zaza in the meseum district is highly recommended from both us. We had one of the best experiences from any hotel in Houston, from the door guys to when we checked in. We were checked in by this amazing front desk person named Fiorella, she was very nice great customer service and made us feel very welcome to the hote. She literally made it feel like we were on a vacation away from our city and we loved it, my wife and I looked at each other and said now this is how we start of our celebration. Everyone else in the hotel was also very friendly and nice to us. The room we stayed in was speechless and with the view of downtown just topped it off completely, and the service was not done there yet, we also had a free shuttle ride anywhere 5 miles radius from the hotel which was a big plus!!! The following morning we went and ate breakfast and that was another plus, I highly recommend the chilaquiles :) the hotel also has an amazing pool area and they will let you take the bikes out for a ride in the meseum district. Overall the stay was amazing and we are definitely going to recommend it to our family and friends and to whomever reads this review on hotel Zaza. 5 thumbs up!!! ๐Ÿ'๐Ÿผ๐Ÿ'๐Ÿผ๐Ÿ'๐Ÿผ๐Ÿ'๐Ÿผ๐Ÿ'๐Ÿผ๐Ÿ'Œ๐Ÿผ๐Ÿ˜€๐Ÿ˜€
---
Spent the night celebrating my birthday at hotel Zaza and the hotel staff were amazing, especially Marcia. My room was upgraded and I was given a complementary birthday cake and bottle of champagne to help celebrate. The hotel pool was amazing and the staff was excellent. It was a busy weekend with rice university graduation and they still provided excellent customer care. Thanks size that I will be back for another visit! Stay here you will not be disappointed
Westybrooke - Houston, Texas
---
Amazing opportunity for a staycation! Weather was Great! Great view, great food, great staff. Thank you Erin, Emma, Nerissa, and Ermis. We can't wait to come back. Very Zazalicious! Gotta get me some of those longhorns!!
Jai D - Houston, Texas, United States
---