Please select your dates to see prices:
---
Hotel ZaZa Houston in Houston, TX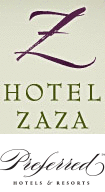 Defined by a sophisticated elegance seamlessly blended with the bold grandeur of Texas, the landmark Hotel ZaZa Houston is a lush urban oasis. In the heart of the city, situated among museums and fine shopping, this luxurious peaceful retreat welcomes you to relax. Whether you stay in a refined guest room or a concept suite, each guest abode reflects the unique and distinct design of the hotel, with rich earth tones and a soothing ambiance. Sliding glass doors lead out to private balconies with sweeping city views, while all the modern amenities keep you well entertained. At Hotel ZaZa Houston, style and comfort go hand-in-hand, and the wonderful city is just outside your door.
Enjoy Houston's crisp mornings by teeing off at nearby Royal Oaks Country Club or Bay Oaks Country Club, playing 18 holes before strolling through Ball Park for an afternoon picnic. Visit the Museum of Natural Science, the zoo, and the beautiful gardens at Hermann Park, or hike along the banks of the Buffalo Bayou. Take a relaxing afternoon for some fly fishing on nearby Lake Houston, or perhaps head into the city for some shopping at Uptown Park. Spend a day being fascinated at Johnson Space Center, where artifacts from the Mercury, Gemini, and Apollo missions are on permanent display, and marvel at the immensity of the Saturn V rocket. Return to the hotel for some much needed pampering at ZaSpa Houston before sitting down to a fabulous dinner. Enjoy fresh Mediterranean fare, or the perfectly grilled steak, at Monarch, then sip a cocktail and unwind. Drift off to sleep back in the comforts of your room, and dream about your next exciting day in Texas, as a distinguished guest of Hotel ZaZa Houston.
Location of Hotel ZaZa Houston
Hotel ZaZa Houston
5701 Main Street
77005
Houston, TX
Nearest Airport: IAH
Amenities for Hotel ZaZa Houston
General Information
308 Guest Rooms
Pet Amenities
Pet Friendly
Dining
Private Dining
Restaurant
Room Service
Spa Cuisine
Bar & Lounge
On-Site Amenities
Concierge
Shuttle Service
Spa on Property
Laundry Service
Fitness Center
WiFi
Valet Parking
Outdoor Pool
Pool Cabanas
In-Room Amenities
Direct Dial Telephones
Mini Bar
iPod Docks
Flat-Screen Televisions
Luxury Linens
Mini Refrigerators
Work Desks
Business
Meeting Rooms
24-Hour Business Center
Business Services
Nearby
Historic Sites
Shopping
Zoo
Art Galleries
Museums
Restaurants
Golf
Parks
Colleges/Universities
Interests
City
Culture & Arts
Reviews for Hotel ZaZa Houston
---
We chose to stay hear for the first time in lieu of our go-to Four Seasons Suite after multiple suggestions from friends. We are not review people but this stay warranted me creating an account just to provide kudos tho Erin and her team. When we arrived it was extremely busy, we were already late, and our son was crying and uncomfortable. I reached out to Erin to express some minor concerns I had and was pleasantly surprised with the response I got. I suggested the option for us to stay another night and Erin jumped on it upgrading our stay to the black label suite. From the moment we woke up the next day we were treated like VIP's. We received a complimentary full breakfast down in the Monarch which was OUTSTANDING! We then proceeded to the concierge who set us up with a driver to take us to the zoo with our son. We require a car seat for our son which was no issue for our driver "Big Mike" I've had private drivers in cities from coast to coast during business trips, but none compared to Big Mike! He took us directly to the front gate of the zoo, made stops in between for us, knew exactly when to engage us in conversation without being overbearing, and took our sons car seat back to the hotel. When we called to be retrieved from the zoo Big Mike was there with our sons car seat with that trademark big mike smile. We were then shown to the Black label Suite which was by far the best accommodation in the city. The view through the floor to ceiling curtain wall windows looking out over Herman Park, the medical center, and the adjacent museums was outstanding. My wife is an accomplished interior designer and she spent the rest of the stay in awe of the textiles chosen, materials in the kitchen, marble dining table, and the eclectic yet tasteful furnishings. The oversized patio with a soaking tub was a unique touch and put to use throughout the remainder of the stay. My wife received a massage on the patio at sunset and a manicure which were outstanding. Erin was also there to greet us when we checked out to let us know to reach out to her when we are visiting Houston again and she would take care of us. I am truly impressed by the staff professionalism, level of accommodations, and quality of the dining. We will be back soon.
TylerEarle - Seguin, Texas
---
Stayed the week to visit our offices and a trade conference. Funky style and rooms, and good location for the rodeo, but that's where the positives end. Now, for the downside: - room nice, but a bit worse for the wear. stuck in a room facing the roundabout, somewhat noisy, and the window and fittings look like they could have seen LBJ or maybe even Huey Long - breakfast (crab cake Benedict) came quite quickly, but it tasted mediocre and I got pretty nasty food poisoning that day - cannot be sure that's the breakfast, but the taste lingered in a bad way, so I would bet on that - it took me calling twice to ask them to find my laundry i left on the door early the previous morning on the following night, although the standard deal is - leave by 9am - get by 6pm *same* day - they blocked the amount even in access of my entire stay on my arrival and then they could not unblock and use the same authorization to cover the stay - they tried to do another charge and it didn't work, because I only charged my corporate card for the stay, ultimately I had to use my personal card and that's now going to be more pain to report the trip - i ordered a gift that was arriving by USPS on the date of my departure, it was not there by the time I had to leave, so I asked them to hold on to it for a couple of days for one of my colleagues to pick it up, I also emailed the manager on my way to the airport with the same request clearly telling them my colleague will pick it up the same day. he showed up and they told him they sent the package back. Whiskey-Tango-Foxtrot??? Another point down for ZaZa. I will now avoid them, and maybe you should, too. Nice people, but incompetent, untrained or unwilling to ultimately make the effort and get the job done. And to the hotel - you lost my business now, please, don't respond with excuses and explanations - just try to do a better job for other guests.
---
From the moment my spouse and I arrived at this hotel, to the moment we left, our experience was perfect! This is a beautiful hotel that is filled with art that is so captivating, it's like walking into another world! The pool area is beautiful and complete with a bar as well as poolside bar / food service. We forgot our sunscreen but they had that covered to. Our poolside room was fantastic! Very spacious and comfortable. Super clean and SUPER COMFORTABLE bed. Luxury at its finest! We ended our stay by having brunch at Monarch Bistro.......... ABSOLUTELY DELICIOUS!!! We HIGHLY RECOMMEND this hotel and look forward to our next visit!
tpeet1234 - Richmond, Texas
---
I booked the hotel and left a small note that I wanted to make it special for our 20 year anniversary. As the date neared, I received an email from the team full of both standard ideas and more romantic options. After narrowing it down, I was looking forward to the day. THEN on the day of, I received a great surprise, one of the themed suites was available for an complimentary upgrade, and it was suggested to go nuts with rose petals. I did. When my wife come in to see the room, she felt like it was a dream (or something out of the movies) and honestly, so did I. We loved every moment we stayed in the hotel, and my wife and I are not hotel people. We felt like we truly escaped into a perfect small place to celebrate our 20 years together. We were in the "For your eyes only room" a truly exceptional room. And of course, the entire hotel, the entire experience was perfect. Thank you to the staff and the care and attention to the all the small things that make the hotel so unique and memorable. Thank you!!
---
This hotel is so cool. The most unique ambience I have ever experienced. The service is outstanding. It doesn't matter if you are wearing sweat pants or a gucci suit, the staff treats you like you are the only guest staying there. I would definitely recommend you stay here. I would stay again any time!
---