Please select your dates to see prices:
---
Belmond Hotel das Cataratas in Iguassu Falls, Brazil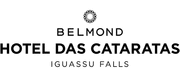 Combine a national park adventure and a luxury hotel experience at the very same time when you stay at Belmond Hotel das Cataratas. As the only resort located within Brazil's Iguassu National Park, guests have exclusive access to Iguassu Falls - a breathtaking collection of 275 waterfalls - each morning before the park opens. The hotel's spacious rooms and suites are designed for relaxing and feature modern amenities like complimentary wireless Internet access and flat-panel satellite televisions. Polished wood floors, traditional artwork, and delicately painted tiles complete the brilliant and inviting design.
The hotel hosts a pair of restaurants, including all-day dining at Ipź Grill and al fresco seating at Itaipu Restaurant, open for lunch and dinner. Bar Tarobį is a perfect place to start your evenings and watch the Brazilian sunset with a caiparinha in hand. A sparkling swimming pool and separate children's pool provide perfect on-site recreation, in addition to tennis courts and the newly-built Cataratas Spa. The Iguassu Golf Club is just minutes away, offering 9- and 18-hole games for and a fabulous golfing experience. The real draw of course is the Iguassu National Park, home to the world-renowned waterfalls and over 450,000 acres of rainforest. Opportunities range from bird watching and nature hikes to more extreme excursions like river rafting and rock climbing. Best of all, at the end of the day you can return to Belmond Hotel das Cataratas to unwind and recap every amazing moment.
Location of Belmond Hotel das Cataratas
Belmond Hotel das Cataratas
Rodovia BR 469, KM 32 Parque Nacional do Iguacu
Iguassu Falls, Brazil
Nearest Airport: IGR
Amenities for Belmond Hotel das Cataratas
Dining
Outdoor Dining
Private Dining
2 Restaurants
24-Hour Room Service
Bar
On-Site Amenities
Concierge
Laundry Service
Currency Exchange Service
Complimentary Self-Parking
Live Entertainment
Boutique
Outdoor Pool
Tennis Courts
Gardens
Lounge
ATM
In-Room Amenities
Air Conditioning
Direct Dial Telephones
Hair Dryers
In-Room Safes
Mini Bar
Satellite Television
Flat-Screen Televisions
Video Game System
Activities
Hiking
Tennis
Nature Walks
River Rafting
Wildlife Viewing
Rock Climbing
Bird Watching
Business
Business Center/Services
Meeting Rooms
Family
Kids Pool
Highchairs
Children's Menus
Rollaway Beds
Children's Bathrobes
Interests
Active & Adventure
Golf
Hotels
Summer Getaways
Reviews for Belmond Hotel das Cataratas
---
Romantic trip away for 2 (without the kids) Transport: no taxis can enter the park to get to hotel. You need to take 10 min shuttle bus (too long to walk!) provided by hotel Location: Magical. The main reason for some staying here. Perfect for visiting the Brazilian Iguazu Falls. The start of the falls walk is just across a road and you can see a wonderful panaromic view of the falls. Room: overlooking the falls. You can hear the crashing water of the falls. Turn town service with macaroons as night time treat. Free bottle water. Food: we enjoyed buffet at ipe restaurant (salads, barbecue meat, etc). Good location next to pool.The main restaurant special meal, but if inside seat no benefit of falls view. Bread amazing. Ceviche fresh with tangy flavours. Pool: Massive and inviting. Loved pool bar with aƧaƭ with banana and Brazilian snacks. Tips - Brazil falls take 2 hours to do. Accessible with children but limited with buggy as many stairs - you do get wet at devils throat but I chose not to get a rain coat as it is a bit like going on a water ride (fun and you soon dry off!) - Argentina falls a must! We did all 3 trails in 4 hours but we whizzed through upper trail, Devils throat most exhilarating. Arrive at main entrance and walk to central station. From here can take train to cataras station but only 600m walk (preferable if you have to wait for train). From cataras station def take train to devils throat. Series of child friendly walk ways with no stairs so can take buggy. Upper trail more falls to see but lower trail has more dramatic falls. Taxi cost us 300 Brazil reals return with driver waiting (Hotel quote 520) - bird park 5 mins from arrival kiosk
nides77 - sheffield england
---
We stayed for 3 nights in this very special hotel in a Fallsview room and we consider ourselves very fortunate and privileged to have had this experience. The Falls are breathtaking....on both the Brazilian and Argentinian sides, so try to make time for viewing both, Staying at the Belmond added greatly to the experience because of the accessibility on the Brazil side, plus great comfort, style, service, food, environment and amenities (the pool is a gem and the cleanest I have ever seen!) We really 'pushed the boat out ' for this but we are so glad we did!!
JE-PE - Huddersfield, England
---
We stayed 3 nights in Room 3104 with partial views of Iguazu Falls. Good sized room with some complimentary mini bar items. Bathroom has a lovely big shower and is a good size. Eduardo, GM of the hotel introduced himself to us on the first night at the bar and was very friendly and personable - he likes to hear firsthand what the guests think. We also enjoyed light snacks in the bar on two occasions. Service throughout the hotel is very good and the concierge and reception staff most helpful. Housekeeping do a good job with turn down service each evening.There are many different areas to sit quietly, both inside and out and the very large pool was popular during our stay. We dined at the main restaurant on the first night but preferred the casual atmosphere of the Ipe Grill with its wide choice of dishes buffet style for breakfast and dinner. Choice of food is extensive. Ideally located, this hotel is opposite the Brazilian side of Iguazu Falls and you have the advantage of seeing them before the 9 a.m. or after the 6p.m. tourist crowds. We took advantage of an early morning walk with only a few likeminded guests doing the same. It was simply idyllic with rainbows and butterflies and the Falls as backdrop. Staying here was a lovely experience and Iguazu Falls, the highlight of our South American holiday.
---
This was the second part of our trip arranged by Monica Tours Peru (reviewed separately). We flew from Rio to Foz de IguaƧu, and Monica arranged the flights for all our journeys. We had to pay for luggage at the airport, and this meant a painful queue, so allow time for that - happily they took payment by card. The flight was good into the small airport, which was a short ride to the National Park gates. We stayed at the Belmond Hotel Das Cataratas, which is the only hotel within the Park. The room was comfortable, not as plush as Belmond Rio, but it is a beautiful hotel. It was well worth staying here right next to the Falls. Firstly, we got an early start while the walkways were empty and before the crowds descend on the Falls, and it does get extremely busy. Secondly it is glorious to sit on the balcony whether eating or drinking (you have to try the Caipirinha drink, very tasty) and have the view of the Falls just across from you, the spray majestically rising up before you. From the balcony we watched the sunset over the Falls, one of those glorious moments in life. There is also a tower in the hotel which you can climb and get further great views of the hotel, Falls and countryside. The food was very good, whether the buffet breakfast, the bar/terrace or the main restaurant. There is a lovely pool, and you are surrounded by plants and bushes which attract beautiful birds and butterflies. The service was excellent, as indeed throughout the hotel. The Falls, 275 of them, are beyond description. No photos do them real justice, videos help, but really it is one of those experiences where you just have to be there and admire the greatness and wonder of our creation. The first day we visited the Brazilian Falls, including the speed dingy through the rapids close up to the Falls - marvellous adventure, wet through from top to bottom, but you soon dry in the sun. The second we went to the Argentinian side. The border can be a bit chaotic, but you need to see both sides of the Falls. There is a train ride, a lot of walking, and getting wet, but it is worth all the effort. you get really close to the Falls. Near to the Park entrance you can get a helicopter ride over the Falls. It is only 10 minutes or so, but well worth it to see all the Falls from above. We just wished we could have had one more day just to relax and enjoy the hotel some more.
---
We spent two nights there, our party of three being split in two waterfall viewing rooms. Of course, the Hotel Das Cataratas is a gorgeous place with an unbeatable location. Anyhow, I was expecting the same service level as in other Belmond hotels I had visited, and this was not the case. Our bedding choice (two separate beds), confirmed many times in advance including at front desk when checking in, was not honored when we entered our room. The flip-flop shoes provided in one of our rooms were a mix of different sizes. Our table for dinner at Ipe restaurant had been prepared with a stained cloth (see picture), and waiters either at Ipe or Itaipu restaurants were not able to pour red wine without staining the table cloth with drops. When coming back to the hotel after a 7 hour tour out, we were surprised to find our rooms had not been made up (in other Belmond properties, concierge sends information about customersā€™ whereabouts to housekeeping, to find most appropriate slots). Finally, it actually rained in the corridor leading to our room (see picture). Do not get me wrong: all these issues were quickly addressed by staff when we complained, but they should not have occurred in the first place. This said, we enjoyed a lot our stay, could not praise enough concierge service and Iguazu experiences staff (transfers, tours, etc.), and we highly recommend staying at the Hotel Das Cataratas when visiting Iguazu falls, for all the good reasons previous reviewers noticed. Final information: our two rooms priced the same had very different views on the falls (one much larger than the other).
---