Please select your dates to see prices:
---
Victoria-Jungfrau Grand Hotel & Spa in Interlaken, Switzerland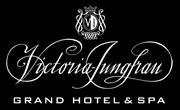 In an ambience of culture and tradition, well-being and luxury, Victoria-Jungfrau Grand Hotel & Spa will exceed even the most discerning traveler's expectations. This luxe alpine haven has been offering Swiss hospitality amid epic mountains and alpine lake vistas for over 130 years. Dining on acclaimed international cuisine at the renowned La Terrasse and indulging in innovative revitalizing and relaxing treatments at the exclusive Spa are a mere sampling of pleasures that await guests of this grand Hotel.
Nestled between the lakes of Brienz and Thun at the base of the majestic trio of Eiger, Mönch & Jungfrau in the Swiss Alps, Interlaken is the ideal starting point for excursions to the Jungfrau region and the Bern Upperlands. Ascend the peaks of Jungfrau and enjoy stunning views from the Sphinx observation hall and visit the impressive Ice Palace. For water sports enthusiasts, the lakes of Thun and Brienz offer a wealth of attractions and activities including sailing and surfing schools, water-skiing, swimming, and angling. In the winter, the Jungfrau Region is a skier's paradise, with a remarkable range of facilities accommodating all levels.
Location of Victoria-Jungfrau Grand Hotel & Spa
Victoria-Jungfrau Grand Hotel & Spa
Hoheweg 41
CH-3800
Interlaken, Switzerland
Nearest Airport: ZRH
Amenities for Victoria-Jungfrau Grand Hotel & Spa
General Information
212 Guest Rooms
On-Site Amenities
Spa on Property
Sauna
Garden
Indoor Pool
Complimentary WiFi
Indoor Jacuzzi
In-Room Amenities
Air Conditioning
Satellite Television
Flat-Screen Televisions
Screened Living Spaces
Work Desks
Bathrobes & Slippers
Complimentary WiFi
Activities
Excursions
Hiking
Mountain Biking
Yoga
AlpineSki
Snowmobiling
River Rafting
Snowshoeing
Snowboarding
Horseback Riding
Paragliding
Nearby
Shopping
Casinos
Golf
Nightlife
Beaches
Nature Reserve
Horseback Riding
Interests
Honeymoons & Romance
Hotels
Spa & Wellness
Summer Getaways
Winter Getaways
Reviews for Victoria-Jungfrau Grand Hotel & Spa
---
I have booked a double room from 11-13th of June 2018 for my family of 2 adults infant 9 months and a daughter of 11 years. I called the hotel and asked them to provide an extra bed for my daughter on chargeable basis whereas infant will sleep in parents bed. The lady straight away said no we cannot provide in this room due to space constraints and safety, instead you take a junior suite she suggested straight away and then pay for an extra bed. Oh this will be too expensive for me i said....or any other option you can suggest i asked politely......She replied '' *You can leave the child at home"** Nothing to say after that.....after all that was VICTORIA JUNGFRAU.
MJain579 - New Delhi, India
---
We stayed here for 3 nights and the stay was beyond expectations.. the major standouts were their pool area and spa area.. specially the saltwater hot tub .. you enter from indoors and as you go out you can enjoy the water fall massage and jacuzzi while enjoying the breathtaking mountain view.. the sauna area was also nice.. i must also mention the breakfast.. it was a lavish spread buffet with a wide variety of choices.. we got to eat indian food too.. choley puri, rajma chawal, idli sambhar and aloo parantha..they also had a separate section for kids.. the hotel is very beautiful and the rooms are plush... staff was very courteous and they made sure we had a hassel free stay...
ruchi_jain9020 - New Delhi, India
---
This is for sure the most beautiful and nice hotel we went to! We were in the bahamas america hawaii etc etc.... It is an amazing hotel the staff is a 5* and so kind! And very very friendly .... The decoration is beautiful you feel like home! Spa, tennis in and outdoor swimmingpool The room was amazing we are still smiling.
---
Very bad behaviour of staff and there is no five star facility in the hotel they don't provide even a wheel chair for the stay to my aunt for just 1 day even also staff talk very badly when you ask anything with them for my suggestion don't go there for next time
---
I really enjoyed the stay .. i booked for 3 nights and wish it's more .. definitely it's the best hotel in the area .. suites have such a tremendous view .. concierge service is excellent and very welcoming to help .. definitely the best
blast1825 - Medina, Saudi Arabia
---