Please select your dates to see prices:
---
The Sofa Hotel in Istanbul, Turkey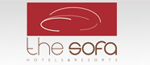 Mention Istanbul and thoughts of an ancient land immediately come to mind. Although things have changed in this Turkish metropolis, you can still find some hidden treasures: welcome to The Sofa Hotel. With just 82 guest rooms and suites, this sophisticated hotel embraces a minimalist design while packing in plenty of stylish elements. Among the lot are the infamous fainting couches, uniquely designed for The Sofa, as well as streaming showers that engulf your body with cascading water. All rooms feature laptop safes and in-room bars stocked with impressive spirits. Treat yourself to 24-hour room service, and enjoy the twice-daily maid service. Adding to The Sofa's appeal is the "24 Hours Anything Anytime" approach, which ensures guests have their needs tended to each time the urge strikes.
At Café Sofa, which features a charming book nook guaranteed to appeal to the bibliophile in all, offers all-day dining on the hotel's main floor. You may select a tome from the shelf, order a traditional Turkish coffee, and kick back for some literary stimulation. While vacationing, there is no need to stray from your fitness regimen while residing at The Sofa, as it has a complete health center with cardio equipment and yoga instruction. After your workout, you may choose to submerge yourself in a steam bath and then drape yourself across a massage table, allowing a skilled therapist to lather your body in nutrient-creams and work her masseuse magic. Once you are all refreshed, explore Istanbul's new generation of bars, cafes and high-end shopping destination flanked with the likes of Gucci, Louis Vuitton and other creators of couture.
Location of The Sofa Hotel
The Sofa Hotel
Tesvikiye Caddesi No. 41-41A Nisantasi
34367
Istanbul, Turkey
Nearest Airport: IST
Amenities for The Sofa Hotel
General Information
82 Guest Rooms and Suites
Dining
Restaurant
24-Hour Room Service
On-Site Amenities
Spa on Property
Spa Services
Library
Fitness Center
WiFi
Hamam
24-Hour Concierge
In-Room Amenities
Air Conditioning
CD Players
Direct Dial Telephones
DVD Players
In-Room Safes
Mini Bar
Flat-Screen Televisions
Rain Showers
Business
Meeting Rooms
Business Services
Nearby
Shopping
Museums
Restaurants
Nightlife
Antique Shopping
Shopping Mall
Convention Center
Reviews for The Sofa Hotel
---
The hotel is really trendy and location is great in a very nice fancy area. With a lot of restaurant and bar and shopping around . The lobby of the hotel is in the 1st floor The hotel does not have a entrance . You need to pass by a cafe and then take the elevator to 1st floor to the lobby The breakfast area is next to the lobby, the breakfast is ok The rooms are spacious, but my room had inner view and was very noisy You can hear all noises through the inner space of the hotel. The concierge is helpful However the rooms hallway had a weird smell
---
This hotel's location was perfect, along with the excellent service. We got to do a lot of sightseeing and activities in a few days thanks to the concierge Denice who was very kind and helpful. If we come back to Istanbul we will surely stay at the Sofa Hotel again.
---
We booked in this hotel due to its location and reviews and we were so happy we did. The location is just perfect with so many cute shops, malls and coffee shops around. The room is very modern and clean. Ours was overlooking the high street. Their spa was excellent, I was treated for a hammam bath followed by full body massage. Breakfast was also included in the room charge and the hotel concierge was also helpful in his recommendations as we also wanted to visit the Tulip festival.
---
The location of this hotel is amazing no doubt. Unfortunately the room is too dim because it has access to windows that overlook an indoor area and no exposure to natural light. The airconditioning barely did it's job in keeping the room cool. The welcome drink promised while booking on booking.com turned out to be a "soft" drink. The staff were quite friendly i must say.
---
I've booked for 3 nights and generally it was excellent stay. They have nice restaurants on the lobby which is in the first floor. The entrance is thru bar which gives it unique design then you will run into the concierge who are one of the best I have met. They are The best staff at the hotels. They have also a lounge and a restaurant on the top floor which different music themes. The terrance suite in general was ok with excellent Terrance. and I noticed they are renovating part of the hotel which is good. The only bad experience I had is when I checked in because there was an error in the total amount which was fixed when I checked out. And I was told upon checking inn by a female receptionist if you don't like the price I can cancel your reservation. I tried showing her the original booking I have with the taxes and she didn't even care to look. That was a buzzer specially at checking inn. But checking out experience was great. To the management, I hope you could look into Trainign the staff looking serious at difference in the prices and trying to resolving it before hinting to customers that you don't care. Lucky that was a single incident and I understand it doesn't represent your excellent customer services.
UP2UP - Riyadh, Saudi Arabia
---