Please select your dates to see prices:
---
The Wort Hotel in Jackson Hole, Wyoming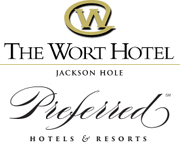 Nestled in the heart of Jackson, Wyoming, the picturesque and celebrated Western town surrounded by majestic American wilderness, The Wort Hotel offers luxury accommodations infused with authentic, historic charm. From the symbolic yellow rose each guest receives upon arrival, The Wort Hotel greets visitors with a friendly and welcoming spirit that extends beyond its well-appointed walls. Listed on the National Register of Historic Places, this Four Diamond hotel - where more than 200 pieces of original or limited edition artwork are on display - houses the Silver Dollar Bar and Grill. Guests of the Silver Dollar can settle into delightful cocktails and exceptional dining from a menu famed for its "mountain-eclectic cuisine." Fifty-nine comfortable rooms, including five spacious Western-themed suites, are each uniquely decorated with custom-made furniture and original art and outfitted with spa-worthy bathroom amenities, locally handcrafted bed linens and free wireless internet.
With the bracing slopes only minutes away, The Wort will handle all aspects of your ski vacation. Set up an equipment fitting in your room, then whisk straight to the mountains on a private shuttle. Be sure not to miss the aprčs-ski cookies and hot beverages every afternoon in the upper lobby. Adventure seekers and outdoor lovers will also enjoy The Wort's proximity to the Grand Teton National Park, right next door, and Yellowstone National Park, a 60-minute drive away. Whitewater raft or fly-fish on the mighty Snake River. Ride on horseback along the banks of an alpine lake or play a delightful round of golf on a world-class course. Meanwhile, steps from The Wort in downtown Jackson are elegant boutiques, gourmet food shops and more than 25 art galleries. Wind down the evening with live music at the most popular nightspot in town: Bluegrass Tuesdays at The Wort's own Silver Dollar Bar. Whether your agenda includes outdoor adventure or soul-soothing relaxation, The Wort will see to it that all your needs - and desires - are met.
Location of The Wort Hotel
The Wort Hotel
50 North Glenwood
83001
Jackson Hole, Wyoming
Nearest Airport: JAC
Amenities for The Wort Hotel
General Information
59 Guest Rooms
Non-Smoking Property
Handicap Accessible Rooms
Dining
Private Dining
2 Restaurants
Room Service
Bar & Lounge
On-Site Amenities
Concierge
Complimentary Newspaper
Housekeeping Service
Gift Shop
Fitness Center
WiFi
Complimentary Parking
24-Hour Front Desk
In-Room Spa Services
Ski Valet
Complimentary WiFi
In-Room Amenities
Turndown Service
Air Conditioning
Direct Dial Telephones
Hair Dryers
Satellite Television
iPod Docks
Iron/Ironing Boards
Flat-Screen Televisions
Luxury Linens
Coffee & Tea Facilities
Luxury Bath Amenities
Mini Refrigerators
Radio & CD Players
Individually Designed Rooms
En-Suite Bathrooms
Activities
Fishing
Hiking
Mountain Biking
AlpineSki
Bike Tours
Trail Riding
Cross Country Skiing
Sleigh Rides
Snowboarding
Horseback Riding
Golf
Business
Meeting Rooms
24-Hour Business Center
Nearby
Shopping
Restaurants
Nightlife
Parks
Market
Interests
Active & Adventure
Ski & Snow
Reviews for The Wort Hotel
---
Wort Hotel is centrally located in the middle of Jackson Hole small town. The hotel has character, is very clean, new, comfortable and luxurious. We had a Grand Room and a Standard Deluxe for a family of 5. The beds were very firm and beddings very comfortable. Actually, the Grand Room is more than spacious to sleep 5, I could imagine it could fit 3 queen beds comfortably and still have good room to couch around. Bathroom amenities are of good quality and smell of lemongrass, complete with bath ropes, room sandals, vanity items (except toothbrush). Starbucks capsules and machine, TV, Aircon and not forgetting the soft big bear that welcomes us as we enter the room. There is no kettle to boil your hot water and you'd have to get it from the restaurant downstairs. Food & drinks at the Silver Dollar was quite good. To be able to see the 4-men band who sing country music, you will need to be seated by 6.30pm. It's quite fun to watch people dancing to the country songs. We drove in to Grand Tetons park and saw Signal Hotel (which looked quite jaded) and Lake Lodge Hotel (which look newer and more modern) from the outside and were glad that we stayed downtown as suggested by some TA folks. I supposed there's more activities downtown even after dark than right inside the park. There are a number of eateries and retail shops surrounding Wort Hotel. Persephone bakery serves good breakfast and there is a small authentic Thai restaurant round the corner. The dishes are somewhat less spicy and sweeter than Thailand's but otherwise satisfying. Overall a good stopover before we enter Grand Tetons and Yellowstone!
VibrantAurora - Singapore
---
Lindsay at the front desk was great, very helpful. Not my first choice of room location, but the room was nice. Just great plactstay. Beds are comfrtable. Silver dollar bar and cowboy bar are great places for a cocktail.
Steve F - Omaha, Nebraska
---
This historic hotel, built in 1941, had many features of other high end accommodations we've had. This included luxury beds and linen, robes, room amenities, room size, leather furniture, decor and finishes (including granite counters and updated fixtures in the bathroom). The warm and inviting western flavor adds to your vacation and gives a taste of vintage Jackson, Wyoming. Two comments would be that room 239 looks out onto a rooftop and the doorman was often either not there or only held the door. He didn't offer to help us with our luggage at checkout. There are steps out the door to the sidewalk that make dealing with luggage a chore. Because of this, I recommend that you use the valet service for checking in and checking out and also because the elevator isn't conveniently located and is a little bit of a hike, depending on which room you have. It's location is very convenient to the square, shopping and restaurants. The self parking was extremely convenient. We would stay here if we return to Jackson.
---
What a great hotel! This is exactly what you would expect to experience in such a beautiful western town. We stayed in the cowgirl suite and it was incredible with a stunning bed covered in luxurious bedding and fur. The location is perfect with an adjoining bar and restaurant. We did not get a chance to experience the food here however as we gave up waiting to get served after around 15 minutes. I feel we have to give them the benefit of the doubt here however as they may have been understaffed out of season. Room service was of a high standard and the service overall was impeccable. For me this rates in the top 5 hotels I have ever stayed in globally. This is largely based on comfort, service and overall experience.
mark5ames - London, United Kingdom
---
The Wort is a classic lodge in the Town of Jackson. The hotel is beautifully maintain and the staff is excellent. Valet parking was free and very convenient. The lodge is an easy fifteen minute drive to Jackson Hole and they also offer a shuttle service although I found it more convenient to drive myself. The Silver dollar bar and restaurant was excellent and hoping. I recommend Blue Grass Tuesdays. A really good time! I give the Wort and the Jackson Hole ski resort very high marks and I cant wait to come back!
richard b - New York City, New York
---