Please select your dates to see prices:
---
Lebua Resort Jaipur in Jaipur, India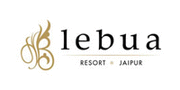 Welcome to Lebua Resort Jaipur, an ethereal vacation destination with a unique perspective on Indian design, spirituality, and rejuvenation. Inspired by Nav Ratn, the nine gemstones that focus the cosmic energy of celestial bodies, the all-suite Lebua Resort combines bold, traditional architecture with inspired, lyrical spaces. The hotel's striking red sandstone façade and domed rooftops call to mind a vision of India's revered past, while innovative details offer unparalleled, contemporary luxury. With just 60 suites, each living space is upheld with meticulous attention to detail and your comfort in mind. A vibrant palette of jewel tones adorns each room, while simple, elegant furnishings compliment the serene surroundings. Each suite offers views of the Aravali Mountains, while modern amenities provide an interesting contrast to traditional wall murals. The divine Lebua Spa by L'Occitane promises rejuvenation and relaxation with a variety of spa treatments that offer a path to bliss and oneness.
The serene grounds are dotted with beautiful configurations of light where the sun streams through patterns in the outer hotel walls, offering playful paths to enlightenment...or the hotel's renowned eateries. Bedecked with towering columns and wide, open spaces, Vajra Restaurant offers a dining experience akin to eating in the Taj Mahal. Subtle flavors saturate an Asian inspired menu with local flair, amidst a soothing ambiance. The cool, dazzling interior of Chakra Bar simulates a starry night sky, with small bites and refreshing cocktails made to order. For guests who hope to explore the city surrounding Lebua Resort Jaipur, the hotel offers adventures ranging from hot air ballooning to a camel safari and kite flying on the rooftop terrace.
Location of Lebua Resort Jaipur
Amenities for Lebua Resort Jaipur
Dining
Restaurant
Bar
Room Service
Picnics
On-Site Amenities
Concierge
Pool
Spa on Property
Library
Fitness Center
WiFi
Currency Exchange Service
Sauna
Boutiques
Rooftop Terrace
Outdoor Whirlpool
Lounge
Steam Room
Health Club
In-Room Amenities
Air Conditioning
Direct Dial Telephones
DVD Players
In-Room Safes
Mini Bar
Satellite Television
Flat-Screen Televisions
Luxury Linens
Coffee & Tea Facilities
Pillow Menu
Luxury Bath Amenities
Activities
Bicycling
Croquet
Excursions
Stargazing
Yoga
Bike Tours
ATV Tours
Billiards
Wildlife Viewing
Table Tennis
Elephant Trekking
Four-Wheel Drive Excursions
Bird Watching
Mini Golf
Sightseeing
City Tours
Camel Trekking
Horseback Riding
Business
Business Center/Services
Meeting Rooms
Conference Facilities
Family
Babysitting
Play Area
Nearby
Historic Sites
Shopping
Museums
Restaurants
Nightlife
Hot Air Ballooning
Parks
Public Transportation
Monuments
Nature Reserve
Interests
City
Culture & Arts
Reviews for Lebua Resort Jaipur
---
if you are the type of traveler who usually minds his/her own business then this could be a good choice of Luxury Resort. For everyone else you will be forced to find errors in almost everything. Property is far from city, so stay here if you plan for 2 nights or more.
---
Chose to visit this resort after reading great reviews however the place did not meet our expectations. 1) Food -veg- was disappointing especially the breakfast buffet. Limited options at lunch and dinner. 2) We visited pool in the evening when other guests were playing cricket by the side of the pool and had played their own music on speaker. We visited the pool next at 8 am in the morning the next day but the pool was in a mess from previous evening. It wasn't cleaned till that time. 3) At the Game room, other guests put a mat for the kid and occupied space because of which there was noise. We weren't able to play as room was also very small. Thanks to Lakshmi who allowed us to carry a board game to room so that we could play. 4) The scheduled puppet show was dropped both days due to some exigency in the performer's family. Would have appreciated if some back up was arranged. 5) We had an extra bed put up in the room. The extra bed was not clean. One would expect to see clean things at a resort like this. 6) We has breakfast in the open area of Vajra restaurant. The view was good but chairs and tables were in bad condition. Not at all clean. Wouldn't recommend the resort in hot weather. The staff was courteous but not well trained. Availability of staff was also an issue. Thanks to Lakshmi who was trying to be prompt and address our concerns.
---
We have visited around April in 2017 and it was selected by my friends and I had no idea about it but the moment we entered in the Proprty. It was wow feeling and I don't remember if we had any issue regarding anything. Oops forgot about food. Yes Good was really delicious and service was pretty quick. Thanks to staff members for giving us wonderful experience.
---
I stayed here in the weekend of Holi. Wanted a relaxing holidays. The resort was just right to spend my time with family. It is like an oasis in the midst of desert. Reaching here got slightly tricky on me. Google tries to take shortest path and make you travel through villages and small roads. Better not to leave highway. One evening when I went to Chokhi Dhani, it took me a while to find the correct way in the night. Got me a little worried for safety too. The architecture of the resort is quite interesting. It is based on the famous Jantar mantar which makes it quite unique. Houses are built in sections and even if the resort is filled up, you get your privacy. There is a beautiful flower garden in the resort. Very colorful flowers are blooming all around the resort and makes it feel very fresh and colorful. The staff is extremely nice. Always trying to help for anything you need. The morning breakfast was fine. had variety of Indian food including live counter. Although I didn't quite like the bakery stuff much i.e. croissant, doughnuts, danish pie, etc. We also tried lunch and breakfast at the restaurant. Food is a little on the expensive side. A small veg meal for 4 could cost around 3-4k, also a little heavy on the stomach (too much oil). There is a swimming pool and spa too. Spa service was nice and clean. Swimming pool had lots of kids jumping around, even playing with colors, due to holi weekend. Rooms are huge and had ample of space. We also had a private outdoor balcony to enjoy our tea. The area could however allow you to get on to your small private garden but then unsafe for kids as there is no railing. Our room co-incidentally was base don Holi theme, nice colorful painting and bright walls. Not much external activities though. There was puppet show too but they seemed more interested to get some money so were asking kids to get parents. ok recreational area with table tennis, cricket ground, carrom, pool area & a small children room. Overall a good experience.
ujjwalkundra - New Delhi, India
---
This property is one of the best in town. Room are cozy and extremely clean. Food is excellent and delicious. Staff is very courteous and soft spoken. Rooms are airy and spacious. Colours choosen are very subtle and soothing to eyes. Property is very well maintained with complete balance of greenery.
---