Please select your dates to see prices:
---
Michelangelo Towers in Johannesburg, South Africa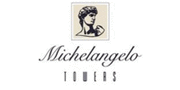 Rising impressively in the heart of the shopping and business center of Johannesburg in South Africa, Michelangelo Towers is a first class apartment hotel that is ready to greet you with impeccable service and quiet luxury. Reaching 33 stories above the Santon skyline, the Towers offer panoramic views of the Magaliesberg and Gauteng skylines. Most apartments offer views, some offering 360 and 180 degree panoramas, so watch the skyline sparkle from the luxury of your spacious and richly decorated room as the sun goes down each night. Then head out to one of the five restaurants located on the premises, offering cuisines to suit any taste, or stay in and enjoy your apartment's fully stocked kitchen. With 24 hour room service and a veritable media center in your room you may never want to leave.
Johannesburg has a rich and interesting history, from the gold mines to the fossil mines. Exploring the city means visiting museums, art galleries and the largest zoo in Africa. The apartment hotel itself is part of a complex that includes the largest shopping plaza in the city, with countless bistros and cafes and theaters mixed in among the designer boutiques. Situated within driving distance of several major airports, as well as important sights and shopping and business districts, Michelangelo Towers is a perfect home away from home. Whether you are stopping in Johannesburg on your way to another destination, or exploring the city, Michelangelo Towers caters to your specific and individual needs with five star attention to detail, making your stay a retreat into luxury.
Location of Michelangelo Towers
Michelangelo Towers
8 Maude Street Sandton Central
2146
Johannesburg, South Africa
Nearest Airport: JNB
Reviews for Michelangelo Towers
---
Excellent rooms, perhaps a little dated and lacking in international power points. Comfortable and well appointed. Restaurant sadly lacking in supervision. Breakfast took 45 minutes to serve (for 4 people) and was poor.
David M - Vancouver, Canada
---
Stayed for 2 nights and highly recommend Michelangelo Towers for a stay especially for families. The staff from the porters to the reception staff were very helpful and friendly! The room - more like apartment is spacious and has everything in place for easy convenience for a family stay. The bathroom is large and clean! The room has a king size bed and ample cupboard space. The decor is timeless and in good condition. The kitchen area contains a dishwasher and washing machine which makes it easy for a longer stay. The only negative was the breakfast- limited options. But would definitely stay here again in the future!
Fatima A - Bloemfontein, South Africa
---
There was no water for two days and the staff was not helpful at all. You cannot imagine an international hotel like this fails to make an alternative arrangement for such crisis. They really didn't care what we went through and all they could tell us it was the municipality...we had to go shower in a separate hotel nearby and order small bottles of water for simple things like brushing our teeth.. I was bitterly and awfully disappointed for my first time experience. Not a cheap place considering the service offered....
abdulrahmanms - Dar es Salaam, Tanzania
---
For ME...this is ALWAYS a place to stay.Very comfortable especially when I travel with my little one. Very clean.Location on point. Shops right there..there everything you need from a staycation. Lovely place indeed.
---
Great appartment soize rooms adjecent to Sandton City However this ""hotel"' misses basic infrastructures that business travellers need and want . Furthermore service is average at best and the overall experience is lacking therfore
John B - Amsterdam, The Netherlands
---