Please select your dates to see prices:
---
Turtle Bay Resort in Kahuku, Hawaii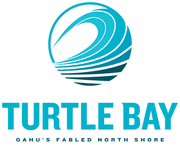 If Turtle Bay Resort's idyllic locale looks familiar, you might have seen Magnum P.I., the original Hawaii Five-O or Forgetting Sarah Marshall – all of them filmed at Oahu's fabled North Shore. The resort unveiled newly renovated rooms in 2014 that utilize cool Polynesian colors and natural rattan. Chase your pipeline dreams at one of world's premier surf schools or wander to the privacy of a windswept beach. Part of the Hawaiian Islands Humpback Whale National Marine Sanctuary, Turtle Bay's waters offer sanctuary to whales, monk seals, green turtles and dolphins.
Go for a morning run on 12 miles of seaside paths through marshes, beaches and Banyan forests. Keep an eye out for sea turtles basking in the sun. Check out what's happening on the Banzai pipeline – if it's wintertime, waves could reach 50 feet. Retreat to calmer waters to relax or paddle board. Feast on Kona coffee-rubbed rack of New Zealand lamb overlooking the churning tide at Pa'akai restaurant.
Location of Turtle Bay Resort
Turtle Bay Resort
57-091 Kamehameha Hwy Oahu
96731
Kahuku, Hawaii
Nearest Airport: HNL
Amenities for Turtle Bay Resort
General Information
443 Guest Rooms
Non-Smoking Property
Connecting/Adjoining Rooms
Ecologically Sustainable Practices
Handicap Accessible Rooms
Dining
Outdoor Dining
6 Restaurants
3 Bars
Room Service
Coffee Shop
Organic Cuisine
Healthy Cuisine
Picnics
Lounge
On-Site Amenities
Beauty Salon
Concierge
Spa on Property
Complimentary Newspaper
Hiking Trails
Laundry Service
Gift Shop
Walking Trails
Fitness Center
Flower Shop
Screening Room
Bicycle Rental
Live Entertainment
2 Golf Courses
Valet Parking
Art Collection
Complimentary Parking
Boutique
Tennis Courts
Horse Stables
Gardens
Personal Trainers
Beach Access
Car Rental
Lounge
Elevator
In-Room Spa Services
2 Outdoor Pools
ATM
Helipad
In-Room Amenities
Turndown Service
Air Conditioning
Cable Television
Direct Dial Telephones
Hair Dryers
iPod Docks
Iron/Ironing Boards
Marble Bathrooms
Flat-Screen Televisions
Coffee & Tea Facilities
Vaulted Ceilings
Private Lanais
En-Suite Bathrooms
WiFi
Activities
Bicycling
Cultural Classes
Educational Programs
Fishing
Hiking
Kayaking
Tennis
Pilates
Mountain Biking
Stargazing
Canoeing
Nature Walks
Yoga
Whale Watching
Helicopter Tours
Fitness Classes
Surfing
Wildlife Viewing
Cultural Tours
Bird Watching
Trail Riding
Meditation
Kite Surfing
Paddleboarding
Horseback Riding
Golf
Dance Lessons
Aqua Fitness
Nature Hikes
Water Sports Programs
Business
Business Center/Services
Meeting Rooms
Conference Facilities
Catering Services
Family
Children's Programs
Cribs
Kids Pool
Waterslide
Children's Amenities
Children's Menus
Arts & Crafts
Nearby
Historic Sites
Shopping
Art Galleries
Restaurants
Golf
Beaches
Parks
Monuments
Nature Reserve
Market
Interests
Active & Adventure
Beach
Cool Pools
Family
Golf
Hotels
Spa & Wellness
Spring Break
Summer Getaways
Reviews for Turtle Bay Resort
---
After reading the previous reviews, I definitely understand how the positive and negative reviewers feel. Upon arrival, we were pleased to see the grounds were nice, the hotel the 'right' size (ill get to that later), everything looked as in photos. We were greeted pleasantly, and immediatly helped with at the check in. For this trip with my family, we decided to splurge on the cottages, and be away from the main resort. The cottages are a 3-5 minute walk from the main property, but the staff 'always' wanted to give you a ride to and from, and made it seem like it was so far away, I appreciate the courtesy, but at a point it seemed to be driven by getting $ tips. So trust me, its a very walkable property. Now for the cottages, I highly recommend the units 138-142, these are the furthest from the main property and pool noise, also the service noise, as the main service tunnel is under the resort, and the driveway is busy all day with delivery trucks, with their backup beepers constantly going. so peace and quiet is at the end of the cottages! The room itself is very spacious and comfortable, great for a family of 3-4. The room was nice and clean, the beds very comfortable and the bathroom was very large and clean. The only minor draw back is that the whole bathroom is open, meaning the toilet is right there, not in a seperate room, so this made getting ready for the day or dinner a bit more troublesome as we now had to really 'share' the bathroom ;-) The only negative points Id have about the room is the screen door was a mess, very worn, and it came off its tracks and when I tried to fix, I slammed the thing onto my toe which a week later is still bruised. The outdoor lounger was nice, but needs to be cleaned once in a while, it was dirty and reeked of B.O. and sunscreen. Highlights here outweigh the negatives though, as you are right at the ocean, and it was very enjoyable to walk out to the water, and listen to the waves at night! And the rooms are spaced so you dont really see your neighbors. Another nice touch, we had empty rooms between us and the neighbors, this had to be purposely done, and was awesome of the staff to be aware of this, and to provide that little extra comfort of not having to hear your neighbors, well done. Also, the nice bottles of water, and afternoon treats/gifts were a nice touch. The cottage staff really is there for you and want to be sure you are enjoying yourselves. I thought the customer service was right on point, genuine and not overtly pushy. We also used the gym, and its pretty nice to be looking out over the ocean while working out. There was plenty of equipment too. I played the Arnold Palmer course, and as another reviewer wrote, the rented clubs were very nice, even for a hack like me, and the 3 some I was playing with thought I was an amazing driver (which Im not!) but that driver was awesome! The course was immaculate, and surprising did not play as hard as I was told, even on a very windy day. We did have breakfast at their buffet, and that was pretty standard, overpriced (which is common) but the food overall was good. The restaurant itself seems dated (like 1980's) but we also heard that there is new ownership, so lets see what happens. The rest of the resort was nice, and what I meant by it being the right size, we look for places that are not crazy huge, like the hilton on the Big Island, we prefer these 4-5 story resorts, as they tend to be a lot more relaxing, quiet, and enjoyable. Now someone mentioned the pool being loud and crazy, I didnt get that, even though a lot of kids. The pool is pretty big, the water slide fun enough, even for a 13 year old, and everyone seemed to space themselves out nicely. What this may be like on a busy, summer week, I dont know, but for mid april we enjoyed the pool. The one complaint was even though they had 4-5 servers, both days we never once got asked to see a menu or like to order something. This has its good and bad points, as it is nice not to be 'hounded' like you are at some resorts, but asking once would be good, just to know what are needs are, like we might say "we'll order some lunch later' so you know to come by later. But in grand scheme its a minor issue. Now for the new ownership, and talking to some of the staff on their opinions, it sounds like this may be a positive thing for the resort. One staff member said that the new owners want to keep the feel of the resort as it is, but do expect to 'modernize' it with remodeled rooms. Hopefully this does not have a dramatic increase on prices. The cottages were $700 a night (incl taxes), and thats pushing our budget, but was worth the price to have a real relaxing room where we could enjoy the ocean sounds, and not people yelling/talking and kids being kids. I'd imaging if you wanted quiet vacation, this place would be amazing on a off week/low occupany time. Sorry I cant tell you what the main hotel rooms were like. But overall I do recommend this resort, even if you could only do a few days, its worth it.
ken l - San Jose, California
---
The grounds are magnificent. The Palmer Course was beautiful and my rented clubs were absolutely dreamy. My room, however was in need of an upgrade. The room had mold in the shower and the bottom of the bathroom door was rotting. The sliding door base is raised about 3
TRMort - Menifee, California
---
Impressive waves right next to resort, but actually "soft" enough to be suitable for beginners. The resort itself was very nice: great quality rooms, clean everywhere, and great service, friendly and helpful.
Arizona4Travel - Tucson, Arizona
---
Stay here and you will have the best vacation ever. They set you up with the best local places to eat. Free snorkel gear if you stay at the hotel and it is beautiful snorkeling. The rooms have amazing views
---
This our second time staying here . The staff is really friendly . No complaints there . The rooms are nice and beds very very comfortable . Just seems to be a little overpriced and Very crowded with kids screaming all day at the pool also with having to pay for self parking and the food prices as well . Not sure if we will be back . But wasn't that bad
Jesse_Gee1 - Seattle, Washington
---