Please select your dates to see prices:
---
Turtle Bay Resort in Kahuku, Hawaii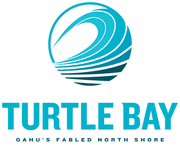 If Turtle Bay Resort's idyllic locale looks familiar, you might have seen Magnum P.I., the original Hawaii Five-O or Forgetting Sarah Marshall – all of them filmed at Oahu's fabled North Shore. The resort unveiled newly renovated rooms in 2014 that utilize cool Polynesian colors and natural rattan. Chase your pipeline dreams at one of world's premier surf schools or wander to the privacy of a windswept beach. Part of the Hawaiian Islands Humpback Whale National Marine Sanctuary, Turtle Bay's waters offer sanctuary to whales, monk seals, green turtles and dolphins.
Go for a morning run on 12 miles of seaside paths through marshes, beaches and Banyan forests. Keep an eye out for sea turtles basking in the sun. Check out what's happening on the Banzai pipeline – if it's wintertime, waves could reach 50 feet. Retreat to calmer waters to relax or paddle board. Feast on Kona coffee-rubbed rack of New Zealand lamb overlooking the churning tide at Pa'akai restaurant.
Location of Turtle Bay Resort
Turtle Bay Resort
57-091 Kamehameha Hwy Oahu
96731
Kahuku, Hawaii
Nearest Airport: HNL
Amenities for Turtle Bay Resort
General Information
443 Guest Rooms
Non-Smoking Property
Connecting/Adjoining Rooms
Ecologically Sustainable Practices
Handicap Accessible Rooms
Dining
Outdoor Dining
6 Restaurants
3 Bars
Room Service
Coffee Shop
Organic Cuisine
Healthy Cuisine
Picnics
Lounge
On-Site Amenities
Beauty Salon
Concierge
Spa on Property
Complimentary Newspaper
Hiking Trails
Laundry Service
Gift Shop
Walking Trails
Fitness Center
Flower Shop
Screening Room
Bicycle Rental
Live Entertainment
2 Golf Courses
Valet Parking
Art Collection
Complimentary Parking
Boutique
Tennis Courts
Horse Stables
Gardens
Personal Trainers
Beach Access
Car Rental
Lounge
Elevator
In-Room Spa Services
2 Outdoor Pools
ATM
Helipad
In-Room Amenities
Turndown Service
Air Conditioning
Cable Television
Direct Dial Telephones
Hair Dryers
iPod Docks
Iron/Ironing Boards
Marble Bathrooms
Flat-Screen Televisions
Coffee & Tea Facilities
Vaulted Ceilings
Private Lanais
En-Suite Bathrooms
WiFi
Activities
Bicycling
Cultural Classes
Educational Programs
Fishing
Hiking
Kayaking
Tennis
Pilates
Mountain Biking
Stargazing
Canoeing
Nature Walks
Yoga
Whale Watching
Helicopter Tours
Fitness Classes
Surfing
Wildlife Viewing
Cultural Tours
Bird Watching
Trail Riding
Meditation
Kite Surfing
Paddleboarding
Horseback Riding
Golf
Dance Lessons
Aqua Fitness
Nature Hikes
Water Sports Programs
Business
Business Center/Services
Meeting Rooms
Conference Facilities
Catering Services
Family
Children's Programs
Cribs
Kids Pool
Waterslide
Children's Amenities
Children's Menus
Arts & Crafts
Nearby
Historic Sites
Shopping
Art Galleries
Restaurants
Golf
Beaches
Parks
Monuments
Nature Reserve
Market
Interests
Active & Adventure
Beach
Cool Pools
Family
Golf
Hotels
Spa & Wellness
Spring Break
Summer Getaways
Reviews for Turtle Bay Resort
---
This is our second stay at Turtle Bay in the past 3 years. The grounds and setting are every bit as stunning as I remembered. I gave the resort an enthusiastic 5 rating after our last visit, but downgraded it to a 4 this time due to room location, uneven service and amenities. First, the Ocean View room we paid for was more of a Partial Ocean View. We could see the ocean, but our room mostly overlooked a roof. Second, when you're paying a mandatory $40/day resort fee, you expect that certain included amenities will be available, but free beach loungers were nowhere to be found on several days. There were, however, plenty of loungers with small shades available for RENT. Finally, even though we advised the hotel when making and confirming our reservation and at check-in that we were celebrating our 37th Anniversary, there was no acknowledgement by the hotel - not even a note. (We celebrate our anniversary every year in Hawaii and, as far as I can remember, every hotel has recognized our anniversary in some way - wine, a room upgrade, etc.) I will acknowledge that after I noted these issues in response to the clerk's inquiry at check-out, she did credit the resort fee for one of the 7 days of our stay. On a positive note, the valets were very nice and helpful and we appreciated the golf cart rides to Lei Lei's Restaurant. The most impressive feature of this resort is its absolutely gorgeous setting. You will definitely need to rent a car if you stay here. The resort's biggest advantage - remoteness - is also its biggest disadvantage. Bottom line: if you want a lot of action and affordable restaurant choices, you should stay in Honolulu, but if you're looking for a relaxing vacation with stunning views, stay on the North Shore. Overall, we would recommend Turtle Bay and would probably stay here again.
---
THE ONLY REVIEW YOU'LL NEED! Turtle Bay is an INCREDIBLE resort with amazingly accommodating staff. Beyond beautiful and picturesque. People have a lot of petty complaints about this place, but I think it's mostly due to the price; they expect a 5-star experience given what it costs. Well, this isn't the Dominican or Mexico, this is Hawaii, and Hawaii is EXPENSIVE. So keep that in mind. You get what you pay for. It's a rather posh resort, but the standard hotel rooms are normal and perfectly adequate. If you want the fancy experience, rent one of cottages. They looked very modern, large and well equipped. While it IS an amazing resort, we won't be going back, for the following reasons: -The resort fee. After pre-paying everything in advance through a travel agent, there's nothing worst than finding out you'll get a big bill at the end of your stay on top of what you already paid. $43 USD per day, per room. So out of our family of 12 people 10 days, this worked out to thousands of Canadian dollars. It's just unfair and no one had planned for it. Apparently, this is common for Oahu and Maui, but I don't care, it's still a bad policy. -Weather. While I obviously don't fault the resort for the terrible weather we had (21 to 24c, so 70 to 75F and cloudy the entire time), it's also far too windy. You can't hang out by the pool comfortably. I'd also suggest NOT going during American winter, since it just isn't hot enough. Also, there isn't much of a night life. When I showed up the first night on a Sunday at around midnight, there wasn't a single place to have a drink. Everything closes early. The Surfer Bar, which said it was supposed to be open until 2am, was closed. The FOOD, while VERY EXPENSIVE (so plan for it), is all pretty great. Roy's especially. Lei Lei's is average and old-timey, but the pool bar is affordable and about the same price as the food trucks. Average but perfectly fine pub food. I'd avoid the other two restaurants I didn't mention and hit the town. Overall, a great place in general, but I wouldn't return unless it was free. It's too pricey and the weather is too unpredictable. This is really the only resort on the North Shore, so their business will always be busy no matter what. People flock to this place. And that isn't a surprise, since it's beautiful and still probably the best in the area.
OttawaToday - Ottawa, Canada
---
We stayed here for a few nights to make it easier to visit the North Shore and all it has to offer. Reduces travel time to stay right up near the Polynesian cultural centre, North shore shops and Ted's Bakery. Then we stop at the Dole Plantation on the way down to stay at the Aulani. This hotel was clean, rooms were very spacious and very comfortable accommodations. The views were amazing! (room dependent). The beach was family friendly and there were several hotel features (horse back riding and bikes) to help travel around the north shore. There is a good size pool and a smaller pool for kids, as well as a small waterslide and hot tub. Our kids are 8-10 yrs old and the slide did not impress sadly. The restaurants and atmosphere seemed to have a young hip vibe, it even had a yoga/meditation facility and shop selling yoga gear. Our kids mentioned several times they felt like they didn't fit in. The breakfast buffet (kids eat free!) Was one of the best in terms of pricing and food quality. Staff were courteous and overall it was a welcoming environment. More for singles, not families, however we did hear some families were camping on the beach? :) to each his/her own :)
4_of_us_on_the_gogo - Kitchener, Canada
---
Everything about my room from location to the view was nice except the mattress. When I check into any hotel I always strip the bedding. I look on top as well as underneath the bed well I had a comer room on the 4 floor and the mattress was stained with what looked like blood. Immediately I contacted the manger whose name is Paina Mikaele who got to work making things right. Not only did they change the mattress but took care of our breakfast our entire stay as well as brought us a bottle of wine. My recommendation if you stay at Turtle bay check you mattress. Everything else was nice including the staff.
---
I'm a local who stayed for an overnight staycation for my mom's birthday. The view from our room was pretty, we had an ocean view which also overlooked the pools. The room itself was large and spacious but seemed quite dated. I thought they had remodeled the place? Maybe just the bungalows? The quality of the room didn't match up to the price we paid. It seems like we definitely overpaid. The worst part was the bed. I had a HORRIBLE night's sleep. The pillows are feathers and just go completely flat and left me with a sore neck and uncomfortable sleep. We requested foam pillows and they brought us the same pillows that went flat, no neck support. For what we're paying, you better have an amazing bed and pillows! It was very disappointing to say the least. Wouldn't stay here again.
---