Please select your dates to see prices:
---
Turtle Bay Resort in Kahuku, Hawaii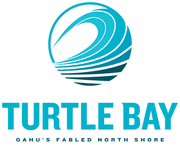 If Turtle Bay Resort's idyllic locale looks familiar, you might have seen Magnum P.I., the original Hawaii Five-O or Forgetting Sarah Marshall – all of them filmed at Oahu's fabled North Shore. The resort unveiled newly renovated rooms in 2014 that utilize cool Polynesian colors and natural rattan. Chase your pipeline dreams at one of world's premier surf schools or wander to the privacy of a windswept beach. Part of the Hawaiian Islands Humpback Whale National Marine Sanctuary, Turtle Bay's waters offer sanctuary to whales, monk seals, green turtles and dolphins.
Go for a morning run on 12 miles of seaside paths through marshes, beaches and Banyan forests. Keep an eye out for sea turtles basking in the sun. Check out what's happening on the Banzai pipeline – if it's wintertime, waves could reach 50 feet. Retreat to calmer waters to relax or paddle board. Feast on Kona coffee-rubbed rack of New Zealand lamb overlooking the churning tide at Pa'akai restaurant.
Location of Turtle Bay Resort
Turtle Bay Resort
57-091 Kamehameha Hwy Oahu
96731
Kahuku, Hawaii
Nearest Airport: HNL
Amenities for Turtle Bay Resort
General Information
443 Guest Rooms
Non-Smoking Property
Connecting/Adjoining Rooms
Ecologically Sustainable Practices
Handicap Accessible Rooms
Dining
Outdoor Dining
6 Restaurants
3 Bars
Room Service
Coffee Shop
Organic Cuisine
Healthy Cuisine
Picnics
Lounge
On-Site Amenities
Beauty Salon
Concierge
Spa on Property
Complimentary Newspaper
Hiking Trails
Laundry Service
Gift Shop
Walking Trails
Fitness Center
Flower Shop
Screening Room
Bicycle Rental
Live Entertainment
2 Golf Courses
Valet Parking
Art Collection
Complimentary Parking
Boutique
Tennis Courts
Horse Stables
Gardens
Personal Trainers
Beach Access
Car Rental
Lounge
Elevator
In-Room Spa Services
2 Outdoor Pools
ATM
Helipad
In-Room Amenities
Turndown Service
Air Conditioning
Cable Television
Direct Dial Telephones
Hair Dryers
iPod Docks
Iron/Ironing Boards
Marble Bathrooms
Flat-Screen Televisions
Coffee & Tea Facilities
Vaulted Ceilings
Private Lanais
En-Suite Bathrooms
WiFi
Activities
Bicycling
Cultural Classes
Educational Programs
Fishing
Hiking
Kayaking
Tennis
Pilates
Mountain Biking
Stargazing
Canoeing
Nature Walks
Yoga
Whale Watching
Helicopter Tours
Fitness Classes
Surfing
Wildlife Viewing
Cultural Tours
Bird Watching
Trail Riding
Meditation
Kite Surfing
Paddleboarding
Horseback Riding
Golf
Dance Lessons
Aqua Fitness
Nature Hikes
Water Sports Programs
Business
Business Center/Services
Meeting Rooms
Conference Facilities
Catering Services
Family
Children's Programs
Cribs
Kids Pool
Waterslide
Children's Amenities
Children's Menus
Arts & Crafts
Nearby
Historic Sites
Shopping
Art Galleries
Restaurants
Golf
Beaches
Parks
Monuments
Nature Reserve
Market
Interests
Active & Adventure
Beach
Cool Pools
Family
Golf
Hotels
Spa & Wellness
Spring Break
Summer Getaways
Reviews for Turtle Bay Resort
---
We were shocked at the poor service we received, from the valet service not allowing us to park while we brought our luggage in, to being told the room we paid for was only a category of rooms and was initially given a significantly lower quality room (and told that we had to pay $30 more at booking to guarantee the room we paid for), to basically feeling like a lower class patron because we booked through a third party provider. We also had a poor experience at the grill where we were told we had to sit at a high top table in the bar or wait 30 minutes, even though the restaurant was only half full. Not to mention they completely overcooked our burgers. Probably the worst burger we have ever had. Don't waste your money.
---
We've stayed at Turtle Bay Resort in the past, and have given them rave reviews. We're here again to do the same. Turtle Bay Resort is unique in its combination of wonderful qualities. Like many Hawaiian resorts, it boasts an amazingly beautiful, rather secluded location. TBR is located at the North Shore of Oahu, on a point overlooking Turtle Bay to the left and Kuilima Bay to the right. Each Bay has its own strip of beach, and is home to one of the resort's guest residence options: to the right, condominium style lodgings with a variety of bedroom combinations, kitchens and other amenities ideally suited to family or group visitors, and to the left, the studio apartment cottages featured in Forgetting Sarah Marshall. The main complex also offers a variety of rooms and suites, thoughtfully placing families in a wing away from couples. The main facility houses all the amenities reort travelers might desire: restaurants, bars, stores, a very well equipped and spacious fitness facility (with incredible ocean views), a coffee bar, business center, a full service spa, and laundry room. There is a swimming pool and spa in the center courtyard, a pool bar that offers poolside service including a very nice menu. On the grounds are also two restaurants not owned by the resort, Lei Lei's on the golf course, and the unforgettable Roy's Beach House on Kuilima Bay (see review elsewhere). The property is home to an expansive and beautiful golf course, horseback riding stables, activity centers that rent everything from bicycles to surf boards, and beautiful acres or trees, beaches, and open fields for walking, lounging, or hiking. Our favorite couples guest rooms are the cottages, which are pricey, but provide an entirely different guest experience of privacy and proximity to the ocean. Each cottage room has a private lanai furnished with a table and chairs for two, a luxurious sofa, and a bench seat with a cushion, upon which I lie as I type this review into my iPad. Yes, there is free WiFi. Cottage guests enjoy the careful attention of their own concierge staff, who bring bottled water and a small treat every afternoon. The staff is consistently friendly, patient, and welcoming. Down the three steps off the lanai is a manicured lawn and garden with shade trees, hammocks, and a few steps further, a ground cover short hedge, beyond which is the beach. There are small breaks in the hedge where guests can step careffully down to a strip of golden sand, striped here and there with volcanic rock that for,s a natural sea wall, and beyond, the sea. The sound of the surf is constant one of the cottage rooms, drowning out other resort sounds and lending to the feeling of remote peace and seclusion. The rooms are well equipped with either king or two queen beds, a dresser, closet, sitting area with a day bed and two chairs, coffee tables, nightstands, area rugs, and a spacious bathroom with separate oversized tub and shower. There is a small refrigerator and a very large flat panel TV, and a Bluetooth or hard wired speaker for playing one's favorite music (e.g., Hawaiian slack key #2 on Pandora). Each room has a room safe for valuables. Everything is within walking distance. The resort is also a very short drive from world class surfing beaches (Pipeline and Sunset Beach), public access beaches, local eateries, and attractions. Ted's Bakery is about ten minutes to the West. Soon thereafter is a supermarket (for those who like to stock the mini fridge), and a few miles farther, Waimea Valley and Falls for hiking and sightseeing. Another 15 minutes up the road is the little town of Haleiwa, full of restaurants and shops and also home to a beautiful beach park. BTW there is no charge for parking at TBR — it is included in the resort fee. What makes all of this additionally unique is that all of TBR's remote, rural charm is on the island of Oahu. 180 degrees from the glitz and glamour of busy Honolulu, TBR is only an hour away (driving up the middle of the island), or two hours along the scenic East side coastal route. That means convenient, numerous flights are available and no inter-island travel necessary to "get away from it all." We love many parts of Hawaii all over its islands, but TRB combines many of Hawaii's most wonderful qualities in an easy to access location with world class amenities. We will certainly be back!
Sam M - Manila, Philippines
---
Many times I have been to Hawaii. Loved going to Tutle Bay. Very private. Loved horseback riding on the beach. Excellent trip. My family was thrilled with the North Shore experience. The beach was lovely. We also enjoyed eating at the Lei Lei restaurant. Best food and drinks. There crab dip was crazy good!
abctravelbag - San Diego, California
---
After many years of coming to Turtle Bay, I left early and will not be returning. It has changed ownership and as one employee described is going in a new direction, which I can sum up as greedy. What brought me back year after year are the great staff and location. They always made us feel at home here. The great staff are here, but they do not make up for the greedy new policy. The resort fee is now $46.00 which includes a lot of amenities you will probably not use. What it doesn't give you is a chair and and umbrella on the beach. I think that's more important than a go pro. You have to pay extra for what should be provided to guests of the hotel. Parking is also extra and if you self park be prepared to walk a long distance as you pass row after empty row of valet parking. By time you add all the extras you're paying luxury rates, which Turtle Bay is not. I will continue going to the North Shore, staying at a vacation rental, going early to park at the shore access parking which is closer than self park and free, bring my own chair/umbrella and have a great time knowing I not being ripped off. I suggest you do the same.
chasbuitr - Seattle, Washington
---
My husband and I stayed at Turtle Bay Resort in April of 2018 for 6 nights. We booked a Deluxe King Ocean View room on Expedia in January 2018. We had been in Oahu in November of 2015 and stayed in the Hilton in Waikiki at that time. Despite being a bit shy naturally, we had a fabulous time in the hustle bustle of Hilton Hawaiian Village in 2015. This time we decided to stay near the North Shore because we were interested in less crowds and proximity to different places. We have close family on the island but prefer to have our own space on vacation and always stay elsewhere. All in all, we were very disappointed with our stay at Turtle Bay. We found the customer service and kindness of staff to be the worst we had experienced during any of our travels to the Hawaiian islands. We both agreed that next time we are in Oahu we will head back over to Waikiki or try VRBO for accommodations. In summary: Cons It's hard to express how disappointed we were with the poor customer service. With a Google and Trip Advisor rating as high as this resort has, I wonder if what happened to us was a terrible fluke. My husband and I travel often and I think a lot of people would agree with us when we say that good customer service and service recovery can move mountains. We were treated poorly from the moment we arrived by front desk staff, poolside staff, and restaurant staff. They all treated us as though we were an inconvenience to them and that they hated tourists and their work. It made me wonder whether the staff were satisfied with their jobs or if they are not treated well by management. We were treated with much better hospitality in Waikiki Hilton, not to mention the excellent service we have received while staying on the big island and Kauai. All in all, this is the main reason we will never return to Turtle Bay Resort. Every amenity comes with a huge catch. We felt that a $46/day resort fee should get us much more. We loved the bay for snorkeling but we're only allowed our two snorkels for 2 hours of each day, and only between 8 and 4:30 (the sign says 5pm but the staff grumpily said they needed everything back by 4:30). Twice, the beach towel rental closed earlier than their 6pm close time, leaving us towel-less. In the end, we went and bought some to avoid these inconveniences. In total, the resort fee and parking expenses came to about an extra $450. Disappointing when the amenities were nearly always cut short of their posted time, and always short of our expectations. The food that we tried at the resort (breakfast at and lunch at The Poolside bar) was appauling. The price would have been fine if it was decent quality. We asked the waiter once what he recommended and he could not tell us that there was anything he loved on the menu (he said "I tried this once, it's alright". Worst attempt at enthusiasm I've seen). We did not get to go to Roy's which is of course supposed to be fabulous but they were booked out to 8:30pm on a Monday night. If you want to eat there at a decent time it seems that you should get reservations a few days in advance. We instead headed out 30 mins to The Elephant Shack for some magnificent Thai - very worth the drive. Lower on the list of concerns, the building was very old, not very clean, and everything has a musky mildew smell. Our AC was very old and leaky and there was a lot of water damage signs on ceilings and walls throughout the building. I imagine it's hard to keep things dry in paradise but we did not have the same issues with our resort stay at Waikiki. Not what I expected for the pretentious attitude of this resort. Again, this is the sort of thing that good customer service would help make up for. Pros The housekeeping staff were very cheerful and kind, the best customer service we experienced at Turtle Bay Resort. The view from our room was fabulous (pictured). The room was very large. The snorkeling cove was wonderful! It's a public beach so we might come back here next time! We were happy that Ted's Bakery was so close, as well as the Rainbow House for fruity treats. Lots of great shrimp trucks close by as well! Elephant Shack was one of our favorites spots this trip. We had a great vacation despite this disappointing stay. We were very lucky to be able to visit Hawaii again and with our family on Oahu, I'm sure it won't be long until we're back. We will sadly never stay at Turtle Bay Resort again.
msmonicateague - Seattle, Washington
---