Please select your dates to see prices:
---
Four Seasons Resort Hualalai in Kailua-Kona, Island of Hawaii, Hawaii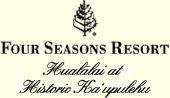 Located on the Big Island's exclusive Kona-Kohala coast, on a tropical oceanfront sprawl, sits the magnificent Four Seasons Resort Hualalai at Historic Ka'upulehu. With a perfect stretch of beach, a private golf course and an idyllic spa, guests are enveloped in luxury and comfort from the moment they arrive. Offering exceptional elegance and privacy, this newly revitalized resort presents spacious rooms and suites housed in bungalows that are scattered amidst tropical gardens. Behind each guest room door is a relaxing oasis, with amenities that vary to include lavish lanais, ocean and golf course views, and deep oversize soaking tubs. Ground-level accommodations feature open-air gardens and showers crafted from lava rock - an abundant island mineral that echoes the island's natural landscape.
Four Seasons Resort Hualalai at Historic Ka'upulehu has an abundance of premiere amenities as well unparalleled services. Upon arrival you will receive a traditional lei greeting and chilled Mai Tai or Hualalai nectar. The resort contains a six swimming destinations, including a tarn filled with tropical fish, a children's pool, and an adult-only swimming retreat. Poolside cabanas are complimentary to compete your outdoor experience. Beach Tree is a casually elegant place to dine, with a casual ambiance and al fresco setting that boasts expansive water views. Enjoy dinner with a brilliant aquarium centerpiece at Pahu i'a, where the chefs pay homage to Hawaii's bountiful seafood, and welcome you in an inviting atmosphere. Exotic drinks can be sampled at Lava Lounge, or choose to sip with your toes in the sand at Beach Tree Bar. The spacious Hualalai Spa offers treatment rituals administered beneath the fantastic Hawaiian skies, and integrates lush gardens with refreshing interiors for a distinctly Hawaiian experience. There is also a Jack Nicklaus signature golf course with fairways jutting over the shoreline, and tennis courts to boost your game. Plenty of outdoor recreation for the kids is readily available, including a cultural center where young guests can dabble in art, history and interactive programs. Capture the essence of Hawaii at the remarkable Four Seasons Resort Hualalai at Historic Ka'upulehu.
Location of Four Seasons Resort Hualalai
Four Seasons Resort Hualalai
72-100 Ka'upulehu Drive
96740
Kailua-Kona, Island of Hawaii, Hawaii
Nearest Airport: KOA
Amenities for Four Seasons Resort Hualalai
General Information
243 Guest Rooms
Connecting/Adjoining Rooms
Dining
Poolside Dining
Private Dining
3 Restaurants
2 Bars
24-Hour Room Service
On-Site Amenities
Beauty Salon
Concierge
Shoe Shine Service
Spa on Property
Complimentary Newspaper
Laundry Service
Fitness Center
WiFi
Boutiques
Multilingual Staff
Valet Parking
Golf Course
Tennis Courts
Personal Trainers
Music & Movie Library
Outdoor Whirlpool
Car Rental
Pool Cabanas
In-Room Spa Services
6 Outdoor Pools
In-Room Amenities
Turndown Service
Bathrobes
CD Players
Direct Dial Telephones
DVD Players
Hair Dryers
In-Room Safes
Satellite Television
iPod Docks
Flat-Screen Televisions
Luxury Linens
Coffee & Tea Facilities
Activities
Cultural Classes
Excursions
Fishing
Hiking
Tennis
Windsurfing
Pilates
Scuba Diving
Snorkeling
Canoeing
Nature Walks
Yoga
Basketball
Beach Volleyball
Fitness Classes
Surfing
Table Tennis
Rock Climbing
Business
Business Center/Services
Meeting Rooms
Family
Cribs
Babysitting
Kids Pool
Kids Club
Teen Center
Children's Menus
Strollers
Beach & Pool Toys
Interests
Beach
Family
Golf
Reviews for Four Seasons Resort Hualalai
---
This was the last stop on our Honeymoon celebration through the Hawaiian islands. We arrived and here and unlike Four Seasons Wailea & St Regis Kauai, guest reception at Hualalai had a blase attitude about any possibility of a room upgrade. We were informed "nothing could be done", not even if we paid more. This was disappointing especially after having read other honeymooners Trip Advisor reviews from just a few weeks ago -where they were treated like 'royalty' with complimentary Presidential suite upgrades and all sorts of regalia and extravagances. Maybe it's because we are an older couple? Or perhaps there was truly no availability. This was even more disappointing after we actually walked into room 712 for the first time (at a rate totaling $2,000 a night with tax). We were met with seriously stained carpets, outdated decor, and a slight urine/musty smell - it is bare-bones basic room, and void of any luxury. The view was fantastic, but that was about all. I have honestly stayed at airport commuter hotels in snow storms that had a more updated feel. One hour after check in we went out to find a place to eat, we first came upon ULU at 5:24 pm. A stunning waterfront restaurant with modern decor, we saw a young couple seated on the outdoor dining sofa so my husband proceeded to the hostess desk and asked Hostess, Chrishla about getting seated for a meal too. She curtly replied, "WE ARE CLOSED". My husband then asked, "Where can we get a bite to eat right now then?", she rudely replied, "I SAID, WE ARE CLOSED!!!" My husband and I were in complete shock!! He literally exclaimed, "WOW!" in total disbelief. She then said go down the path to BeachTree. Doug, the bartender at ULU overheard this horrendous exchange and said, "You guys come on over to my bar and have a seat, I will take care of you, we open in 6 minutes." Now THAT is more like it - Doug managed to divert a situation that was going downhill FAST. However, Chrishla, well, she should be pulled back into hospitality training. I mentioned this distasteful exchange to a few staff members on the property, including a Concierge agent. Once again, just a blase, "Sorry that happened to you." No one seemed to care, or even inquired as to Chrishla's name! As we are now into the 5th night of our stay I understand why this didn't alarm anyone; the service standard here is simply very spotty, inconsistent and subpar to other FS properties. This property lacks continuity in many areas. Food is sometimes poor, sometimes excellent just like the service. That being said, I would like to acknowledge a few staff members of this hotel that are the embodiment of Four Seasons standard of excellence and helped ease the other disappointments of our stay. Keone in room service, thank you for such great attention to detail and setting up a beautiful breakfast on our balcony with a great attitude. Tiari in concierge, I appreciate your great service. Also, Kiwako in Concierge, thank you for recommending Kona Ocean Adventures over the company I originally inquired about. It was a phenomenal experience that will NEVER be forgotten - a 10 out of 10 experience. Carlette from In-Room Dining. When I mentioned I was unsure what to order because I had a stomach ache - sweetly and genuinely sounded concerned and suggested a grilled cheese - which fixed me right up! Elena, our room attendant - thank you for keeping our dilapidated, old room tidy and full of bottled water, you are fantastic. Lee from Banquets - you embody everything about the FS brand and we are so thankful to have run into you on the path for a ride to the Clubhouse. Thank you for your kindness and hospitality to us. Last but not least, Tom and Doug at ULU, your bar is a great refuge for good food and amazing sake and sunsets. For all the aforementioned, your service stands out in a sea of mediocrity. I think with all travel experiences there needs to be a balance. If your resort offers run-down rooms at a luxury rate, give me consistently exceptional food and service. If you're going to give me a spotty food and service, ALL guests should be staying in high-end rooms to offset the discrepancy. Everything needs balance. When it all fails, I wonder why we chose this property at all. This was the most disappointing Four Seasons experience in our over 20 years of Four Seasons vacations.
ScentCurious - Woodbury, New York
---
Our room at the Four Seasons was way overdue for a refresh. The carpet was frankly, gross. And the furniture and tiles in the room were scuffed and scratched. At the rates the hotel charges, the room quality just is not acceptable. Also, the ocean view was a loooong distance away. Outside of the rooms, the hotel grounds and pools were very very nice, as is the service and friendly accomodating staff (except for a very snippy wedding coordinator who tried to hurry us down a hotel path and away from her event when we stopped on our way to dinner to look at a resting turtle and admire the beautiful sunset). The food also was excellent in all locations, we tried each restaurant for dinner, although expensive. Finally, if you are a beach lover, this location lacks a natural beach, chairs are squeezed onto manufactured mounds of sand. In summary, There are a lot of things to recommend the hotel, but given the room quality, the price just is not warranted.
ApricotHill - San Francisco
---
This was my first time staying at the Four Seasons & won't be the last! The resort grounds are immaculate & I have never been treated so well in any other resort! No sooner was a beverage down to ice, & the waiter was back asking about refills. The resort was immaculate. The pools fantastic & beach chairs plentiful & very comfortable with clean towels provided. The food at each restaurant is fantastic, but a little pricy. The hotel provides snorkeling equipment & there are many options in the resort, & just on the perimeter to see beautiful fish. The beaches are pristine & many lounge chairs are provided. FABULOUS resort & cant wait to come back!!!
---
Like almost all Four Seasons, beyond compare! Fantastic location, excellent service. Expensive. The suite was comfortable, spacious and luxurious; large balcony across both the bed- and the living-room. Great ocean view from the room (check out the photograph) and the restaurants. Lots of interesting and colorful avifauna on the property. And the constant beautiful soothing sounds of the ocean waves.
RajeevDeRoy - Hanoi, Vietnam
---
We stayed at one of the villas at the Four Season Resort Hualalai. The perfection of the villa, the service and the quality of the food paired with the privacy we were able to enjoy made for a perfect vacation.
---