Please select your dates to see prices:
---
The Reach, A Waldorf Astoria Resort in Key West, Florida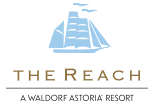 Situated on Key West's only private beach, The Reach offers a boutique resort experience. This luxury getaway is steps away from world-famous Duval Street and offers spectacular on-site amenities such as an oceanfront pool, deep sea fishing, snorkeling, diving and more.
Wake up to ocean breezes and gorgeous views from your private balcony. Spend lazy days under the swaying palms, soak up rays on the natural sand beach or take a dip in the oceanfront pool.
Location of The Reach, A Waldorf Astoria Resort
The Reach, A Waldorf Astoria Resort
1435 Simonton Street
33040
Key West, Florida
Nearest Airport: MIA, EYW
Amenities for The Reach, A Waldorf Astoria Resort
Dining
Restaurant
Bar
Lounge
On-Site Amenities
Fitness Center
Beach Access
In-Room Amenities
Air Conditioning
Bathrobes
Cable Television
Coffee & Tea Facilities
Mini Refrigerators
Activities
Fishing
Kayaking
Snorkeling
Boat Excursions
Jet Skiing
Boating
Golf
Interests
Beach
Hotels
Spa & Wellness
Reviews for The Reach, A Waldorf Astoria Resort
---
Had a great time. The beach and service at the beach was excellent. In room Nespresso and water was great. Breakfast prices a little high, I mean $5.00 for toast is crazy...otherwise it was a pleasant and relaxing stay.
geraldk515 - Hope Well Junction
---
We stayed here for the beach access and would not again. I felt some of the staff just didn't want to be there and they felt entitled. Grounds were nice but the hotel is in need of major updating and wouldn't stay here again
feldpauschj - Louisville, Kentucky
---
My wife and I visited Key West for our 35th anniversary and stayed at The Reach. I also looked at the Casa Marina, another Waldorf property next door, but got the impression it was busier and inundated with kids ( two assumptions that turned out to be true). I have some trouble writing this, because our experience was mixed First the positives: the staff is excellent- it is very obvious that management has spent a lot of time/ money training these folks to go the extra mile. Prompt courteous service was the norm with very few exceptions. A special shout out to Levi taking care of the beach, the waitstaff on the beach, Kevin at the concierge desk, everyone at the front desk, Mike, a waiter at Spencer's restaurant and the staff in the gift shop. They all really impressed us. Secondly, you are provided a "Personal Concierge" who will contact you via text throughout your stay to see how things are going. Nice touch, and they did help us out once or twice. Thirdly the beach and pool are great. It's a natural beach with plenty of umbrellas/ loungers, a bar right there, but if you're too relaxed, a cheerful waitestaffer will bring you your poison! So.... there were also a few issues. The first thing I noticed is that the property looks tired. Not run down, but it needs some help. The sad thing is is that a coat of paint on the walls and walkways would take care of this issue nicely. Second issue is the sound insulation between the rooms. Not good. If you have clueless neighbors, you WILL be calling your Personal Concierge. Some sound- proofing would go a long way. The place is also pet friendly, so if you have clueless neighbors with a dog.... well you get the point. In Waldorf's defense, it only took one call. Any disappointment we had with the property was more than made up for by the people working there, who represented the organization well.
Brian D - Erie, United States
---
What a high disappointment, this hotel is in need of major renovation. The common areas are in disrepair, dirty and worn out and the room was even more of a disappointment, filthy, worn out nasty furniture. Just gross, can't wait to leave.
---
The Reach Key West is in a great location with a great private beach. The food and bar service was excellent. The room amenities were not great, with problems with the coffee maker. The shower dipped continuously. No internet available for the last 2 days of my stay.
---