Please select your dates to see prices:
---
Woodmark Hotel, Yacht Club & Spa in Kirkland, Washington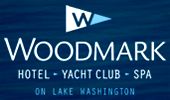 Close to everything, but far from the everyday – Woodmark Hotel on Lake Washington is a stunning location for waterfront weddings, inspired meetings and events, family getaways, corporate retreats, and romantic escapes.
Our idyllic location on Lake Washington makes everything more serene. Our thoughtful and intuitive staff prides themselves on anticipating your every need. A corporate retreat re-energizes your staff. A family reconnects on a sunset kayaking trip. A lakeside wedding becomes forever. Hugely popular for corporate events, business meetings, weddings and important family occasions, the Woodmark Hotel & Spa is ultimately a place where guests feel at home.
Location of Woodmark Hotel, Yacht Club & Spa
Woodmark Hotel, Yacht Club & Spa
1200 Carillon Point
98033
Kirkland, Washington
Nearest Airport: SEA
Amenities for Woodmark Hotel, Yacht Club & Spa
General Information
100 Guest Rooms
On-Site Amenities
Fitness Center
In-Room Amenities
Hair Dryers
In-Room Safes
Iron/Ironing Boards
Flat-Screen Televisions
WiFi
Activities
Kayaking
Boating
Paddleboarding
Business
Business Center/Services
Meeting Rooms
Interests
Active & Adventure
Family
Honeymoons & Romance
Hotels
Spa & Wellness
Reviews for Woodmark Hotel, Yacht Club & Spa
---
My company had our IT Retreat at this Hotel; and the staff was extremely, professional and pleasant. They provide a shuttle service to the downtown Kirkland area; where we had a dinner at Anthony's. Atmosphere was awesome; and the sunsets on the lake are simply beautiful. The rooms were extremely clean and very relaxing. I didn't get to enjoy all the amenities offered at the Hotel; but our IT retreat, meals were very delicious; and everything was ready for us on time. No wait or frustration at all.
mewzetts - Dallas, TX, United States
---
Would return in a heartbeat! Looking forward to our stay in September and in the future. Loved the view of Lake Washington. It is a relaxing, laid back hotel to stay at. The on site dining options are great as is
Suey1943 - Scottsdale, Arizona
---
The purpose of this trip was a mini-vacation, intended to be relaxing, solitudious, beautiful, and interesting. It was all of that, and more. The people--from the front desk to the waiters and waitresses, from the maid service to the shuttle drivers--were personable, professional, and fun. And, the location of the hotel was stimulating and breathtaking! Given all of this, one would assume it would be cost-prohibitive. NOT TRUE! Very affordable, especially given the luxurious nature of the hotel.
jrupp2018 - Seattle, Washington
---
It is a very nice hotel, but the extra resort fee, parking fee is just to much when you just come and stay the night. The food was good. Check in service was below average, check out was good. The room I got looked in to half the roof of the entrance... not very exciting.
Anders T - British Columbia, Canada
---
The Woodmark is our favorite hotel because it is classically beautiful, and the staff make you feel so welcome. Its location on the shore of Lake Washington is spectacular. When you arrive, you are offered a glass of champagne and automatically upgraded if there is availability. All the rooms are lovely. The bathrooms have amazing bath products, that are in big pump containers that are easy to use and the aromas are great for both men and women. There is always big containers in the downstairs lobby of water infused with fresh fruit. Absolutely delicious. But the best thing about this hotel is its intimacy and how the staff treats you. The staff is so welcoming and bends over backwards to make your stay enjoyable. On our last visit we especially want to thank Chef Ron in the Beach Cafe for making us an entree of crab mac and cheese that was fantastic. We had shared with our waiter, Azziz that we were disappointed the crab mac and cheese was no longer on the happy hour menu. Next thing you know chef Ron comes out and offers to make it for us! Also our room cleaner Ugette, attended to our every need and kept our room spotless. It 's just a great stay and our very favorite hotel. Its a real treat to stay at the Woodmark.
---