Please select your dates to see prices:
---
Soneva Kiri in Ko Kut, Thailand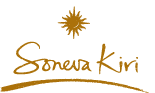 On the island of Koh Kood, a large and undeveloped tropical wilderness 50 miles off the Thai mainland, Soneva Kiri is a far cry from resorts in commercialized Phuket or Koh Samui. Rustic-chic villas, made sustainably from recycled wood to resemble the stilted fishing villages of the neighboring countryside, are some of the largest in the world. Serpentine private infinity pools surround sunken pillow lounges overlooking the ocean from a vantage point high in the hills. If ever you've dreamed of living in a tree house, this is your destination.
Listen to the rainforest wake up as you lounge on your deck in the day's first glimmering rays of sun. Walk with local schoolchildren on their way to classes in Ao Salad village. Stop at a beekeeper's house for a taste of honey straight from the comb. Explore the lush coastline. Luxuriate in your outdoor rain shower before traveling to dinner, where a custom-designed menu of fresh fish is served just for you at the base of a waterfall.
Location of Soneva Kiri
Soneva Kiri
110 Moo 4
23000
Ko Kut, Thailand
Nearest Airport: BKK
Amenities for Soneva Kiri
General Information
46 Villas
Dining
Outdoor Dining
Private Dining
24-Hour Room Service
Wine Cellar
Bar
4 Restaurants
On-Site Amenities
Concierge
Spa on Property
Laundry Service
Library
Fitness Center
WiFi
Currency Exchange Service
High-Speed Internet Access
Butler Service
Multilingual Staff
Boutique
Tennis Courts
In-Room Amenities
Turndown Service
Air Conditioning
Bathrobes
Ceiling Fans
Direct Dial Telephones
DVD Players
Hair Dryers
In-Room Safes
Mini Bar
Satellite Television
iPod Docks
Flat-Screen Televisions
Coffee & Tea Facilities
Outdoor Showers
Private Pools
Activities
Cooking Classes
Fishing
Hiking
Tennis
Wine Tasting
Mountain Biking
Scuba Diving
Snorkeling
Stargazing
Boat Excursions
Wellness Programs
Family
Children's Programs
Babysitting
Interests
Beach
Eco Friendly Luxury Vacations
Honeymoons & Romance
Reviews for Soneva Kiri
---
To arrive at this remote island one flys from Bangkok, approx an hours trip, to land at the island beside Soneva Kiri. This is purely a landing space, and a short boat trip brings a dramatic arrival to a dock full of smiling staff to greet you and put your shoes in a little muslin bag. This is to signify the leaving behind outer world trappings. The island is large enough to be continually discovering places, and keep one interested and alert. There is a central hub of daily dining area, with many different types of cuisine. Plus an ice cream parlour and a chocolate 'room'. All free! We had a huge villa, with a pool. It was covered in grass type material giving one the impression that it was really back in nature but there are enough modern conveniences to make the trip manageable if one has to work using an iPad or whatever. A real must is a trip to a dining space out in the mangroves. Food is spectacular!
bugslawson - London, United Kingdom
---
My second visit to Soneva. Love everything. This time I experience Tree pot high tea which was fun. North beach is very beautiful, I also recommend sunset cruise and shot trip to seafood village (nuchie restaurant)
Siruck - Bangkok, Thailand
---
One of the most amazing resorts located just 45 minus by flight from the countries capital on Thailands 4th largest island Ko Kut. The hotel is heavily over staffed with 280 staff for a maximum capacity of 120 guests. I would recommend this location for a minimum of 6 days hands down. It is ideal for families or even couples who are longing a relaxing and stress free retreat. Each villa receives a personal golf cart as well as help from a private butler. Every staff member is well trained and willing to assist you at any point in time. I was fortunate enough to visit on a family holiday, we had a lovely three bedroom villa on the beach. Make sure to reserve a beach villa and have an in villa barbecue one of the nights, it is well worth it. The resorts food is of high quality and imported from all over the globe. What are the chances you get Iberico ham on a small island off the coast of Thailand?
---
We were booked a big suite with 5 rooms togher with friends. The suite is very big with private pool and all the children is very happy to play there. The enivronment is super nature. All around trees and the hotel has put a lot effort to protect the environment. This is perfect! Highligh and recomendation: Breakfast, Lunch and Dinner: you can select the 3 restaurants, all are very good. There are also a cocalate bar and ice-cream bar free of charge with is very welcomed by children. The Dens and little Dens: a perfect playground for children. All free of charge. The Dens is suit for younger children and little Den is suit for baby. There are baby sitter in little dens, no charge. There is a dedicate hotel staff to provide the end to end service for your suite. Very warm and very helpful the response your any requirement.
---
We selected this Luxurious resort, to stay for 6 days. All in all is very good, i would not say excelent or fantastic. The cost is expensive and we knew that, therefore we expected everything in relation with what we paid. I can understand that families travel there with their kids of all ages, even babies, it´s fantastic because they have their own areas at the resort, but there is no exclusive areas for adults. If you are honeymooners, or simply adults travelling to a relaxing place searching peace, like us, this is not the place to go... Kids are welcome everywhere, (repeat) EVERYWHERE !! and they run, shout, cry, therefore... we did not got our peaceful holidays. There are even not restaurants for adults only, or simply resturants for family and children, so, you find them all the time, everywhere.. The staff is really gentle, professional and kind. The general manager is often present and shares with guests, moments and conversations, and this is also a matter to be thanked and considered. The food is good, and the options are many. One more problem is the beach. they don´t have beach there, you have to take an available boat (there are quite enough, but for two times we had to wait) to be transported to the beach, in a journey of aprox 10 minutes. There, in the beach, again, staff is very kind and professional, and again, children, run, shout and loud, and well... you know what every kid does at the beach, i was a kid too... I had serious health problems, when i was there, suffering and feeling really bad, for a day and a half, and from the very first moment, the hotel doctor took care of me, giving me medicines, fruits, teas, etc.. coming again and again to our Villa. Staff as well was caring of me all the time, and so did the Manager. Interesting the fact that you have a "buttler" since the very first moment of your arrival to the private Airport, and at any time of your stay. A buggy is also ready for you, if you have booked a Villa
Augusto N - Barcelona, Spain
---