Please select your dates to see prices:
---
Soneva Kiri in Ko Kut, Thailand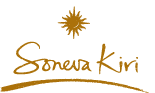 On the island of Koh Kood, a large and undeveloped tropical wilderness 50 miles off the Thai mainland, Soneva Kiri is a far cry from resorts in commercialized Phuket or Koh Samui. Rustic-chic villas, made sustainably from recycled wood to resemble the stilted fishing villages of the neighboring countryside, are some of the largest in the world. Serpentine private infinity pools surround sunken pillow lounges overlooking the ocean from a vantage point high in the hills. If ever you've dreamed of living in a tree house, this is your destination.
Listen to the rainforest wake up as you lounge on your deck in the day's first glimmering rays of sun. Walk with local schoolchildren on their way to classes in Ao Salad village. Stop at a beekeeper's house for a taste of honey straight from the comb. Explore the lush coastline. Luxuriate in your outdoor rain shower before traveling to dinner, where a custom-designed menu of fresh fish is served just for you at the base of a waterfall.
Location of Soneva Kiri
Soneva Kiri
110 Moo 4
23000
Ko Kut, Thailand
Nearest Airport: BKK
Amenities for Soneva Kiri
General Information
46 Villas
Dining
Outdoor Dining
Private Dining
24-Hour Room Service
Wine Cellar
Bar
4 Restaurants
On-Site Amenities
Concierge
Spa on Property
Laundry Service
Library
Fitness Center
WiFi
Currency Exchange Service
High-Speed Internet Access
Butler Service
Multilingual Staff
Boutique
Tennis Courts
In-Room Amenities
Turndown Service
Air Conditioning
Bathrobes
Ceiling Fans
Direct Dial Telephones
DVD Players
Hair Dryers
In-Room Safes
Mini Bar
Satellite Television
iPod Docks
Flat-Screen Televisions
Coffee & Tea Facilities
Outdoor Showers
Private Pools
Activities
Cooking Classes
Fishing
Hiking
Tennis
Wine Tasting
Mountain Biking
Scuba Diving
Snorkeling
Stargazing
Boat Excursions
Wellness Programs
Family
Children's Programs
Babysitting
Interests
Beach
Eco Friendly Luxury Vacations
Honeymoons & Romance
Reviews for Soneva Kiri
---
What an amazing experience we recently had at Soneva Kiri. From the moment we were greeted at Bangkok Airport we were quickly shown to the Miracle Lounge to wait for our flight. The flight itself is a treat, You really do feel small as you taxi along the runway waiting your turn among all the A380's, 747's and alike. However a great flight down to Ko Kut. Upon arrival we were met by our Ms Friday a wonderful young lady by the name of Chompoon. She was absolutely amazing at looking after our every need and want. Always smiling always trying to be one step ahead of what we may want, and all this without being over powering or in our face. A real credit and she definitely made our stay memorable. We were informed that we had been upgraded to a large villa which was massive. Chompoon carefully explained all aspects of the villa along with the items we had requested from the pre arrival survey. Nothing was missed. The villa was stunning, so large you could get lost in there and the pool was huge. Not to mention our own private access to the small beach with our own beds ready for us daily if we so desired. Then my favourite part, I was handed the keys to my very own Golf Buggy to get around, suddenly the child came out in me and I was smiling from ear to ear. Breakfast was a leisurely affair and you cold take as short or as long as you like. A-la-carte, buffet in fact what ever you wanted you could have. The chef came to speak to us each morning to ensure we had everything we could want. The first day we were just happy to stay in our wonderful villa and use the facilities. Day 2 saw us venture to North Beach....alone where an army of staff were waiting just in case we wanted anything. Dinner at Benz was a highlight even if not cheap but a foodie must. Khun Benz took great pleasure in showing us how to build the Betle Leaf appetizer our selves in fact she brought us another tray as we enjoyed them so much. The 6 course menu was way too much food but we enjoyed it no end. The kindness shown by Chompoon when my partner wasn't feeling well on day 3 was a lovely touch, bringing ginger tea and biscuits to cheer her up and checking on her. All in all a once in a lifetime stay and we have amazing memories. So on to the "but" ....... I have 2 tiny gripes which I really think needs to be re-thought. Firstly If I am paying this amount of money and you offer me still water with my dinner, should you really be charging me 450bht++ for a bottle that is free in my villa, free in the library, free where ever I go. Really!! this is just ridiculous. Here is a thought, charge me half that but give it to a water charity. You really don't need the extra 450 do you. Secondly you proudly display at the bottom of the menu that for every main meal ordered in the restaurant you donate 20bht to feeding a child...... 20 bht !! is that all, I have just paid you 16,000 baht for dinner for two people and you will give 40 to feed a child. Hmmmm! have a think about that for a minute. So I do not wish to finish on a negative as this place is AMAZING the staff everywhere really know how to look after you, the property is 1st class and we will never forget our time there. But Top prize for us goes to Ms Chompoon, who even to the last moment of our stay, tried to get us from the boat onto a buggy and into the plane in torrential rain and keep us dry, She was wonderful.
Mad_Man_Yorkshire - Barnsley, United Kingdom
---
Right from the time you step into Bangkok airport u get the Soneva service all courtesy friendliness and quiet efficacy till you board their Cessna for a ride to Paradise. The villas are rustic but luxurious and the whole concept is barefoot and slow to really absorb your surroundings and all that they offer food, chocolate room, ice cream boutique and experiences whether it is a trip to North Brach or a evening at their Thai restaurant Benz. I did a yoga package with Massages at theSix senses Spa which was lovely . Wonderful yoga with Dr Dinesh and relaxing massages at the Spa wonderfully managed by Mark. The staff at Soneva always call you by name so it seems like home and I really loved my time in Paradiso. I have to visit Soneva Fushi in Maldives before I am Back to Soneva Kiri. Thank you for sharing your island with me. I have gone back with a suitcase full of memories.
---
3rd visit to this property, the last was 31st Dec 2017 for New Years eve, the party was all over the property, we started at the jetty and walked thru the pathways selected with mini stalls of food and drink and ended up at the Party! Electric buggies were on hand for the tired feet. Each Villa comes with your own Man/Woman Friday!! Clean, spacious and comfortable rooms, some rooms in the Villas have an outdoor shower area, plus your own private plunge pool.
Suren K - Colombo, Sri Lanka
---
If you can, just go, you will love it! Stayed in a two house villa with family, three kids, the youngest only six months old. This is a great place to go with kids, there is so much for them to do, and it does not involve disney clubs, or other commercial stuff kids are constantly exposed to. It is all about the nature, which is amazing here, and kids love it. The kids den is so nice, Jenny who worked there when we visited was such an asset to the hotel. You can also book babysitting through the den, and we felt completely safe and secure with the baby sitter who was also a nurse. The beach is lovely, the breakfast amazing! The only bad thing are all the spiders... and also know that the two bdr villa we stayed in were two buildings that are not connected. We had to walk by the pool which might be a problem if you want to sleep together. This probably does not apply to all 2 bdr though.
farochflyg - Stockholm, Sweden
---
having visited soneva jani we wanted to experience soneva kiri. we were quite surprized that they were not aware we were guests at an other soneva hotel. this is confirming my view that kiri has quite an old style management. all is preplaned trained and go within a scheme. todays management should be able to read a guest they should keep informal and instantaneous relations with guests. this management gives the feeling to hide behind the staff. however the new manager being a woman will certainly turn around this system. the hotel is offering all the luxury you need. ecofriendly but still a very nice comfort. food is excellent. there are some special food events which are quite pricy. only 4 tables were on one of them occupide. price? a must is having dinner at benz. the mrs friday which took so nicely care is excellent. convinced this hotel has a past and future
---