Please select your dates to see prices:
---
Pimalai Resort & Spa in Ko Lanta, Thailand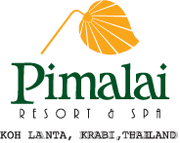 Pimalai Resort & Spa is located on the southern tip of Koh Lanta, far from the north's commercial buzz. Here the buzz comes from cicadas inhabiting dense tropical vegetation, where contemporary Thai-style rooms and villas nestle into the hillside. Rich orange, pink and lime green Thai fabrics complement dark teakwood flooring and rattan curtains, and throughout the property, pagodas and infinity pools conjure tranquility. At the base of the hills, a wide swath of white-sand beach leads to the Andaman Sea.
Lounge on a daybed on the shores of an azure bay and work up an appetite for lunch, a chicken salad sandwich with an Asian twist of pakchoy, lime and sweet chili dressing. Board a boat bound for Koh Lanta National Marine Park, whose rocky cliffs are home to mammoth monitor lizards and curious macaques. Hike in undisturbed wilderness. Return to the resort for a sundowner perched high above Ba Kantiang Bay.
Location of Pimalai Resort & Spa
Pimalai Resort & Spa
99 Moo 5, Ba Kan Tiang Beach
81150
Ko Lanta, Thailand
Nearest Airport: HKT
Amenities for Pimalai Resort & Spa
General Information
79 Guest Rooms
Ecologically Sustainable Practices
Pets Not Permitted
Dining
4 Bars
Poolside Dining
Private Dining
4 Restaurants
Wine Bar
On-Site Amenities
Concierge
Spa on Property
Laundry Service
Gift Shop
Fitness Center
Bicycle Rental
Tennis Courts
24-Hour Front Desk
Music & Movie Library
Outdoor Whirlpool
Outdoor Spa Treatments
2 Outdoor Pools
In-Room Amenities
Air Conditioning
Luxury Linens
Private Pools
Activities
Bicycling
Cooking Classes
Excursions
Hiking
Kayaking
Sailing
Tennis
Scuba Diving
Snorkeling
Boogie Boarding
Basketball
Business
Business Center/Services
Meeting Rooms
Interests
Active & Adventure
Beach
Summer Getaways
Reviews for Pimalai Resort & Spa
---
We stayed at the Pimalai for 5 nights to start off a 2 week trip in Thailand & wish we had been able to stay there for the full 2 weeks! From start to finish, it was fantastic. The included transfer service from Krabi airport is brilliant, they provide you with cold drinks along the way & it's an impressive way to arrive at the hotel after a 40 minute speed boat trip. The service at the hotel is faultless, they really can't do enough for you. We were upgraded to a Pavillion Suite right on the beach which was fantastic, the beds are comfy and the bathroom was beautiful! The setting & views from the hotel are stunning, it's quite hilly but there are lots of vehicles to take you to the restaurant & pool at the top of the hill. We chose to spend our pool days at the top pool, which had the best view across Kantiang Bay & always had lots of sunbeds available. Our breakfast was at the Seven Seas restaurant & the buffet selection was delicious, they had everything you could ask for! We ate at the Spice & Rice restaurants few times, and although for Thai prices, its quite expensive, it's still good value when compared to holidaying in Europe & we thought the food was fantastic...especially the Beef Massaman Curry! I also had a facial at the Spa, which although not cheap, it was the nicest spa I have ever been to, hidden away amongst the trees with little treatment rooms nestled into the hill, it really is a little tropical oasis! Overall, we absolutely loved our stay at Pimalai & would love to come back for longer.
Natalie F - Redhill, United Kingdom
---
I have been lurking on TripAdvisor for who knows how long, but felt the need to finally put in my 2 cents and for a good cause. I knew it was going to be nice after relying on reviews, but wow! Pimalai exceeded my expectations in so many ways - from the airport pick up to the little things, like having your towels ready and set on beach chairs to being greeted by every single worker there. The room - My husband and I were lucky enough to spend 5 nights (we only had 5 nights to spare in Thailand and picked Pimalai!) in the bayfront deluxe which was wonderful because it is close to the sea and hearing the waves before sleeping was peaceful. We were in room 403 and it was CLEAN, peaceful, comfortable, and had all the necessities. Room service came twice a day. The first day, our room was cleaned while the privacy sign was out while we weren't there, but it wasn't a big deal. I typically don't need any cleaning done until the 3rd day, but we needed new water everyday so it worked out. As soon as the privacy sign was taken off, there would be a knock on the door soon after though. The beach - It is very quiet and private with soft golden sand and cool water (in March). There are plentiful chairs and beds to choose and pick from for those who need sun or shade. Workers assist with towels and moving chairs for you along with a drink of water. The little things, I tell ya! The paddle boards are available throughout the day, but we enjoyed it in the morning when there is less people and calmer water. The restaurants - We only tried Rice N' Spice for dinner and the beach restaurant for lunch once. Both very delicious and satisfying. My husband got the green curry during lunch and it was phenomenal. Breakfast is served at where Rice N' Spice is and I still dream about it today! Maybe it's just me, but I don't get to eat fried rice every morning when I wake up. The spa - I booked a couples massage (1.5 hr Pimalai signature) and cooking scrub for our last day. Our masseuses were very professional and attentive in asking about our needs/comfort. We only wished that we had a longer massage! There is an area to lay down with tea afterwards and it was a nice touch. Prices are fine, not as much as I would normally pay in the states for an hr massage with no extras. Don't forget to tip! The service - Everyone at Pimalai made our stay so relaxing and unforgettable because they went above and beyond each time. A smile goes a long way even in paradise and I always felt so welcomed. I wish I could visit again if possible, but it was a 27 hr flight with 1 hr car ride and 1 hr boat ride. I will just need to stay way longer next time :).
---
What an amazing stay at the Pimalai - the staff and views created memories for life! The resort is just fantastic - very hilly, but a bus service that takes you from room to destination and back whenever - with nothing more than a 3 minute wait - it's a necessity, but works like clock work. We stayed 10 nights B&B, weather in March could not be faulted. Breakfast is a must, we used the seven seas restaurant and even if you are not a breakfast person, the greeting from Ying and Kaew was so genuine it would make anyone's morning. The food was also Devine, all fresh, would suit all nationalities. The hotel has plenty of restaurants, but we did visit 'same same' several times, the food was great and good value, lunch and dinner. It's just to the left of the hotel -on the beach - (if you face the sea) However, we ate in the Pimalai at least once a day and always pleased with our choices, I guess it's expensive for Thailand, but only the equivalent to an average UK restaurant - wine is limited and expensive. The Rak Talay became our favourite, - on the beach - Mai and her team treated us so well. Very relaxed and a sense of humour that made our stay. We had a two bed pool villa - breath taking, and completely secluded as was all the accommodation. Only the Marques Monkeys overlooked us!!! It also had a big separate lounge with a bathroom, perfect for children if you needed more space. Sunsets, relaxation, food, and most of all the people. Would recommend to anyone. Thank you Pimalai, we needed you and you delivered.
steveb76101 - Woburn, United Kingdom
---
What an amazing experience from start to finish. The service provided is second to none, with all staff going out of the way to make sure we were happy and always had what we needed. We stayed in a hillside villa which was fantastic, the private infinity pool had incredible views out into the ocean. The beach itself is also beautiful, as well as the breakfast! The only negative is that we could only stay for 2 nights.
rrhayez - Melbourne, Australia
---
First we were amazed,about how perfect the transfers were aranged.As soon as you step on board of the speedboat, the label of your roomnumber is already on your suitcase.As soon as you arrive, you already know that your holiday is gone be exceptional. And exceptional it was! Ofcourse we can not say anything about other rooms, but our hilltop villa nr. 603 was outstanding. The people working there were so friendly and correct. My husband and I had our 40 years wedding celebration and they made up the bed very special and there was a tastefull cake in the refrigerator.We spent 4 nights there, but we wish we could have stay longer. We will come back for sure!! We would like to thank all the people working there for there kindness. The restaurant spice & rice was our favorite, also because of the people working there. A special thanks for the lady serving us most of the time( even gave me a pillow for the back in my chair.). Her name was 'Kan' ( hope I pronounced it right).She was very very friendly. The area was also very beautiful, we crossed the island and think, it's the nicest part of the island. I can not stop saying a lot of positive things about Pimalai, just check out yourself, you will not be disappointed.
Joyce56_12 - Amsterdam, The Netherlands
---