Please select your dates to see prices:
---
Pimalai Resort & Spa in Ko Lanta, Thailand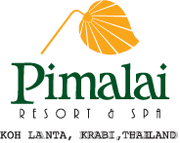 Pimalai Resort & Spa is located on the southern tip of Koh Lanta, far from the north's commercial buzz. Here the buzz comes from cicadas inhabiting dense tropical vegetation, where contemporary Thai-style rooms and villas nestle into the hillside. Rich orange, pink and lime green Thai fabrics complement dark teakwood flooring and rattan curtains, and throughout the property, pagodas and infinity pools conjure tranquility. At the base of the hills, a wide swath of white-sand beach leads to the Andaman Sea.
Lounge on a daybed on the shores of an azure bay and work up an appetite for lunch, a chicken salad sandwich with an Asian twist of pakchoy, lime and sweet chili dressing. Board a boat bound for Koh Lanta National Marine Park, whose rocky cliffs are home to mammoth monitor lizards and curious macaques. Hike in undisturbed wilderness. Return to the resort for a sundowner perched high above Ba Kantiang Bay.
Location of Pimalai Resort & Spa
Pimalai Resort & Spa
99 Moo 5, Ba Kan Tiang Beach
81150
Ko Lanta, Thailand
Nearest Airport: HKT
Amenities for Pimalai Resort & Spa
General Information
79 Guest Rooms
Ecologically Sustainable Practices
Pets Not Permitted
Dining
4 Bars
Poolside Dining
Private Dining
4 Restaurants
Wine Bar
On-Site Amenities
Concierge
Spa on Property
Laundry Service
Gift Shop
Fitness Center
Bicycle Rental
Tennis Courts
24-Hour Front Desk
Music & Movie Library
Outdoor Whirlpool
Outdoor Spa Treatments
2 Outdoor Pools
In-Room Amenities
Air Conditioning
Luxury Linens
Private Pools
Activities
Bicycling
Cooking Classes
Excursions
Hiking
Kayaking
Sailing
Tennis
Scuba Diving
Snorkeling
Boogie Boarding
Basketball
Business
Business Center/Services
Meeting Rooms
Interests
Active & Adventure
Beach
Summer Getaways
Reviews for Pimalai Resort & Spa
---
We stayed 4 nights in this amazing resort. They will take care of everything. We were transported from Krabi airport to resort by car. Its less than two hours. On journey we had a short powerboat ride which was nice variety to car. On our stay everything worked perfectly. The resort looks very idyllic and is located in a beautiful bay with lots of beachline. Nature is close and you feel part of it. We woke up and fell asleep to rain forest sounds and it was amazing. There are some steep hills and stairs in resort but just ask and they will arrange a cart to take you to breakfast or dinner. The beach, pools, restrooms were super clean. The whole resort was kept spotless. Breakfast was delicious with lots of variety. Dinner was served with talent and tasted wonderful. And their own sorbett was mindblowing. There are several restaurants. Prices are a bit higher compared but dont forget this is 5 stars resort and for us the quality/ratio was excellent in beverages and meals. Staff was very, very friendly and helpful all over the resort. Special thanks for good service to Ms. Cha and Mr. Zafe. Highly recommended.
---
We had a beautiful silent Bungalow at the Beach. It was so amazing! The view in the morning, the wide sea! We love Pimalai with all its people who made our stay unique! We had tears in our eyes when we left. Thank you so much Franck and all Pimalai-members.
A4968BMsarahg - Crailsheim, Germany
---
We chose Ko Lanta because it's supposedly less crowded than other southern islands in Thailand. We were right. If you're going for clubbing and night-life, this is not the place. We had originally booked a hillside villa, thinking that the views would be amazing and it would catch the sea breeze. Although the views were unparalleled, the villa itself was a little dated, it was super HOT, and the hike up and down the hill to the beach was nearly prohibitive! There are golf carts to transport you, but it was further than we thought (and we come from Colorado where we hike all the time...). We spoke to the manager and she immediate moved us to one of their nicest 2-bedroom villas ON the beach. Wow! What a difference! Completely updated, comfortable, best views of the beach, ocean, and sunsets. The beach itself is wide and un-crowded and the resort has plenty of umbrellas and loungers available. The ocean is lovely, although not crystal-clear as others have stated and very warm. The pool is refreshing and really nice. The service of the resort - particularly the maid service and the wait staff at the beach restaurant - is second to none. The food is very good! We also had spa treatments that were excellent. If you're looking for a resort where you'll be taken care of and the goal is simply to relax, look no further than the Pimalai.
Lisa W - Golden, Colorado
---
We loved our stay in Pimalai Resort. It's not a high end resort but it's a really 5 stars and exclusive resort with lots of facilities and a great staff located in one of the best and uncrowned bays in krabi province. We took about 2 hours from the airport but after check in we had one of our best holiday weeks ever. The food is great, the beach is great, the staff is very friendly and dedicated, the swimming pools are amazing. And the best: located away from the crowds of Thailand. The only appointment are the prices of food. I understand it's a 5 stars resort but the prices are even more expensive than in Europe. Fortunately you have a nice and clean beach Restaurant 2 steps away from the resort (walking by the beach).
---
My husband and I spent just two nights of our honeymoon here, and we wish we had been here longer! We hopped around, staying on several islands, and we wish we had just stayed put and stayed here the whole time we had allotted to the Krabi area! Pimalai was incredible. We were greeted in our room with champagne and tiramisu as a little gesture of congratulations. Everywhere we went the staff was incredibly friendly and helpful. The resort and it's location just could not be more beautiful. Our two nights unfortunately coincided with horrible weather, even though it was slightly early for rainy season (late April), so our snorkel sunset trip got canceled. But that gave us the chance to experience the incredible spa twice during our stay! The tension relief treatment was the best massage of my life. We also loved switching between the two beautiful pools -- the upper pool is absolutely stunning. And we had some beautiful weather during the mornings when we were able to enjoy paddle boarding in the bay and laying out on the sand. The food here is excellent, though really not spicy. The resort had our favorite breakfast spread in all of Thailand (most of the hotels we stayed at provided breakfast, and though they were also luxury resorts, no one did breakfasts like Pimalai!). One of our favorite experiences was watching a crazy lightning storm at Rak Talay during dinner. The staff set us up outside, under cover from the rain, and it was absolutely beautiful, one of our favorite memories of our trip! They also helped hurriedly move us inside when the rain and wind got intense! We ate at Seven Seas, Rak Talay (where we also enjoyed happy hour each night), Spice and Rice (breakfast), and the Banyan Tree Restaurant. All of the food was wonderful, and the service (especially at Rak Talay and Banyan Tree, where they remembered us and our favorites) was fabulous! The hotel is built into a hillside and is made to take advantage of the natural beauty surrounding it. We hope to be able to come back some day, we treasure our memories here!
MuseumGirl2014 - Los Angeles, California
---