Please select your dates to see prices:
---
Pimalai Resort & Spa in Ko Lanta, Thailand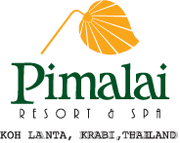 Pimalai Resort & Spa is located on the southern tip of Koh Lanta, far from the north's commercial buzz. Here the buzz comes from cicadas inhabiting dense tropical vegetation, where contemporary Thai-style rooms and villas nestle into the hillside. Rich orange, pink and lime green Thai fabrics complement dark teakwood flooring and rattan curtains, and throughout the property, pagodas and infinity pools conjure tranquility. At the base of the hills, a wide swath of white-sand beach leads to the Andaman Sea.
Lounge on a daybed on the shores of an azure bay and work up an appetite for lunch, a chicken salad sandwich with an Asian twist of pakchoy, lime and sweet chili dressing. Board a boat bound for Koh Lanta National Marine Park, whose rocky cliffs are home to mammoth monitor lizards and curious macaques. Hike in undisturbed wilderness. Return to the resort for a sundowner perched high above Ba Kantiang Bay.
Location of Pimalai Resort & Spa
Pimalai Resort & Spa
99 Moo 5, Ba Kan Tiang Beach
81150
Ko Lanta, Thailand
Nearest Airport: HKT
Amenities for Pimalai Resort & Spa
General Information
79 Guest Rooms
Ecologically Sustainable Practices
Pets Not Permitted
Dining
4 Bars
Poolside Dining
Private Dining
4 Restaurants
Wine Bar
On-Site Amenities
Concierge
Spa on Property
Laundry Service
Gift Shop
Fitness Center
Bicycle Rental
Tennis Courts
24-Hour Front Desk
Music & Movie Library
Outdoor Whirlpool
Outdoor Spa Treatments
2 Outdoor Pools
In-Room Amenities
Air Conditioning
Luxury Linens
Private Pools
Activities
Bicycling
Cooking Classes
Excursions
Hiking
Kayaking
Sailing
Tennis
Scuba Diving
Snorkeling
Boogie Boarding
Basketball
Business
Business Center/Services
Meeting Rooms
Interests
Active & Adventure
Beach
Summer Getaways
Reviews for Pimalai Resort & Spa
---
What an amazing experience from start to finish. The service provided is second to none, with all staff going out of the way to make sure we were happy and always had what we needed. We stayed in a hillside villa which was fantastic, the private infinity pool had incredible views out into the ocean. The beach itself is also beautiful, as well as the breakfast! The only negative is that we could only stay for 2 nights.
rrhayez - Melbourne, Australia
---
First we were amazed,about how perfect the transfers were aranged.As soon as you step on board of the speedboat, the label of your roomnumber is already on your suitcase.As soon as you arrive, you already know that your holiday is gone be exceptional. And exceptional it was! Ofcourse we can not say anything about other rooms, but our hilltop villa nr. 603 was outstanding. The people working there were so friendly and correct. My husband and I had our 40 years wedding celebration and they made up the bed very special and there was a tastefull cake in the refrigerator.We spent 4 nights there, but we wish we could have stay longer. We will come back for sure!! We would like to thank all the people working there for there kindness. The restaurant spice & rice was our favorite, also because of the people working there. A special thanks for the lady serving us most of the time( even gave me a pillow for the back in my chair.). Her name was 'Kan' ( hope I pronounced it right).She was very very friendly. The area was also very beautiful, we crossed the island and think, it's the nicest part of the island. I can not stop saying a lot of positive things about Pimalai, just check out yourself, you will not be disappointed.
Joyce56_12 - Amsterdam, The Netherlands
---
We stayed for 4 nights at the Pimalai as a family with an 18 month old child. Overall our experience was great. The service from this resort is just fantastic and couldn't be faulted. From the transfers in/out which was professionally arranged for us to organising fixing issues with our room, the resort were always on hand and responded immediately. Breakfast is fantastic and the staff helping were lovely (special mention to Namphong who really is incredible, goes the extra mile and should certainly be given more responsibility than just waiting tables). The infinity pools on both levels are fantastic. The upper level infinity pool has incredible views and is the perfect place to watch the stunning sunset with a cocktail. Our room was a lower level garden view room which although was a bit dated and tired did the job in a very comfortable way. The gym is great and usually quiet. My main reservation with the resort is simply the cost of food and drink within the resort. I would head up or down the beach to some of the local places for lunch/supper. The Pimalai is a beautiful, very experienced, luxury resort with fantastic service, location, amenities.
Richard C - London, United Kingdom
---
Wonderful staff, very friendly and attentive. Amazing resort, great location, my favourite the hill side with exceptional pool and sunset. Very good breakfast, lovely happy hours. There are good restaurants close by walks. Great large rooms
szlavikj2016 - Budapest, Hungary
---
We chose Pimalai for the final 9 nights of our honeymoon and were absolutely blown away by the beautiful hotel and its seamless, polite and friendly service. We were lucky enough to stay in villa 904… it is incredible. I loved the whole ethos of Pimalai, its fabulous green approach and the way it works with the local community. Each villa is surrounded by lush rainforest, working with the natural surrounding rather than competing with it. We felt snuggled up to nature with enough distance so as not to feel exposed to creepy crawlies. We saw so many beautiful butterflies and birds as well as bats, lizards, frogs and kite hawks. There were two particular trees near our room that had lots of berries on them so in the mornings we were lucky enough to see macaque monkeys and squirrels and on one occasion a black giant squirrel. It's pretty magical to be able to swim in your own infinity pool spying on the monkeys and all the beautiful wildlife around. The best time to spot the monkeys was early in the morning before it got too hot but there was always the occasional late comer. Seven Seas restaurant served excellent steaks and seafood, the miso marinaded salmon was particularly delicious and the homemade limoncello was really good… and strong! Rak Talay on the beach served excellent Thai food & seafood... Saturday BBQ shouldn't be missed. Unlimited oysters, seafood, steaks, sushi, fresh hot prawns, delicious and with an excellent local band playing too. We booked for our last night and the lovely team had arranged our table in a cabana with fresh flowers, it was really special and a perfect end to our holiday. Spice and Rice had excellent Thai food, Banyan Tree Cafe was an excellent stop for lunch and early cocktails. Even the varied room service menu was excellent and the pizzas authentic. We had room service a few times as it was hard to drag ourselves out of the incredible villa and to be honest it was such good value. After reading many reviews we were anticipating a large bill for alcohol (especially wine) but we actually thought the prices were really reasonable especially as we took advantage of the weekly wine offers and the happy hours. We had planned to explore the local bars and restaurants but Pimalai was so lovely we genuinely didn't want to leave. We ate every night at the hotel and ate and drank whatever we wanted and were pleasantly surprised at how reasonable our final bill was. It's probably similar prices to Bangkok but certainly cheaper than London and for the quality and service it was worth every penny. Plus there is a 7-11 only a 15 slow walk along the beach from the jetty for snacks and supplies. At the spa I had a wonderful Pimalai signature massage in unbeatable green surroundings with exotic scents and the sound of waterfalls. When we sadly had to leave we took the speed boat back to the mainland to transfer to the airport and when we arrived the team told us we had left some items in our room. The hotel had sent a photo to confirm and they arranged for them to be returned to us on the next boat transfer. Everyone was amazingly helpful and did everything possible to make sure our items were returned. The airport rep, Wee, was so helpful and friendly and a real credit to the hotel. This amazing service was reflective of all the service we received during our stay. Little tip - I would highly recommend using the lobby lounge to check in online and print out boarding cards. The queue at check in at Krabi was really long but with printed boarding cards you can use the fast lane so it only took a few minutes. Pimalai was everything we had hoped for and then so much more. A big thank you to Franck and your amazing team for an unforgettable honeymoon. We hope to return someday soon.
Kat B - London, United Kingdom
---