Please select your dates to see prices:
---
Conrad Koh Samui in Koh Samui, Thailand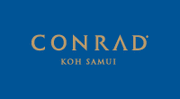 The contrast between the deep tropical wood enveloping the villas at Conrad Koh Samui Resort and the bright azure sea it overlooks is striking. From this hilly vantage point, surrounded by rainforest, guests preside over the famous Five Islands of Koh Samui. In the late 1800s, Koh Samui became a refuge for fishermen, sailors and sea traders seeking shelter from storms and high seas ("samui," some say, is derived from the Chinese word "saboey," which means "safe haven.") More than a century later, the exotic fruits and idyllic weather entice visitors to relax… and stay awhile.
Let the morning sun loosen your muscles as you stretch into some downward-facing dogs on the surfside yoga deck immersed in powdery sand. A dip in the Gulf afterward is requisite. Take in your tropical surroundings as you walk to town for a spicy lunchtime kung phao, made from fresh grilled shrimp and bird's eye chilies. Get to know the local culture of this fisherman's village. From there, it's a short hike to a pair of waterfalls set against lavender-hued rocks – make it to Na Muang 2 and there's a cool pool for a languorous float.
Location of Conrad Koh Samui
Conrad Koh Samui
49/8-9 Moo 4, Hillcrest Road T.Tali
84140
Koh Samui, Thailand
Amenities for Conrad Koh Samui
80 Villas
Non-smoking Accommodations
Private Balcony
Private Infinity Pool
Marble Bath
Oversized Soak Tub & Glass-walled Rain Shower
Apple TV-based Computer Systems IPTV
Wine Cellar
Concierge App
Island Excursions
Diving Tours to Sail Rock
Oceanside Yoga
Kids Club
Reviews for Conrad Koh Samui
---
Beautiful hotel that was worth every penny. You will not be disappointed. Pros: seclusion, breakfast buffet , stunning views , excellent service , 5 star hotel , beautiful and spacious rooms Cons: not much of a beach
henrio33 - Washington DC, District of Columbia
---
I cannot overstate how happy we were with this hotel! Service was amazing.Very comfortable bed and duvets. Impeccably clean room, Great pool and restaurant, Staff was very nice and friendly. The overall stay was very enjoyable and will be back soon.
CatherinesWang - Montreal, Canada
---
On arrival the breathtaking views of the five islands spread across the ocean captivate you into recognising this as one of the spectacular locations on Koh Samui. We felt as if we had arrived at a movie set for a Bond film and the five days and nights continued to have that feeling of decadence and attentiveness from key individuals who's sole aim was to ensure that your every need was catered for. People make places and for us those that stood out were the warm welcome from Lyle, the meticulous attention to detail from Marco and the generous hospitality and friendship from Aui in the Zest restaurant who was consistent with her radiant smiles, her passion for Thai cuisine and recommendations to try traditional Thai dishes which we may not have selected without her steer. What I like most about Conrad Koh Samui is that everyone is made welcome. It is a very romantic location where we witnessed two weddings take place both very different but imaginative. Lastly a special mention to Sonny and Johanna the wonderful duo at the Sunset Lounge with their unique versions of romantic ballads which adds to the dreamy experience that plays homage to the vision of Conrad Hilton himself and is a perfect start to your evening.
Francisco C - UK - Warwickshire
---
The view is absolutely breath taking! Dipping in the infinity pool of our villa, soaking in the ambience/stunning view is like being in a dream! The hotel is situated on a cliff so every villa has an equally amazing view of the ocean. The infinity pool is even big enough for a swim. Everything else including the service, the food, the rooms in the villa etc. is perfect. Great for special occasions or those who just want to get away from it all and chill out!
Tayct - Dubai, Dubai, United Arab Emirates
---
Nice quiet place for our family to enjoy our short trip, 180 degrees ocean view is one of the best ever hotel we ever been. I have my best yoga experience in front of the private endless pool in my villa.
---