Please select your dates to see prices:
---
Nikki Beach Resort Koh Samui in Koh Samui, Thailand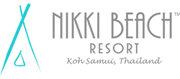 Renovated in 2014, Nikki Beach Resort Koh Samui is the slickest member of the global Nikki Beach brand, whose Miami Beach flagship earned the reputation as being the sexiest place on Earth, according to The London Observer. Indeed, the Beach Club is the place to be in Koh Samui – Sunday parties are epic, and the signature mojitos go down smooth. During the rest of the week, the atmosphere is more laid back. Don't miss Wednesday night's Cinema on the Sand, when classic movies accompany gourmet cuisine by the Bay of Thailand.
Start the day with a quiche and artisanal bread from Nikki Beach Bakery Café. Roam the shore in a colorful sarong. Settle into a plush daybed under manicured groves of coconut palms. Order a pitcher of sangria dotted with frozen raspberries and sweet melon. Float in the freeform infinity pool. After a shower with aromatherapy products, dress up for an evening of socializing under the stars.
Location of Nikki Beach Resort Koh Samui
Nikki Beach Resort Koh Samui
96/3 Moo, Lipa Noi
84140
Koh Samui, Thailand
Nearest Airport: USM
Amenities for Nikki Beach Resort Koh Samui
16 Rooms & Villas
Private Balconies
Rain Showers
Private Beach
Infinity Pools
Beauty Salon
Cooking Classes
Beach Volleyball
Elephant Trekking
Cable Riding
Complimentary Use of Bicycles
Snorkeling
Kayaking
Beach Beds
Beach Club
Babysitting
Wedding Planning Services
Reviews for Nikki Beach Resort Koh Samui
---
Second time round in Koh Samui and what a choice of hotel! Although this hotel is far from the excitement of Chaweng, Lamai, or Bophut, it more than makes up for it at the main pool and restaurant. Live DJ & dancers by the pool whilst you dine. The pool-access room itself was brilliant, clean and well kept as was the very long pool. Check out the view at night! The restaurant was a bit pricey to say the least, hence turning right as you exit the hotel's main entrance and walking a few hundred metres down the road should get you to a few restaurant choices. The breakfast buffet was not as expected from a five-star joint, very limited choices and the quality was a bit of a let down too. The beach was very clean and definitely not crowded at all as mentioned by previous reviewers, perhaps mid March is considered to be off peak, I couldn't say! All in all, this place is well recommended and I would definitely visit again!
Danny T - Hong Kong, China
---
A very nice and classy restaurant in which to spend an afternoon, with swimming pool and access to the sea. Not cheap to be sure, but very good food made with care, and attentive and professional service. A sure bet.
FreddyAppollo - Switzerland
---
The villas, the service, the spa all were magnificent. The sunset from the bar was awesome. The people were so humble and all smiles. It's a little bit away from town. They have a fire show that is spectacular
---
We came back after very possitive memories from last year and was very dissapointed. One would expect that club where they offer bottle of wine for 215000THB they have enough dignity to make sure their beds were dry and whats the most important clean!!! From the moment we laid down on one bed we smelled mold and all over the sheet were yellow stains. Than we found out beds around us were wet from night rain and though wet sheet mold could be seen!!!! We moved to the side booth with roof which seemed to be cleaner and dryer. BUT what got me most was when I saw how they changed the sheets. They first stretched the new one and only after that they removed the old one. This got me even more curious and upon leaving I removed one corner on one of their beds... IT IS DISGUSTING AND WAT IS THE WORST UNHEALTHY AND THEY OBVIOUSLY KNOW ABOUT IT WHEN THEY MAKE THE AFFORD TO HIDE IT!!!!!!
---
There are not enough words to describe the perfection of this hotel! We got there as part of our honeymoon and it was a great decision! The staff is so pleasant and nice. We received a room decorated with flowers and very clean and large. The pool area is large, clean and really worth it !! The staff at the pool provides good service and the food at the bar is really delicious! In the evening, the hotel organized for us a romantic dinner at sunset and was just perfect !! I have never encountered such a level of service. The hotel is expensive but has great value for money.
---