Please select your dates to see prices:
---
Honeyguide Tented Safari Camps in Kruger Park, South Africa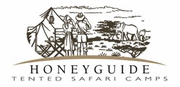 If you are looking for a one-of-a-kind safari experience, look no further than Honeyguide Tented Safari Camps. This unique brand offers guests three types of luxury tented safari experiences:"Mantobeni" which is reflective of Hemingway's Africa, "Khoka Moya" which gives guests a taste of a classic African safari experience, and "Ranger Camp" which is located in a world heritage site and perfect for viewing the Big 5.
Each camp is uniquely different, but one thing remains the same among all three: you will experience an African safari like no other and have wonderful memories for years to come. Take on the day by going on guided drive and observe the African wildlife. View the breathtaking scenery of the natural landscape and take advantage of the wildlife photography treks, perfect for reminiscing later on. As the day comes to an end, dine at the camp and enjoy a 3-course meal in a communal, family-style environment, or alongside a warm campfire. Retire to your luxury tent, equipped with homely comforts, a private terrace or balcony, and fans. A trip to the Honeyguide Tented Safari Camps is sure to leave you impressed.
Location of Honeyguide Tented Safari Camps
Honeyguide Tented Safari Camps
Manyeleti Game Reserve, Orpen Gate,
1380
Kruger Park, South Africa
Nearest Airport: JNB
Amenities for Honeyguide Tented Safari Camps
General Information
Ecologically Sustainable Practices
Pets Not Permitted
Dining
Restaurant
Bar & Lounge
On-Site Amenities
Pool
Complimentary WiFi
Activities
Educational Programs
Ecological Excursions
Nature Walks
Boat Excursions
Camping
Nature Hikes
Bush Walks
Interests
Active & Adventure
Family
Guided Vacations
Hotels
Luxury Tents & Open Air
Reviews for Honeyguide Tented Safari Camps
---
Our first time "glamping" in luxury tent. It was amazing in every way. Loved the tent, loved the food, loved the game drive. Our guide Vestment was very knowledgeable and friendly. The wildlife viewing was incredible. One nice thing about the camp is the fact that they were not restricted to the dirt road. We went off the track to see a leopard in the bush that couldn't be seen from the road. We had a wonderful time and I highly recommend this camp.
Flipper1966 - Pretoria, South Africa
---
Our family of 5 stayed at Honeyguide Khoka Moya and loved every minute of this trip. Our guides Michael and Arahab were incredible. They were extremely knowledgeable about the animals and found the big 5 for us in the first two days. They were professional but also fun, polite and personable. The staff is friendly, the tents and beds were very comfortable and clean, and the food is great (you can eat it all). We felt very safe. We absolutely loved our morning coffee and afternoon drinks on the safari! Our pictures are amazing. This is an experience we will never forget.
jacobsonfive - Rochester, New York
---
This camp is definitely worth its money. The game reserve has more than enough game and the expert Safari Guide by the name of Brilliant really made this an exceptional stay. We stayed for 2 nights in the tent with 2 kids and I think that is a perfect length of stay. The tent can get a bit hot, but luckily the pool was there to cool us down. Monkeys somehow got in our tent once and thrashed our stock of medicines. Staff should have warned us more about this and provided some sort of lock on the zippers of the tent to avoid this mess. Apart from that really a fantastic and fully recommendable experience. Great food, staff, cleanliness, service, etc. But most of all: Brilliant!
Andrew B - London, United Kingdom
---
We stayed at Honeyguide Khoka Moya camp in January of 2018. Family of four with kids aged 8 and 10. Just loved our experience and would definitely recommend it to others. What we loved about the place - 1) Overall customer experience was A+ - the staff went out of the way to accommodate our needs. Every one - the rangers, the kitchen staff, general staff were all very warm and helpful. Took care of our dietary restrictions, and other asks. 2) The tented camp experience - was outstanding. Being in the bush but in the luxury tents was great. Very comfortable stay 3) Great game experience - saw the Big 5 and more. Pretty much everything except Wild Dogs. Now that these are unfenced and animals can move in and out of Kruger, every single game drive was exciting. Seeing 2 cheetahs ready to hunt, lions which had just devoured their prey, pride of lioness and cubs. 4) Great bush experience - given that there was a watering hole right next to our tents, having a Hyena visit that place at night, hearing the animals at night. Can't say enough. Special shout out to our ranger Clive, spotter Philip, and the cooks. Clive and Philip were very knowledgeable and having them join us for dinner and talk more about their experiences and culture was great. We had a great time meeting other families there. The cons - 1) there are some minor things that they can easily fix. Things like toilet seats, shower heads need to be replaced / upgraded. Gives the tents an unnecessary dated look in parts 2) There was a crowd of noisy folks meeting up as part of a college reunion. Loud music, loud in the middle of the night. Was totally killing the vibe of that place. I had to go ask them to tone it down at night. I wish the staff could have actually done this themselves as it was a nuisance to the other people staying on the property.
michiganwolverine_rk - San Francisco, California
---
My wife and I stayed at Khoka Moya camp for 5 days and 4 nights and we had an incredible experience. We stayed in the tents that were in the middle of the camp near the watering hole. Everything we needed was in the tent and it was very spacious. The people who worked at the camp were outstanding! They were genuinely nice, outgoing and provided great service. The food that was served daily for breakfast lunch and dinner was outstanding as well. Each day we did a morning and afternoon/evening drive with 2 guides Lyton and Godfrey. These 2 guides completely made our safari experience. Lyton has been working at the camp for over a decade and knows the park like the back of his hand. We saw everything you could ask for. We saw the big 5 on our first day and even saw Leopards mating. Godfrey was an excellent tracker and an incredibly nice person. He has a quiet confidence as a tracker, but he grew up on the reserve and has a lot of good stories and knows the history of the land if you just ask. Lyton was incredibly knowledgeable of all of the flora and fauna of the park: from big cats to birds of prey to dung beetles and the mahogany trees to the plants people use as soap. He was even able to spot a chameleon on a branch at dusk. Lyton overheard my wife talk about how she loved Elephants and one day we were lucky to go on a game drive with ourselves and the guides (this was due to a family not attending this drive). Lyton, hearing days before that she loved Elephants, asked us if we wanted to go to the other side of the park where he thought a family of elephants lived and of course we said yes. We went out there and Lyton and Godfrey found a large family of elephants and we were no more than 5 feet from them. It was a really incredible experience. It showed they paid attention, not just to the animals, but to their guests as well. To top it off, on our last day, an elephant strolled to our watering hole for a drink and walked directly by our tent on his way back to his travels. You cant make this stuff up! Godfrey and Lyton completely helped to make our trip a wonderful experience. We would 100% recommend Khoka Moya camp to anyone.
---