Please select your dates to see prices:
---
La Valencia Hotel in La Jolla, California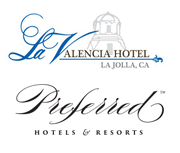 Capturing a classic, whimsical charm with modern style and grace, La Valencia Hotel – part of the LVX collection of Preferred Hotels & Resorts – is an iconic destination in sunny La Jolla, California. This well-loved SoCal city lies just north of San Diego on the glittering Pacific coast, and for more than two centuries, travelers and locals alike have been flocking to "The Pink Lady" of La Jolla for a sophisticated and relaxing experience by the shore. The hotel's 112 guest rooms are split into three types - Vintage, Classic, and Villas - and all embrace European-inspired elegance and delightful character. Amenities include complimentary wireless Internet access, high definition televisions, honor bars, posh toiletries, and luxurious Italian linens. Views range from the lovely hotel gardens to the expansive blue ocean, and larger rooms feature private balconies from which to enjoy the vistas. Seasonal pool service is an excellent way to soak up the rays and begin your mornings, and those looking to keep up with a workout routine can take advantage of the hotel's well-equipped fitness center.
Cuisine is a definitive highlight of La Valencia Hotel, and you are privy to a pair of distinctive on-site restaurants, plus a beautiful lounge offering commanding views over the Pacific. Café la Rue is a European-style bistro with a signature happy hour, and all-day dining beginning at 11AM. But for an even more legendary experience, THE MED is a must. With three separate dining areas, including a casual patio, main dining rooms, and 7th-floor ocean view terrace, and gourmet cuisine coupled with exceptional service, La Valencia Hotel does not disappoint with this destination for dining. Savor a nightcap over live music at La Sala, which offers panoramic views through its massive windows, or choose to savor the highlights of the hotel's fare with private in-room dining. All the sites and attractions of La Jolla, San Diego, and Southern California are right outside your door, and your time at La Valencia Hotel promises to be nothing short of extraordinary.
Location of La Valencia Hotel
La Valencia Hotel
1132 Prospect Street
92037
La Jolla, California
Nearest Airport: SAN
Amenities for La Valencia Hotel
General Information
112 Guest Rooms
Pet Friendly
Non-Smoking Rooms
Dining
Outdoor Dining
2 Restaurants
24-Hour Room Service
Lounge
On-Site Amenities
Concierge
Shoe Shine Service
Spa Services
Laundry Service
Fitness Center
Live Entertainment
Valet Parking
Complimentary Parking
Outdoor Pool
In-Room Spa Services
Complimentary WiFi
Outdoor Hot Tub
In-Room Amenities
Bathrobes
In-Room Safes
Mini Bar
Iron/Ironing Boards
Marble Bathrooms
Flat-Screen Televisions
Luxury Linens
Coffee & Tea Facilities
Luxury Bath Amenities
Work Desks
Complimentary WiFi
Business
Business Center/Services
Meeting Rooms
Conference Facilities
Catering Services
Nearby
Shopping
Zoo
Museums
Restaurants
Golf
Nightlife
Beaches
Amusement Parks
Interests
Summer Getaways
Theme Parks
Reviews for La Valencia Hotel
---
First of all, the pool is amazing. Beautiful view and everyone working by the pool was very nice. Unfortunately, the rest of our experience was terrible. We just got married this past weekend at a beautiful winery and came to La Jolla for our honeymoon. We chose La Valencia because my now husband has family that is from San Diego and highly recommended the property. We know they are renowned for their service and we were so excited to stay. We told our booking agent that it was our honeymoon and they told us they alerted La Valencia and the property said they were excited for us to arrive. We couldn't wait! Upon arriving we came to find out, you have to be a celebrity to get acknowledged. We arrived at check in and not even a smile at the front desk. No acknowledgment it was a special occasion. We went to our room and there was a broken bathroom window and construction outside early in the morning. My sister told me later on that she called the hotel separately to alert them it was our honeymoon and wanted to do something special and nothing ever happened. We aren't snobs, we don't expect to be treated any differently from anyone else...but even upon checking out did not even thank us for staying. It was a pretty disappointing and just wanted to warn honeymooners or people coming on special occasions...they could really care less.
SarahL41417 - San Diego, California
---
We enjoyed our 5 night stay for the most part. The pool is pleasant and comfortable, staff is accommodating and polite, and in general the place has a retro, old-California feel that reminds me of visiting So-Cal in the 60s and 70s. All that is to be expected for the price, and, given the small, somewhat outdated rooms, it is not a bargain. What tarnished our experience and lowered my rating by at least a point was a pounding and yelling at our door by Security at check-out time. We had been granted a late check out. My husband double-checked that the morning of our departure, and the front desk confirmed it. Still, half an hour before we were due to leave, I heard a pounding at the door, with furious yelling "Security! Security!" . Startled out of my skin, and not dressed properly or ready to go, I opened the door in alarm. I asked, "Yes??" A uniformed security guard (with walkie talkie or phone or something), and some other male employee beside him, shouted out a litany of something like " We need have you vacate this room immediately as it is an hour past checkout and we received word of unauthorized persons in the presence of this room, unless there has been permission granted"... or something like that. I told him we did indeed have a late check-out, and we're not due to leave for half an hour. He barked back in his Secret Service Officer voice "Apparently there has been a miscommunication with other staff involved in this situation--sorry". Yeah. Meanwhile I am on edge for the rest of the afternoon. Why I opened the door to these lunatics when I was alone in the room I do not know, because no guest should ever respond to that kind of treatment by anybody, hotel staff or not. It was appalling. Hotel management needs to be aware of this. It makes me wonder what else what going on in this hotel. Were there drug dealers staying on our floor that they were trying to bust? Some other mistaken-identity situation? If that's really just their way of dealing with someone who is an hour late checking out of their room (which we were not, of course), I think they have a problem with guest relations.
---
As we sit on the chaise lounge around the pool area graciously served by the exceptional Robert Snow, we are reflecting on how brilliant we were to choose this place for my husband's business trip. We had no idea what to expect but were pleasantly surprised by an amazing ocean view, seals and sea lions and ocean caves on the beach next to us, and unparalleled attention and service. This hotel, steeped in history and grace, marries the service you'd expect from a Four Seasons with a casual, relaxed California vibe. Relaxing by the pool today we feel transported to Nirvana with delicious food and drinks, a perfectly heated pool and did I mention Robert's service? This guy needs to be promoted - the pride he takes in his job is evident and no detail is overlooked in his domain. We are already planning our next trip!
---
We recently stayed at the hotel in a Classic Ocean Suite (Suite 25). The hotel's common areas and pool were beautiful and the valet service very good. The room, however, did not meet expectations. The view was really great but this room had a lower level roof outside of the window that sea gulls liked to hang out on. The gulls were always watching us to see if we would feed them. Of course the lower roof was covered in their poop. Can't blame the hotel for this when you are oceanfront.The two ocean-facing windows were old and warped with only one able to open. The furniture in the living room was old and stained. The bedroom, in a separate room, was right over a ventilation system making opening a window a bad idea. The air conditioning units (one in the living room and one in the bedroom) were very noisy and old. All in all this place just did not live up to the price. It is a lovely old property but we expected a nicer room.
Daniel O - Evergreen, Colorado
---
Sadly the hotel is dated and of a bygone era. The rooms are tired and in desperate need of a facelift. The public areas are ok, and cater to a certain crowd, but the accommodations are sorely lacking. The towels are old and worn, very much like the hotel. Too bad. Great location, helpful staff but a dud hotel, would have been great in the 70s
Galireza - Pasadena, California
---