Please select your dates to see prices:
---
La Valencia Hotel in La Jolla, California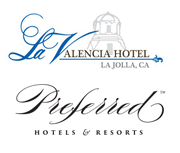 Capturing a classic, whimsical charm with modern style and grace, La Valencia Hotel – part of the LVX collection of Preferred Hotels & Resorts – is an iconic destination in sunny La Jolla, California. This well-loved SoCal city lies just north of San Diego on the glittering Pacific coast, and for more than two centuries, travelers and locals alike have been flocking to "The Pink Lady" of La Jolla for a sophisticated and relaxing experience by the shore. The hotel's 112 guest rooms are split into three types - Vintage, Classic, and Villas - and all embrace European-inspired elegance and delightful character. Amenities include complimentary wireless Internet access, high definition televisions, honor bars, posh toiletries, and luxurious Italian linens. Views range from the lovely hotel gardens to the expansive blue ocean, and larger rooms feature private balconies from which to enjoy the vistas. Seasonal pool service is an excellent way to soak up the rays and begin your mornings, and those looking to keep up with a workout routine can take advantage of the hotel's well-equipped fitness center.
Cuisine is a definitive highlight of La Valencia Hotel, and you are privy to a pair of distinctive on-site restaurants, plus a beautiful lounge offering commanding views over the Pacific. Café la Rue is a European-style bistro with a signature happy hour, and all-day dining beginning at 11AM. But for an even more legendary experience, THE MED is a must. With three separate dining areas, including a casual patio, main dining rooms, and 7th-floor ocean view terrace, and gourmet cuisine coupled with exceptional service, La Valencia Hotel does not disappoint with this destination for dining. Savor a nightcap over live music at La Sala, which offers panoramic views through its massive windows, or choose to savor the highlights of the hotel's fare with private in-room dining. All the sites and attractions of La Jolla, San Diego, and Southern California are right outside your door, and your time at La Valencia Hotel promises to be nothing short of extraordinary.
Location of La Valencia Hotel
La Valencia Hotel
1132 Prospect Street
92037
La Jolla, California
Nearest Airport: SAN
Amenities for La Valencia Hotel
General Information
112 Guest Rooms
Pet Friendly
Non-Smoking Rooms
Dining
Outdoor Dining
2 Restaurants
24-Hour Room Service
Lounge
On-Site Amenities
Concierge
Shoe Shine Service
Spa Services
Laundry Service
Fitness Center
Live Entertainment
Valet Parking
Complimentary Parking
Outdoor Pool
In-Room Spa Services
Complimentary WiFi
Outdoor Hot Tub
In-Room Amenities
Bathrobes
In-Room Safes
Mini Bar
Iron/Ironing Boards
Marble Bathrooms
Flat-Screen Televisions
Luxury Linens
Coffee & Tea Facilities
Luxury Bath Amenities
Work Desks
Complimentary WiFi
Business
Business Center/Services
Meeting Rooms
Conference Facilities
Catering Services
Nearby
Shopping
Zoo
Museums
Restaurants
Golf
Nightlife
Beaches
Amusement Parks
Interests
Summer Getaways
Theme Parks
Reviews for La Valencia Hotel
---
This is the type of hotel I love to stay at: nice, historical, definitely not soulless. It is THE hotel to stay at when visiting La Jolla. It is located just across the street from the ocean on a little hillside, with some rooms having an amazing view on the ocean side. La Valencia has a great location also in terms of a variety of restaurants within 3-minute walk. Since it is more an "old" type of hotel getting around it might be a bit tiring as there are many stairs and two or maybe three elevators that are very busy sometimes. If you don't like it – look for a chain hotel. I stayed on the ninth floor which actually is a second floor from the entrance/front desk level with a view on a little square across the street from the hotel. The room itself was very spacious. It also had a little kitchenette and a balcony which was shared with a room next door. Room deco was nice but a bit used. Bathroom was also quite big and had both shower and a bathtub. Downsides: 1. Check-in time is at 4:00PM and the front desk underlined that fact when people tried to check-in earlier. But, sadly, my room and the rooms of many people from the group I stayed at the hotel with were not ready until 5ish. So, after being told that I should be expecting my room before 4, I get it at 5:15 – really? I had a meeting at 5:30 – so rushing to get ready is something I hate, especially that I was not planning on last minute preps. 2. On a windy night I was woken up by the sound of my balcony door slamming (locked in the evening). I freaked out that somebody got into my room from the outside – it was 3 or 4am. It finally turned out that the wind unlocked the door. I realized later than when I saw my balcony door open in the evening the day before it was not the cleaning service that left it open – but the wind that did it. In the end, I would like to underline that besides two little negative things the hotel is great and I will definitely be back when I am in La Jolla.
sloths - Central Poland, Poland
---
I can't comment on every aspect of the hotel as we only went in for a drink but on that experience I would not hesitate to return and stay if I'm ever back in La Jolla. From walking into the foyer the whole place exudes style and class. By no means large, it has a Mediterranean feel and a sense of old style Hollywood glamour. The lounge is beautiful although its long narrow shape means that it doesn't make the most of the wonderful ocean vista from the far picture window. Service was friendly and efficient and my Negroni perfectly mixed. The sharing board of charcuterie and cheeses was well presented and delicious. Yes, prices are not cheap but like The Del at Coronado, one is paying as much for the atmosphere and beautiful surroundings.
Alison52 - Bordon, United Kingdom
---
So, after weeks of trying to find a nice hotel to stay at, I called to inquire about a reservation and I'm immediately transferred to what seems to be a "call center"? Is this common? And the lady helping me was so abrupt, rude and standoffish. So....not a great start to wanting to stay at such a nice hotel. My gosh, is anyone helpful here or are all the "terrible" reviews true about this hotel. You would think spending upward of $2,000 for a few nights..someone might be helpful. I wanted to trust in the "awesome" reviews but so far, this hotel is already sending out bad vibes. I just wanted to make a reservation, I wasn't asking for much. Maybe I'll change my rating if I take a chance and call back.
Vacations1228 - Layton, Utah
---
Very well located property. Has a great heritage and some spectacular views. Service is mixed - can be great or not so great - but it's such a relaxed environment that it doesn't really matter. Try having breakfast on the verandah - it's wonderful. All the rooms don't have a view of the Ocean - specially in the adjacent wing. Wish I had more time than 1 night
---
We booked with La Valencia via a recommendation from a friend that recently stayed there. It was my son's b-day and we were excited to stay there due to all the good reviews. We booked an ocean suite (800 sqft) via iprefer, but we must have had the worse room in the hotel - number 105. We initially came from the Park Hyatt Carsbad (former four seasons). That hotel was awesome. Great staff, great service. A total 5 star. But when we got to our room (#105), I thought we booked a 2 star hotel. It was old and tired, but a nice view. Black mold shot through the jaccuzi. We thought house keeping would clean it the next day but they didn't so I did it myself. The sofa bed is terrible and defintely 1 star quality. Compared to the rest of the hotel, our hallways were old and dirty and the all the furniture was extremely worn and tired. Our door was also splintered. We felt like 2nd class citizens at this hotel. Why couldn't we get a better room? And be in the nicer part of the hotel? The other parts of the hotel seemed nicer. We didn't sign up for old and nasty. It wasn't in the room description. So disappointing. Maybe it is because we booked through IPrefer. I did speak with the front desk and they basically said sorry that the room did not meet your expectations. Maybe next time we will have a better room. Pretty unacceptable. I guess when booking you need to specify that you want the nicer rooms vs. the 2 star ones. 5 star prices with 2 star quality.
---