Please select your dates to see prices:
---
Six Senses Laamu in Laamu Atoll, Maldives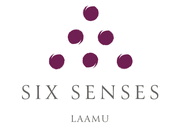 Six Senses Laamu is the only resort in the Laamu Atoll, deep in the Indian Ocean. The luxury resort is a combination of sustainable on-land and over-water villas set among the palm-fringed waters of the Maldives. With magnificent views, well-appointed villas, premium services and amenities, a vacation to the Maldives, and Six Senses Laamu, will be second to none.
Mornings are inspiring as the pristine waters sparkle with sunlight. Take a dip in your private infinity pool, and then jump directly into the crystal clear waters of the Indian Ocean. Scuba dive and discover the treasures beneath the waters, take an Island hopping excursion of the Maldives, or enjoy a famed Six Senses Spa treatment and feel complete relaxation. In the afternoon, head over to the Ice Cream Parlor for a cooling snack, or enjoy a drink at the resort's Chill Bar. When hunger strikes, guests can dine and one of the many onsite restaurants, or reserve to have a private barbecue on a secluded beach. If a luxury beach vacation could be described in a few words, it would be Six Senses Laamu.
Location of Six Senses Laamu
Six Senses Laamu
Olhuveli Island,
15090
Laamu Atoll, Maldives
Nearest Airport: KDO, COK
Amenities for Six Senses Laamu
General Information
Ecologically Sustainable Practices
Dining
Private Dining
Ice Cream Parlor
Bar & Lounge
Picnics
Oceanfront Dining
Restaurants
On-Site Amenities
Spa on Property
Private Beach
Rooftop Terrace
Rooftop Sun Deck
In-Room Amenities
Outdoor Showers
Private Pools
Private Gardens
Rain Showers
Complimentary WiFi
Activities
Excursions
Fishing
Water Skiing
Windsurfing
Scuba Diving
Boat Excursions
Surfing
Wellness Programs
Wakeboarding
Water Sports Programs
Business
Business Services
Family
Babysitting
Kids Club
Beach & Pool Toys
Interests
Beach
Hotels
Overwater Bungalows
Reviews for Six Senses Laamu
---
We were absolutely disgusted and so disappointed to leave this paradise in the beautiful Maldives. Having 4 flights and a speedboat transfer could have been a problem but Qatar airways were fabulous. There is nothing to say that has not been said in lengthy reviews but we would in particular like to thank our GEM Naseem who was perfect. Nothing was too much trouble and he delivered superlative service.His English was crystal clear and we could not have asked for anyone better. The yoga kept us all in tip top condition and our Tibetan guru Kunchok was outstanding. This was our first visit to a Six Senses resort and as Aman junkies we felt it was on a similar level...and that is a huge compliment. We look forward very much to visiting other resorts..Zighy Bay in Oman may be next. Thank you so much everyone.
Geordie2666 - Huntly, United Kingdom
---
Stayed for 8 nights with our 7 month old and 4.5 year old in a Family Beach Villa. There's a small second bedroom for children. The bed is definitely for children as it's not long enough for adults! It was excellent value for our family as we like separate sleeping areas for when the kids go to bed earlier, without paying for two connecting rooms. The room was extremely kid friendly - when we arrived, the cot was set up with it's own mosquito netting (and when we moved the cot into the second bedroom, the mosquito netting was moved as well), bottle warmer, steriliser, changing mat, high chair, baby bath. The in room dining menu had both a children's menu AND an infants menu with gourmet purees! Impressive. They did not provide any pool or beach toys though, so luckily we bought some. We were able to have breakfast as room service for no additional charge in our room but our 4.5 year old loved the buffet breakfast so much - there was a man making pancakes in sea creatures shapes every morning and she loved it. She also loved the unlimited free ice cream at the parlour every day! It was the first time our 4.5yo used the Kids Club and a couple of times we went to pick her up and she didn't want to come! She really enjoyed it. They had different activities every day for a week and the staff all remembered our daughters name when they saw her around the resort. There were bikes set up outside with our initials - a normal bike for my husband, a tricycle with a large basket for our infant with our initials, and a childs bike with training wheels for our preschooler with her initials. Again - impressive. We did a personal snorkelling tour and my 4.5yo had a turtle swim within touching distance. She loved it and the staff were so attentive to her being out on the reef. They provided child-sized vests but we did have to pay for it. They also had child sized flippers which were complimentary. They spelt my daughters name incorrectly on her welcome book and the GEM had it reprinted when I mentioned it straight away. The restaurants were impressive - I was concerned there was only four but the menus were very extensive and the food was very good. Similar with room service - and they delivered food from the regular restaurants by room service on request. The wine cellar was also extensive although the tasting hours were a bit restricted for us working around our girls naps. The food was quite expensive, and I thought the portion sizes for room service in particular were small. I didn't rate the Chilli Table, but we did some of the celebrity visiting chef dinners and that was up there with Michelin Star restaurants. The GEM was wonderful - he organised everything we asked for; the only downside was I would have liked to be given quotes for some of the activities like the private dolphin tour and private fishing tour he organised. I also saw on another website that it looks like you can request to use the beach movie cinema privately with your choice of movie and if this is the case, I would have liked to do that with our daughter (she saw it set up a few times and wanted to go, but the movies weren't 4yo appropriate). We had a personal villa pool so spent a lot of time there, but the shared pool was excellent for children as well with some shallow areas for paddling. The beach outside our villa was quite rocky for the first meter so I was glad we bought the water shoes for our daughter and wished I bought some for myself! Downside - it is a LONG trip from Male airport. A domestic flight and then a boat transfer. The boat transfer was seamless and quick, but there was a lot of waiting around for the domestic flight. We also had to leave earlier on the departure day because another family was taking an earlier international flight than us, meaning we were left waiting in the international airport for longer. For the transit, we needed the 8 days to make it worthwhile and we weren't bored. I did also need a lot of mosquito repellent and still got bitten. Side note - it's quite difficult to find the right resorts - especially as TA sorts by "atoll" which makes it difficult to see which resort is most highly rated (they all seem to be number 1 of 1 in their individual atoll) so I really recommend using Addicted to Maldives as a travel agent who just specialise in the Maldives. Usually I don't use a travel agent but they got us an excellent deal that was better than what I found online, and had personally visited most of the resorts so could identify which one worked for our personal situation - in our case, the correct room configuration with the second bedroom that wasn't simply two interconnecting villas (with corresponding price tag!).
Icie_lynx - Melbourne, Australia
---
We visited in December as a family of 4 with our 8 and 6 year old children. All four of us individually and as a family had a fantastic time. Our GEM Tom took care of all our needs from diving for my husband to activities for the children to booking an amazing private sunset boat ride to see the dolphins and to managing all our restaurant and private dining experiences. Special thanks to Chef Stefan who was outstanding and we don't have words to praise him. As vegetarians he paid attention to all requirements and pulled up yummy meal after meal. He even managed to make for us an exceptional 6 course all vegetarian Maldivian menu. The kids club had so many activities that our kids were constantly looking fwd to the next thing to do. They loved the treasure hunts, bike rides and all movie nights. The dolphin sunset boat ride was beyond beautiful to see the dolphins swimming next to our boat over 40 mins and experience the sunset together. It was truly magical. Another fantastic addition to the entire experience was their visiting astronomer Dr. Parag Mahajani. Every morning at 10.00 the sun gazing sessions - which was a first for all of us were something to look fwd to and every night the star gazing experience was phenomenal. The kids stayed up every night to make it to star gazing and learn all about it from Dr. Parag. A special thanks to Dr. Parag for being so patient and imparting so much knowledge and creating a curiosity in my kids. Diving - very well equipped dive centre and dive master Hassan, especially, was extremely knowledgeable of dive sites near and far. Our 8 year old did his bubble maker again and saw an eel and rock fish and what not while our 6 year old went snorkeling everyday. My husband went for dives almost every day and thoroughly enjoyed each and every one of them. Other highlights on the resort were the bike rides, spotting baby black tip reef sharks and eagle rays all around without even getting our feet wet. Best of all was the free flow of ice cream with a variety of flavours. The Yoga and Pilates were great sessions and so of course was the spa. All in all an amazing holiday and can't wait to go back.
Anagha P - Hong Kong, China
---
The Location and resort Six Senses Laamu is beautiful, quiet and pristine throughout. A great house reef and endless vistas from the bungalows across the lagoon and ocean. Food and beverage Excellent in all restaurants and bars, super variety in all menus and impeccably cooked and served. We really appreciated the portion sizes, they were not more is more, they always felt appropriate and the menu notes are: Trim and sugary free etc were really useful to assist our choices. Staff Fantastic, from the airport arrival to housekeeping and in every aspect. Some really superstars made our holiday everything we wanted it to be, they are your USP, fight to keep them, in every area. Villas and facilities All incredibly clean, well thought out and spacious. Exactly what we expected, wanted and received. Points of perfection and extra thought Housekeeping in particular was better than any we have experienced in any resort or hotel in the world. On the very rain days when we arrived back to the villa there was a towel by the front door to so we didn't drip everywhere, a tiny but incredibly thoughtful service. The buffets, we are not buffet people, at all! We feel you do yourselves a disservice by referring to them as such, almost all the food is short order cooked and this makes a very real and enjoyable difference. In-villa dining, specifically the breakfast service. Again we have never used in-room dining before but the additional 90mins available for breakfast at no cost with such a great choice is fantastic, this is another real point of differentiation. How can you beat breakfast on the deck with those views... Bikes, on the single occasion that we left our bikes at the main overwater parking area due to the rain, they were returned overnight. Brilliant and thoughtful. The complimentary couples massage was lovely, not an unusual service in our experience, but always a nice thought. The departure breakfast was very nice, not something we have seen previously and a lovely thought and effort. Opportunities to improve We felt that Zen and Leaf could be adult only after 8pm. While it's nice to see families enjoying themselves, as adults without our own little ones, it can be a little frustrating at times when there is no area that they do not appear. This was a view held by 3-4 other couples we met and spent time with. This is also true of Sip Sip and the pool area, having a family beach on the other side of the island might be appreciated. Rainy days, other resorts we have been to have tailored and well advertised rainy day activities, such as free prosecco or champagne, 1/2 price drinks, game tournaments or cards. All of which draw people otherwise hiding in there rooms together and drives additional business in bars and restaurants. Even potentially proving delivered 'no rush hour' cocktails in bottles to rooms might be an opportunity, on the very rainy day we were there I cycled to Sip Sip and did just this taking the drinks back in a bottle to enjoy in the villa. Finally some staff mentions All of you were fantastic, we felt the following staff made our stay even more incredible, thank you so much; Samaar in housekeeping Najah the GEM Leevar in Chill/Longitude Sunnil and Trevor at Chill bar New Trevor the CRM for his chats and thoughtful service Khyto at Sip Sip and Leaf Bhaju at Sip Sip The waiter at Zen who served us on both occasions, sorry we never caught your name The in-villa dining guys were all great, helpful and courteous The pasta chef at the seafood buffet The Balinese chef at the BBQ station at the seafood buffet The new waiter at Longitude (3 months in to the role) Will we return, maybe. Would we return, most definitely, but the world is a big place to explore. However, SixSenses is firmly on our radar for future trips, likely Thailand in 2019
JLouch28 - London, United Kingdom
---
So what's the difference between a great resort and an outstanding one? Like all great resorts, SS Laamu has fantastic facilities. Terrific water villas in a magical setting, superb restaurants (our favourite is Leaf) and a huge range of activities for all of the family. Life's day to day experiences are incredible as well. Cycling to breakfast sounds so simple but it becomes so special as you cycle down the jetty trying to decide whether to look at the beauty of the island or to look down to spot a ray or a turtle (we saw both). It's also a very cleverly designed resort, it always seems so peaceful and quiet despite it being full over the Easter holidays. Laamu isn't just great though, we think it's outstanding. Reason #1. As with so many things in life, it's the people that make the difference. There's an incredible team at Laamu who try so hard to ensure that you're having a terrific time. Our GEM (Shifu) was wonderful once again. It's not just one person though – it's everyone! No doubt it's the result of careful training but it's so hard to achieve and few resorts manage to pull it off and make it look completely natural. A surprise here or there, someone remembering which coffee you prefer at breakfast or the chefs in the open kitchen engaging with our daughter at Leaf. All small examples but there were so many over our holiday that it makes the overall experience very special indeed. Reason #2. The resort gets better and better. We had a terrific time last year but we spotted a couple of things that didn't seem quite as good as the rest of the resort. They noticed too and a year later they're all fixed and are now first class. For example, there's now a terrific water sports facility with brand new terrific equipment whereas last year it felt a little tired. Finally, the ultimate praise. This year we'd booked a few days at another resort to see another part of the Maldives. We missed Laamu so much that we had to leave and return immediately. We won't make that mistake again! Well done Team Laamu …. See you next year!
---